Not with my daughter you don't.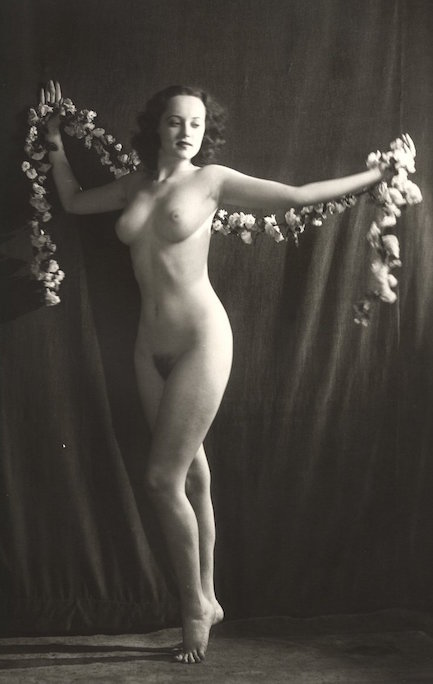 They say the apple doesn't fall far from the tree. We wonder if legendary pin-up painter and connoisseur of the nude female form Earl Moran was upset about that. We ask because that's his daughter above, Peggy Moran, posing in the altogether in this shot made by famed photographer Alfred Cheney Johnston around 1936. Did Earl and Al know each other? Well. That must have made for an interesting discussion. But what could Earl say, really? Of course, another intriguing possibility is that he never knew. Generally, models kept their early nudes secret. Marilyn Monroe changed the paradigm when her naked shots came out and she shrugged and said, "And? Pervs. So what?" We're paraphrasing.
Maybe Peggy kept her nude session quiet, but we prefer the idea of Earl and Alfred having a little tête-à-tête about it:
"But Alfred, I thought we agreed she was off-limits."
"I know, Earl, but look at her. I'm only a flawed fifty-something human male faced with youthful feminine perfection. I mean, she's 100% f'dilf."
"Wha... what? She's a what?"
"You know. A friend's daughter I'd..." *winks and grins*
"I'm gonna fucking kill you."
This stuff writes itself. In any case, two years after the above shot was made Moran got her break in films and by 1940 was a regular on the silver screen, appearing in One Night in the Tropics, Drums of the Congo, and about thirty other films. Talentwise, she had the goods, as a glance at the very enjoyable goofball horror movie The Mummy's Hand will confirm. Her career hit overdrive by 1941, but it didn't last long—she got married and gave up show business to raise a family. Her last role was in 1943. Her nudes finally saw daylight sometime after that.


---
What do you say we scope out some girls?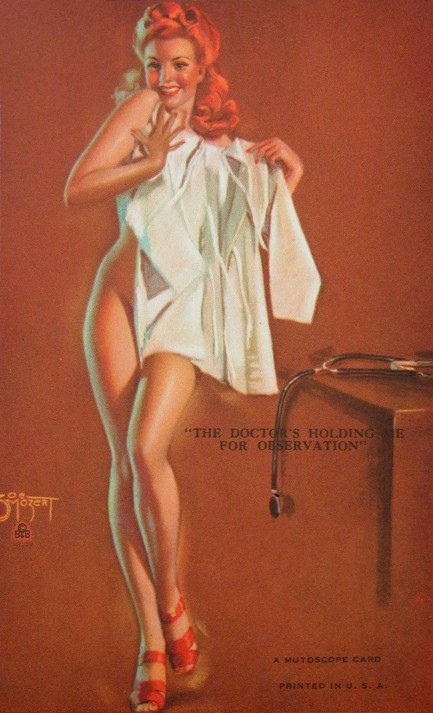 In 1894 a motion picture device called Mutoscope was invented. It worked by flipping a series of cards printed with still photographs. The cards featured slightly different versions of the same scene shot in sequence, and viewing them in rapid succession created a motion picture. Basically, the Mutoscope was an arcade attraction, and the films, viewed by one customer at a time through a peephole, often featured racy material. Much later, during the 1940s, a company called the International Mutoscope Reel Company began publishing what it called mutoscope cards. These were never meant to be used in actual Mutoscopes—instead they were cheaply printed pin-up paintings that people bought as novelties. We came across a set at an auction site recently, and so you see some here. These are collectible today because the artists were luminaries such as Earl Moran, Zoe Mozert, Billy Devorss and Gil Elvgren, and we have examples from those four and others below.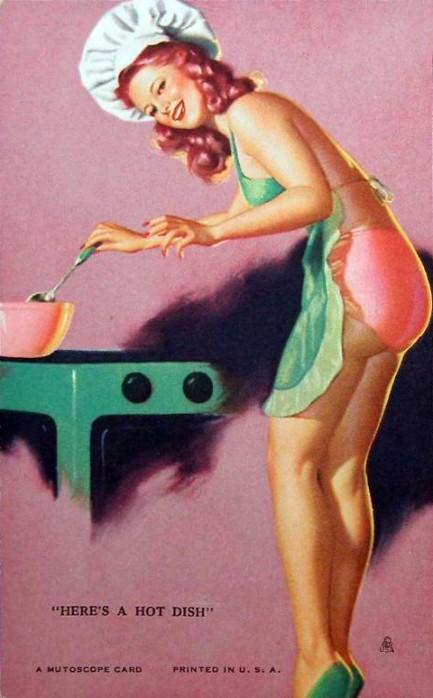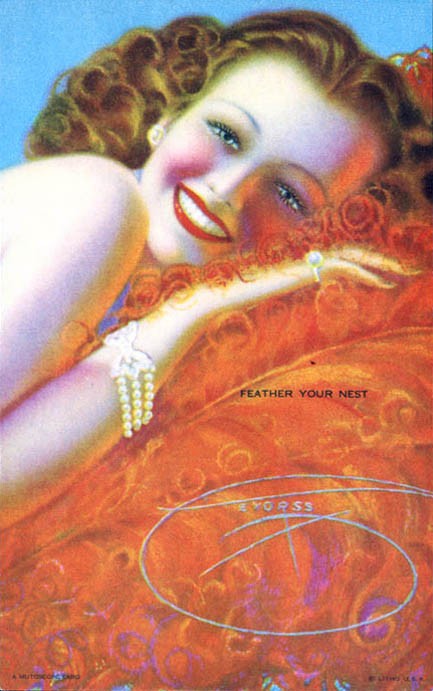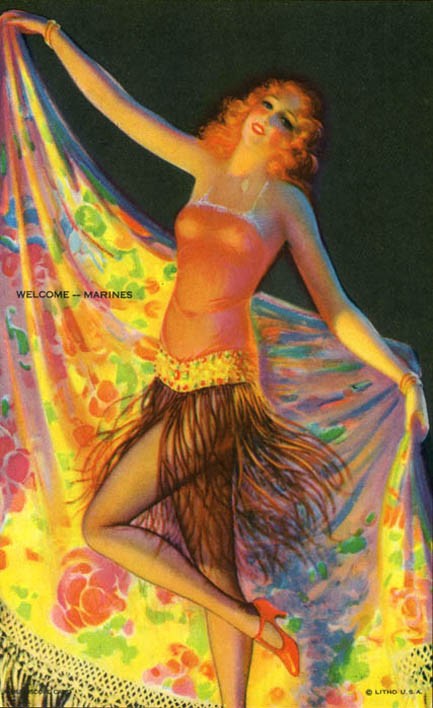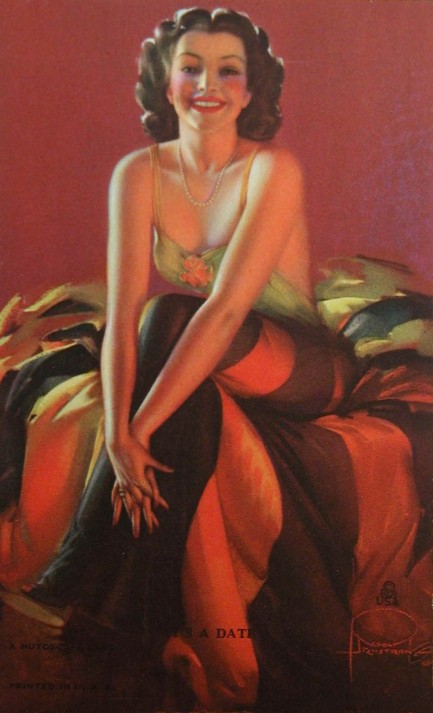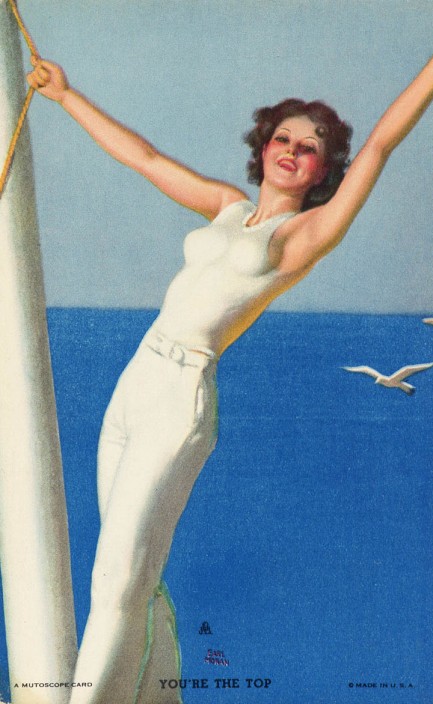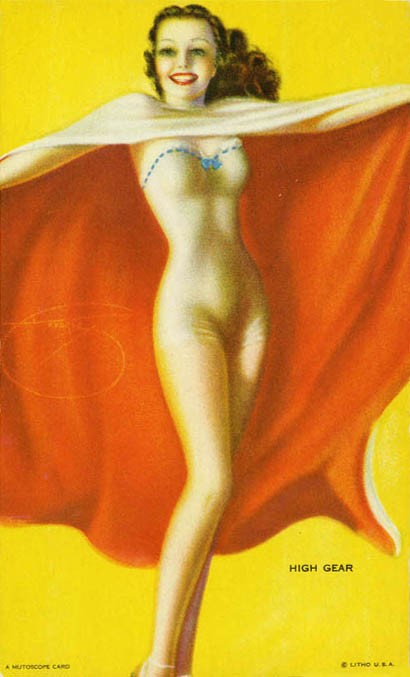 ---