Welcome to the Chambers of horror.
Marilyn Chambers doesn't often get sufficient credit for what she did here—she made the first leap from porno vixen to mainstream lead. Yes, Rabid was low budget, but it was also general release, a modest hit, and pretty damn convincing as well, from both the acting and special effects standpoints. As a bonus, it features possibly the grimmest poster of all time. Plenty of adult actresses have tried to accomplish what Chambers did, including Sasha Grey in Steven Soderberg's upcoming The Girlfriend Experience, but Chambers was the first and—based upon early word on The Girlfriend Experience—remains the best. Though Canadian director David Cronenberg has gone on to helm high-budget masterpieces like A History of Violence and Eastern Promises, Rabid remains a compulsory component of his catalogue. As for Chambers, she never really got another shot in a mainstream movie. The rest is (porno) history. Rabid premiered in the U.S. and Canada today in 1977.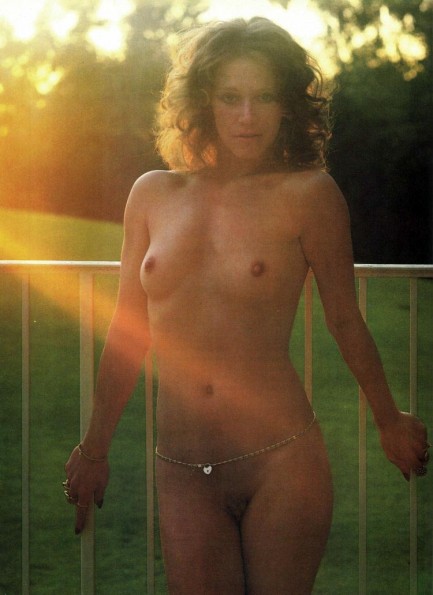 ---
There will be bloodspray.

Anytime you get Reiko Ike in a flick, vital fluids will stain the walls. Furyô anego den: Inoshika Ochô, aka Sex & Fury, falls into a category generally known as "pinky violence," which was conceived and created by the movie studio Toei Company. Like yesterday's Seijû gakuenaka, this film is a Norifumi Suzuki-conducted symphony of lesbian sex, shock-nudity and hyperviolent action. Near the mid-point Suzuki treats us to a sequence in which the heroine is surprised in the bath by eight Yakuza, but leaps from the tub and fights them naked. The vicious sword battle spills from the bath chamber into a courtyard, all in wonderfully choreographed slow motion, with arterial spray jetting hither and yon like water from the Bellagio Fountain. It's one of the most famous and daring sequences in cinema history, and was echoed by David Cronenberg in his recent thriller Eastern Promises. You may notice that Reiko Ike is upstaged on the poster (and the black-bordered alternate version below) by a bare-breasted Christina Lindberg. Ms. Lindberg is a sexploitation queen who we'll talk more about in the future. Furyô anego den: Inoshika Ochô premiered in Japan today in 1973.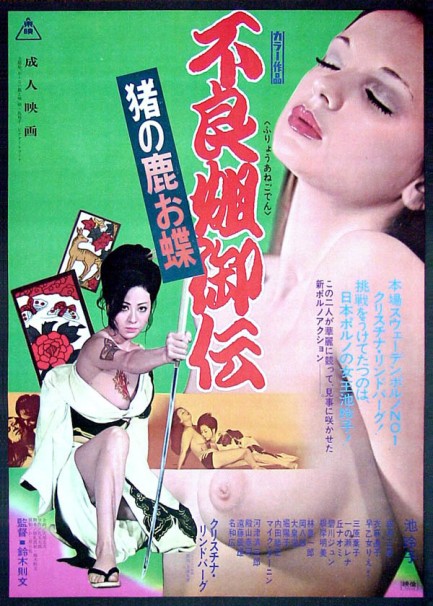 ---