When you little scamps get together you're worse than a sewing circle.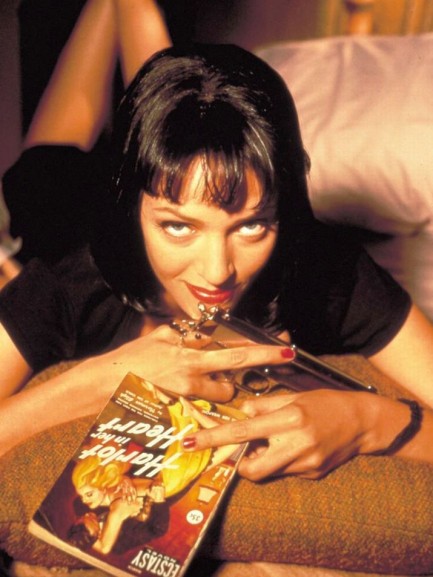 Sex was her weapon! The line isn't about Uma Thurman. It comes from the cover of Harlot in Her Heart, the Norman Bligh novel she's holding in this promo shot made for her 1994 blockbuster hit Pulp Fiction. An interesting factoid about the movie is that it lost the Academy Award for best picture to a slice of saccharine nothingness called Forrest Gump thanks to a pathologically risk averse voter pool. It's an embarrasing miss for the Academy, because Pulp Fiction ranks as one of the most influential American movies ever. It took the disordered narrative structure that had been established in earlier films and elevated it to a new level. It borrowed the box-of-mystery gimmick that had already been turned on its head in movies like Kiss Me, Deadly and Belle du jour, and turned it on its head again. It incorporated a hip, ethnically mixed cast. It was funny as hell. And it placed Thurman at the center of its hyper-masculine narrative as the femme fatale Mia Wallace—who dug criminals, was tough-minded, graceful, impulsive, and smart. Her line about men being gossipy scamps was one of the best in the film. We can't imagine anyone else playing the role. As for Harlot in Her Heart, we may just buy it despite its exorbitant price. If so we reserve the right to use the cover again in a later post.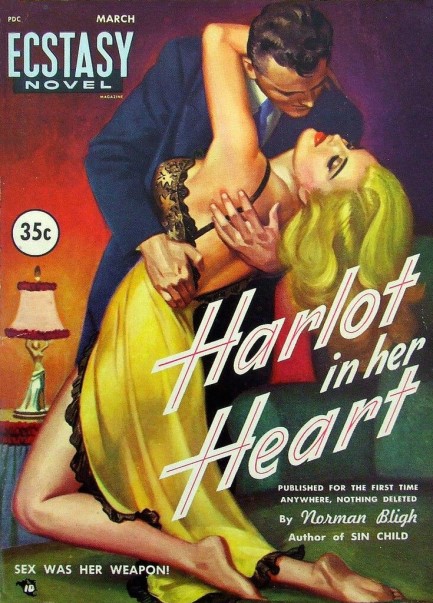 ---
I know it's high. It used to be lower, but I spent a summer in D.C., and lemme tell ya, those guys taught me a lot about whoring.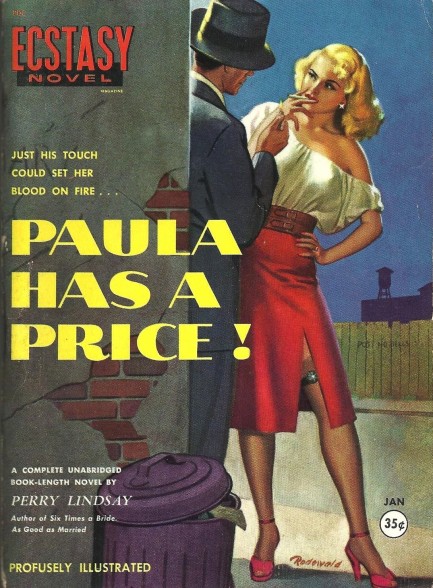 We featured a Charles Rodewald cover last year and loved it, so we're bringing him back today, this time on the front of Ecstasy Novel Magazine, which is showcasing Paula Has a Price!, written by Perry Lindsay, aka prolific pulp author Peggy Gaddis. There's confusion online about the copyright on this, but it was published in January 1949. Top effort from Rodewald, and you can see another here.
---
I'll go through it one more time for you. Mine are b's, but there are also a's, c's, d's, double-d's...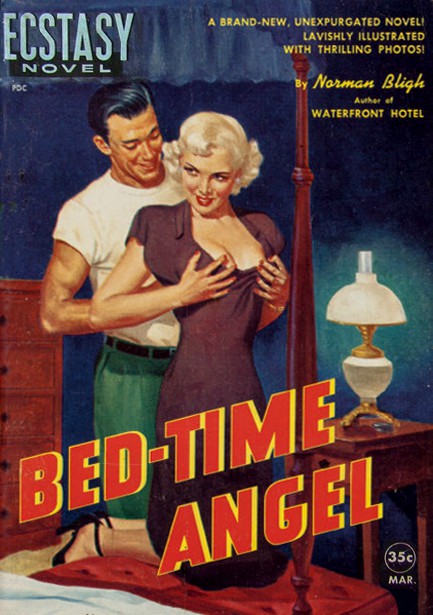 Above, an excellent George Gross cover, plus the original art, for Bed-Time Angel written by Norman Bligh, aka William Arthur Neubauer, for Ecstasy Novel Magazine, March 1951.
---