Sometimes a single adaptation won't get the job done.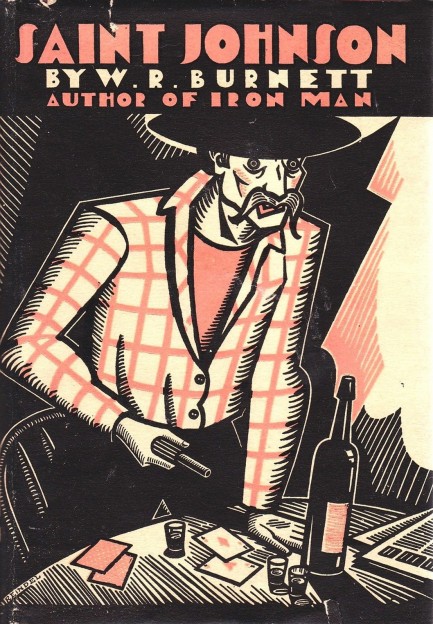 In February we showed you a very cool art deco style cover by Edna Reindel for W.R. Burnett's 1930 novel Iron Man

. Here they're paired again for Burnett's

Saint Johnson

, also published in 1930, because the guy wrote hella fast. The book was turned into a movie called

Law and Order

in 1932, co-scripted by a young John Huston and starring his dad Walter Huston. It was also filmed that same year as

The Beast of the City

, and that one also starred Walter Huston. Apparently neither version was quite good enough, because it was made into a movie again in 1937 called

Wild West Day

, and in 1940, called once again

Law and Order

, and once more in 1953, yet again called

Law and Order. For those who think Hollywood has run out of ideas and just makes the same movies over and over, well, it's always been that way. So what is this amazing book that needed five film versions about? Maybe the cover character's crazy eyes and bushy mustache can offer a hint. Give up? He's supposed to be Wyatt Earp. Anyway, the cover has Reindel's trademark art deco style, which mixes with the standard Old West tableau of a gunman at a card table and ends up looking a bit like Mexican folk art. We love it. See the other Reindel cover here.
---
Well, what if I don't want to go to my corner?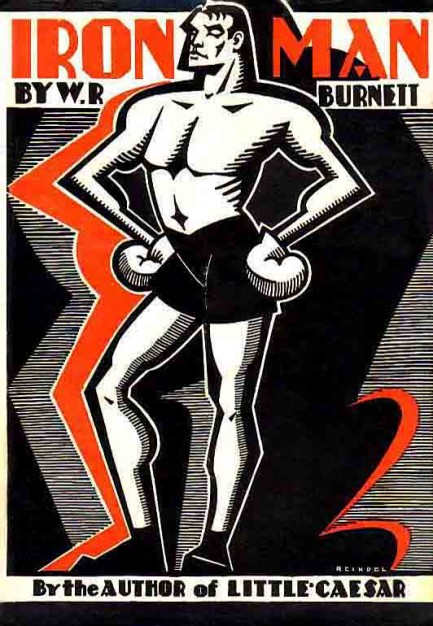 Above you see a very interesting dust jacket for W.R. Burnett's 1930 novel Iron Man, which is the story of a mechanic turned middleweight boxer turned world champion. Burnett had more than fifty films made of his fiction and screenplays, including Little Caesar, High Sierra, The Asphalt Jungle, Scarface, and many more. But we're focused on the cover art today. It's by Edna Reindel, and it has both an art deco influence and a purely Reindel style that downplays outright aggression in favor of smoldering defiance, like Enrico del Debbio's boxer in Rome's Foro Italico. Alternatively, it could look like something more prosaic, like a male model's runway pose (it's okay to think of Zoolander—we did too). Anyway, we find this an incredibly beautiful piece of art, certainly wallworthy, and doubtless a contributing factor why first editions of this book go for between $75 and $200. We will definitely find more of Reindel's work and share it later.
---