Wherever he laid his hat was his home.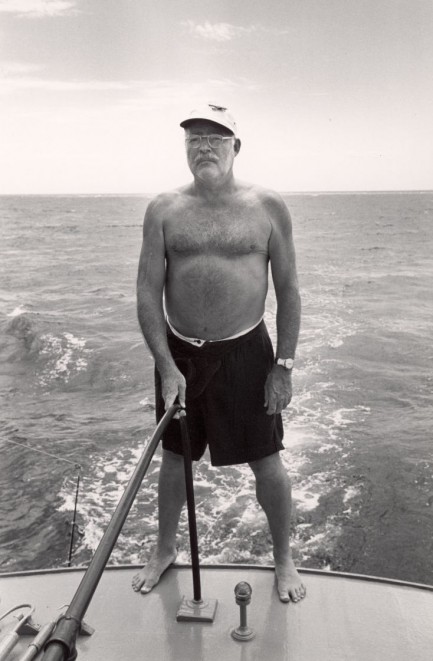 Today in 1961, one of America's great authors, Ernest Hemingway, committed suicide in his house in Ketchum, Idaho, using his favorite shotgun. Hemingway had physical problems, including failing eyesight, that made it difficult for him to write, but he also fell victim to the barbaric treatments for mental ailments that were the norm in the 1960s.
Records show that when he checked into a Mayo Clinic in December 1960 seeking help for agitation and paranoia, he received up to fifteen electroshock treatments, sessions that, according to biographer Jeffrey Myers, left Hemingway "in ruins." He was also given Ritalin and Serpasil, and in a misguided effort to fight the depression the drugs caused he was given another round of shock treatments.
On July 2 he loaded his double-barreled shotgun, put the muzzle in his mouth, and pulled the trigger. The massive blast obliterated the entire top half of his head, leaving only his jaw, mouth, and cheekbones. The press was fed a story about the death being accidental, but Hemingway had in fact chosen the same path as his father, and the same path his brother and sister would later take. As it turns out, all suffered from the hereditary ailment hemochromatosis, the effects of which culminate in mental and physical deterioration.
Ernest Hemingway's legacy is beyond dispute. He is one of the most respected and imitated personalities who ever lived, and one of the most influential writers in the English language, someone whose techniques are stylistic ground zero for American authors. Predictably, his influence has also produced a backlash, and today his style is often ridiculed by contrarians, iconoclasts and revisionists. But as we always say, time is the ultimate critic, and by that measure Hemingway towers above his detractors—all of them. The above photo shows him near the end of his life, circa late '50s.
---
If Ava I see your face again.
Above is an unusual one-sheet for Robert Siodmak's 1946 film noir Les Tueurs, aka The Killers, with Burt Lancaster and Ava Gardner. You may remember we showed you the colorful Swedish poster last year. This rather hazy French effort is unusual because it features a photo of one of the stars, which is a promotional technique that wouldn't become popular until decades later, when retouched (later digitally tweaked) photography replaced handpainted images, forever to the detriment of the art world. We've talked about this before, and we still have the same question. Namely, what is it inside of us that made us divorce art from commerce? We've embraced the soulless in every form of promotional art from movie posters to book covers to billboards. Is it simply about money? Does capitalism drive us inexorably toward an artless pursuit of profit? We have our theories, but what do you think? Or is this a little too much to be dumping on you on a spring Saturday? Right, we can take a hint. Les Tueurs premiered in Paris today in 1947.
---
Lust for a dame brings another man to an unfortunate end.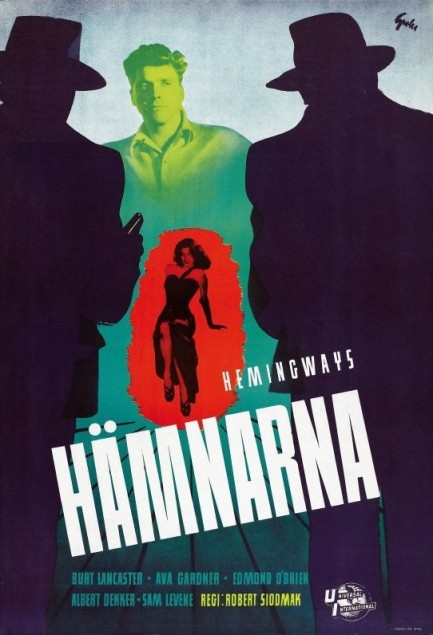 Here's a colorful Swedish one sheet for The Killers, which is considered one of the most important noirs. Inspired by an Ernest Hemingway short story, and helmed by director Robert Siodmak, the movie opens with an unresisting Burt Lancaster being snuffed by two hit men, then follows an insurance investigator as he tries to figure out what possibly could have happened in this man's life that would make him virtually offer himself to his murderers. All roads lead—as all roads must—to the femme fatale. In this case it's the magical Ava Gardner, in her first starring role as the hard-as-nails Kitty Collins. The art here effectively tells the story of the film in a snapshot—we see Burt beset by his two killers as Ms. Gardner seems to burn in his breast. That pretty much sums it up. The film was a smash hit, and it remains a must-see. It first played in Stockholm today, in 1947.
---