Internal medicine has never been quite like this.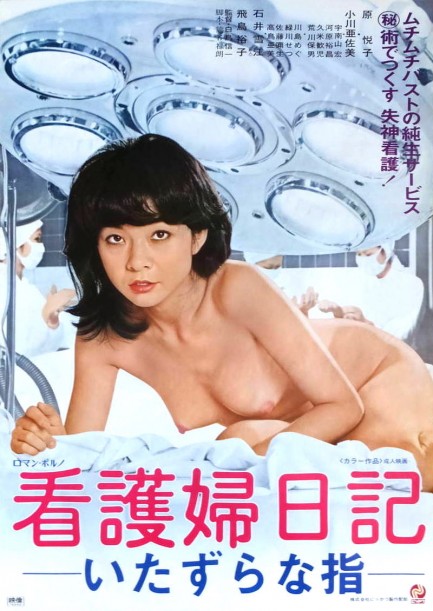 More pinku today, with a beautiful Nikkatsu Studios promo for the roman porno flick Kangofu nikki: Itazurana yubi, known in English as Nurse Diary: Wicked Finger. Etsuko Hara stars as a nurse who works at Murata Hospital and is having an affair with her boss, who hopes to inherit the chief of staff position from his wife's father. Side note for our female readers: never trust a guy who'll cheat on his wife. He'll certainly cheat on you too.
And that's exactly what happens to Etsuko, as her doctor boyfriend takes his internal medicine position literally, with any willing patient that comes along. In order to facilitate her affair with the doctor, Etsuko has moved out of the apartment she was sharing with family members, but now that looks like a mistake, as little sister Emi is left behind to suffer the tender mercies of a sexual predator—oldest sister Keiko.
Yeah, these roman porno movies go anywhere and everywhere, including places they really shouldn't, and that's before we even get to the wicked finger part. And since it wouldn't be roman porno without a totally leftfield subplot, Etsuko in her new apartment has drawn the attentions of a peeping tom, who is so driven to lust by Etsuko's yoga routine that he fantasizes about her while fucking a vacuum cleaner hose, and gets stuck.
And that's all the info we're going to give you. If you want to know where else the movie goes—and who wouldn't?—you'll have to watch it yourself. But first a test. Does the shot of Etsuko at bottom make you want to fuck a vacuum? Then take precautions and lock yours up before watching the movie. Your dick will thank you. Kangofu nikki: Itazurana yubi premiered in Japan today in 1979.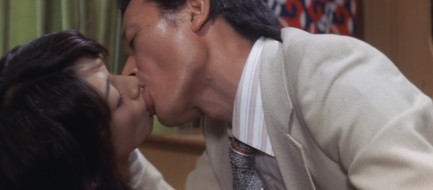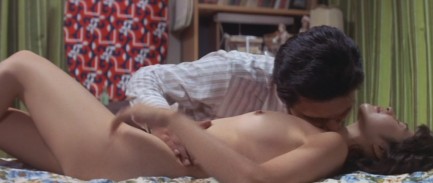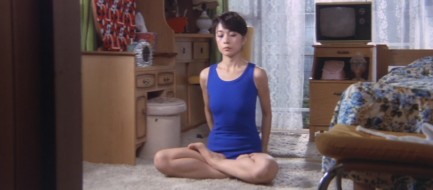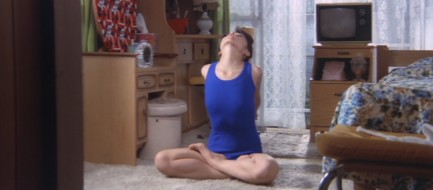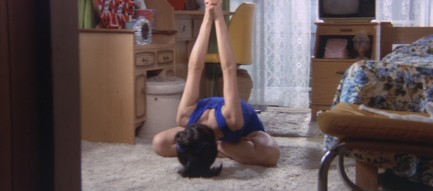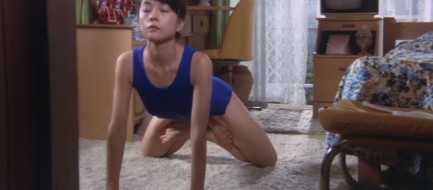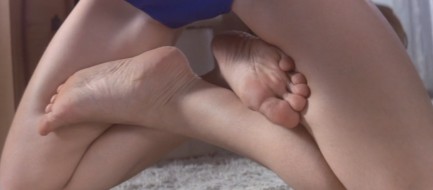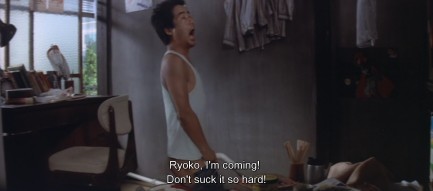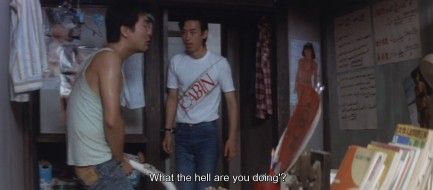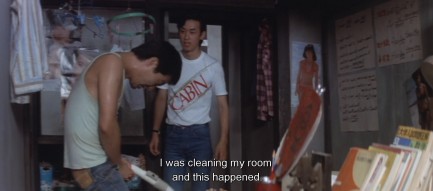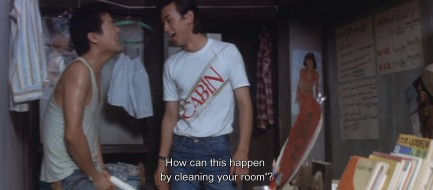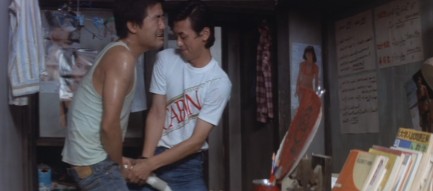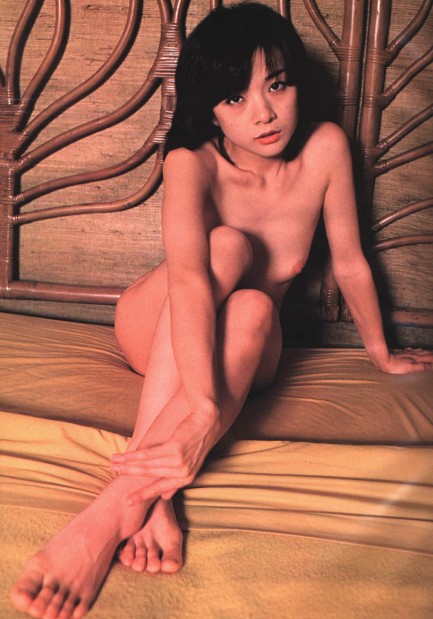 ---
What you see is exactly what you get.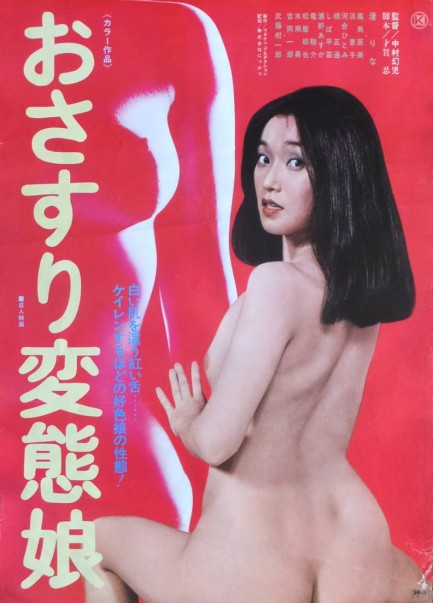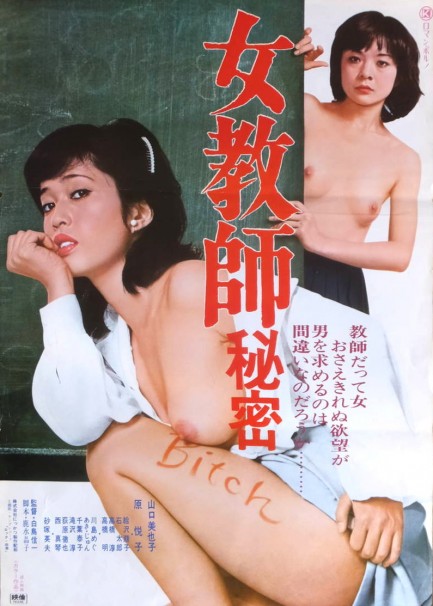 Above are two striking pinku posters, both from the roman porno sub-genre. The first is for Osasuri hentai musume, aka Harassing Perverted Girl, with Rina Nagisa. The English title of this is interesting. You can't be sure if it refers to a perverted girl being harassed, or a perverted girl who harasses. It's the former—the Japanese title, which would translate to something like "caught hentai girl," makes that a bit clearer. The second poster is for Onna kyôshi: Himitsu, aka Female Teacher 6, with Miyako Yamaguchi and Etsuko Hara. As the title suggests, it was part of a series, a run of thirteen Onna kyôshi movies, made between 1973 and 1983. How in the hell did Nikkatsu Studios manage to milk the concept for so many films? Because audiences didn't care a whit about the plots as long as there was what's known in Japan as fan sābisu, or "fan service"—i.e., giving consumers (usually males) what they want. It's technically a manga term, but we think it applies here, as both posters promise it, and in a laudable example of truth in advertising, the films deliver. Osasuri hentai musume and Onna kyôshi: Himitsu both premiered—in what was a banner weekend for roman porno fans—today in 1978.
---
Cat Woman eat your heart out.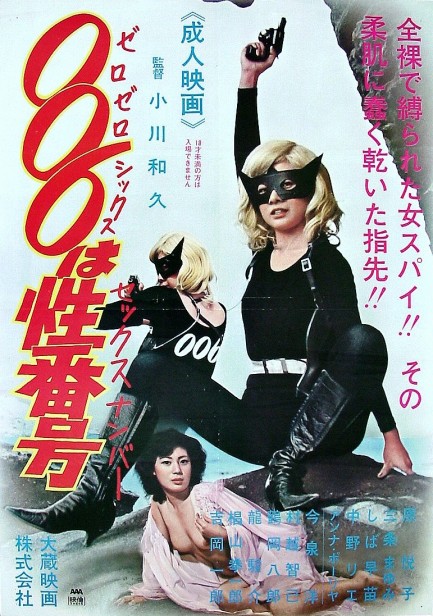 Etsuko Hara starred in many pinku films between 1974 and 1981 (again, none of this was actual pornography, but rather, kinky, r-rated erotica), and here appears on a poster as the cat-suited character 006, from her 1978 romp Number 006 Is the Number of Sex. With a costume like that, the film has to be a winner, but we haven't seen it. At least we have the poster. After a thorough search of the internet, we're sure this is the first time it's ever appeared online. Now, please, somebody rip the film and send us a link. In exchange we offer the below image of Hara out of her bat—or it s cat?—costume.
---