It don't mean a thing if it ain't got that swing.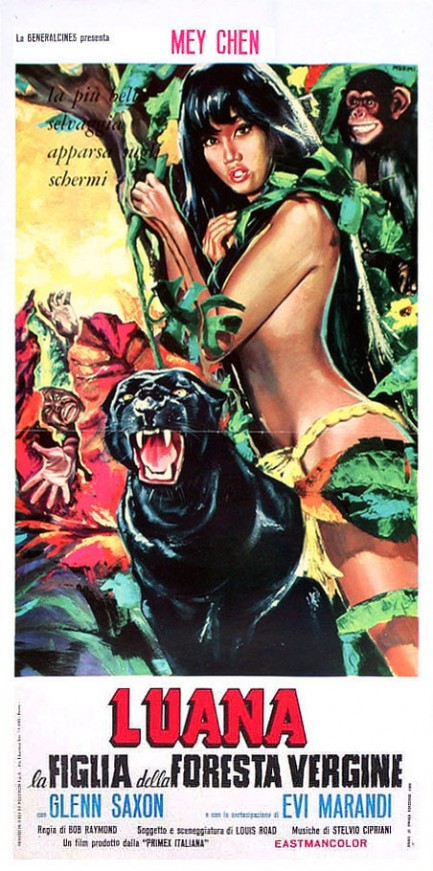 One good swing deserves another, and since we screened Tarzana, sesso selvaggio, we thought we'd check out another Italian female Tarzan movie, 1968's Luana la figlia della foresta vergine. Basically, a man who disappeared into the African jungle many years ago is sought by the daughter he left back in civilization. The father had taken a second wife who bore him a second daughter. Unbeknownst to the first daughter, her father and his new wife died, and the second daughter grew up in the jungle alone, befriended by birds, primates, and an assortment of big cats. So the first daughter leads a jungle expedition and ends up stumbling upon a half sister that spends her time swinging on vines from water hole to water hole.

Describing the premise of this movie was probably more trouble than it was worth. All we really needed to say is that it's a film that features hot French actress actress Evi Mirandi and hot Vietnamese actress Mey Chen, aka Mei Chen Chalais, who has no lines at all but looks great running around in a loincloth. She also knows the jungle well enough to avoid the carnivorous flowers, something that—crucially—can't be said of others. The rest is unimportant. The poster art above is interesting, we think. It's signed, illegibly, and nobody has yet determined who the artist was. Someone in Italy needs to work that out. We'll just wait here trying to decide whether Luana la figlia della foresta vergine was actually any good. It premiered today in 1968.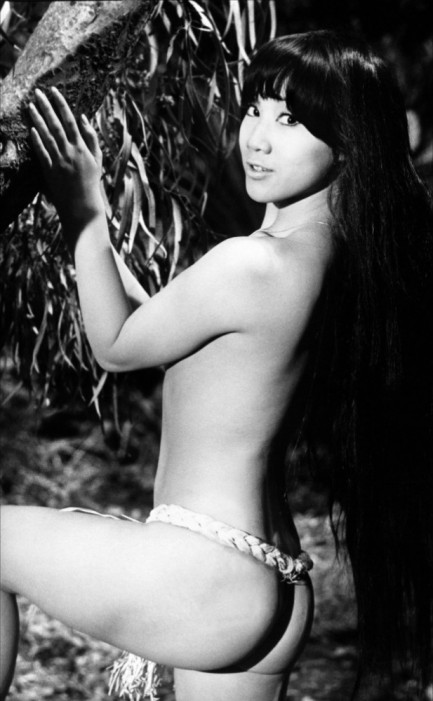 ---
How's about we skip the marriage and you stay wild?
Today we have yet another cover of the tabloid Midnight, this time with Greek actress Evi Mirandi, better known as Evi Marandi, declaring she'll marry any man who can tame her. We first encountered her a couple of years ago inside this issue of The National Star Chronicle, where she said "It's easy to keep a man—if you have enough bed appeal," and added that, "Every woman is a natural temptress." So that raises a crucial question: Would you really want to tame a person like that?
---
National Star Chronicle had a catchy slogan, but occasionally had a hard time living up to it.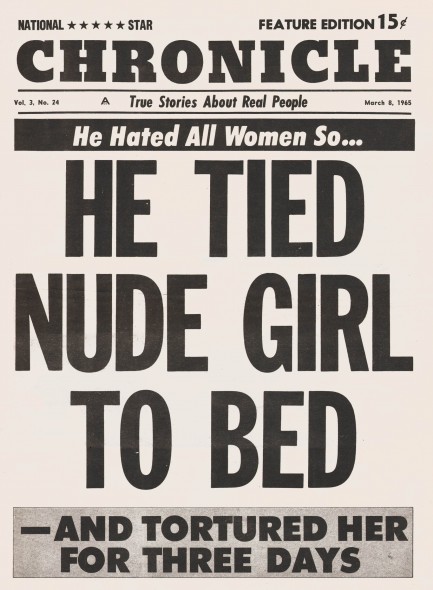 This National Star Chronicle published today in 1965 forgoes its usual cheesecake cover in favor of screaming text about a torturer. The person in question is Alfred Poettinger, who indeed tied a nude woman to his bed and tortured her the last three days of December 1964 in the village of Studl-Paura, Austria. The torture took the form of whippings, followed by insertions of red hot needles. It's at this juncture that the Chronicle's account veers into pure fiction. In the real world, the woman, Monika Einoeder, managed to slip her bonds and flee naked to an adjacent house, where she called the police. Cops arrived at Poettinger's only to find that he had hanged himself. But in Chronicle world, Poettinger didn't die, but rather was trundled off to jail, where Chronicle house scribe Ernst Brookman allegedly scored an interview. The point of such a blatant lie, we presume, was to convince readers that the Chronicle had a network of intrepid reporters blanketing the world. It probably worked, too, but then this little thing called the internet came along and now we can look up articles from Jan 2 1965 and read for ourselves over and over that Poettinger was swinging from the rafters when police found him. So much for the Chronicle's motto: True Stories About True People. Well, at least they got half of it right, and to their credit the editors didn't forget the cheesecake entirely. Inside, it takes the form of Evi Marandi, Pilar Pellicer, Janis Paige, and Paola Penni, all of whom you see below. More from National Star Chronicle later.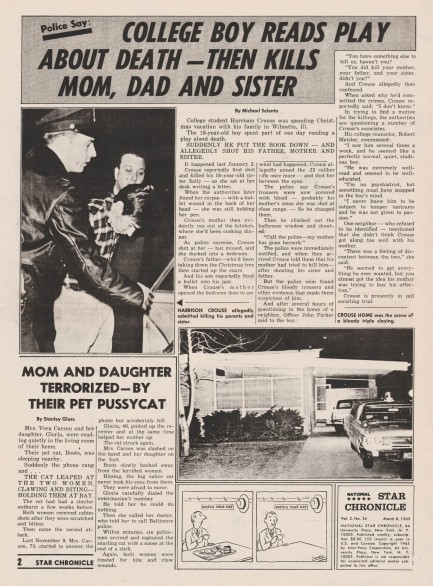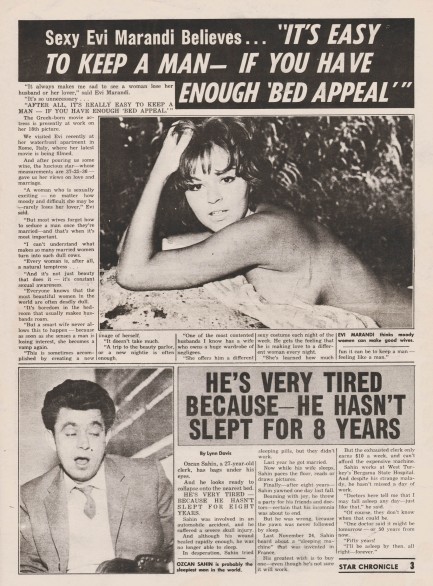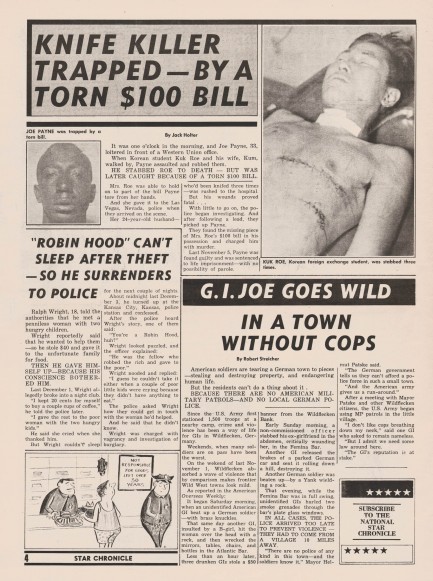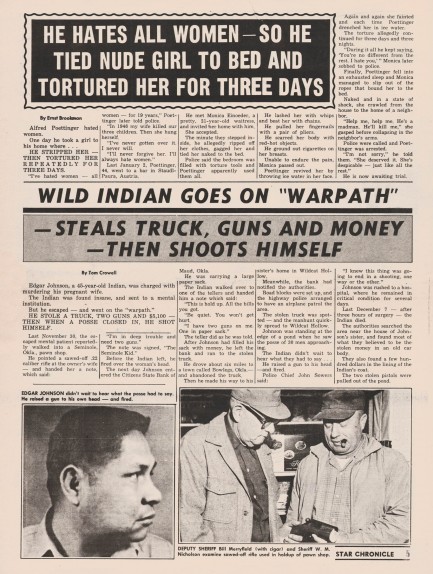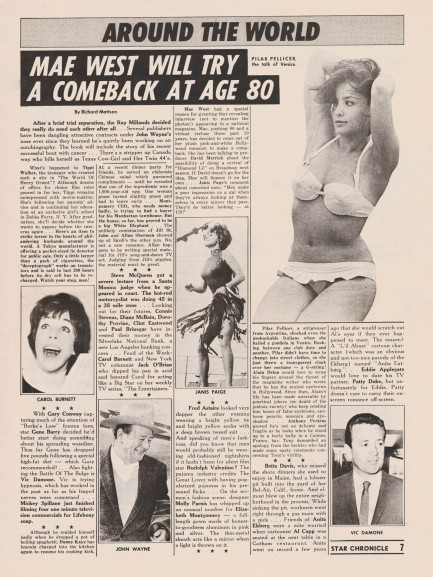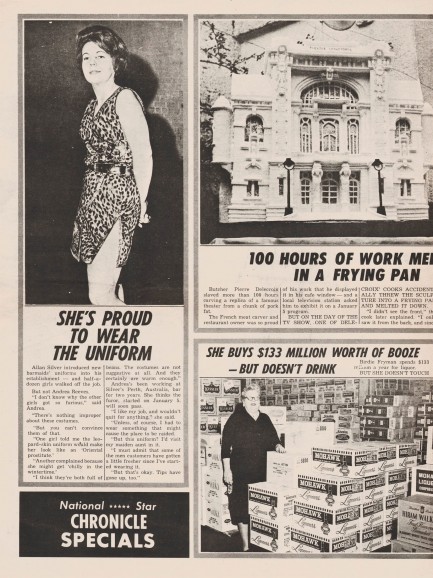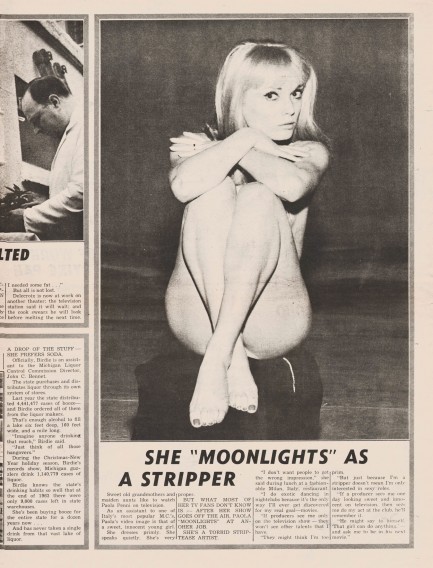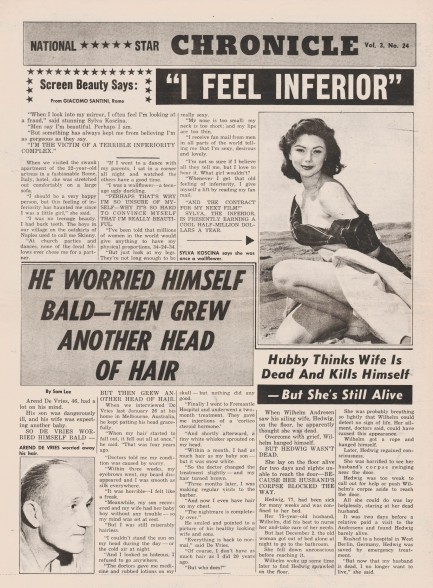 ---