Extra, extra, read all about it!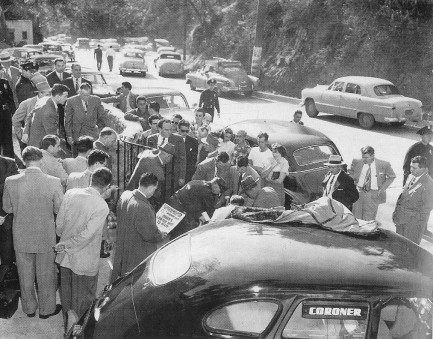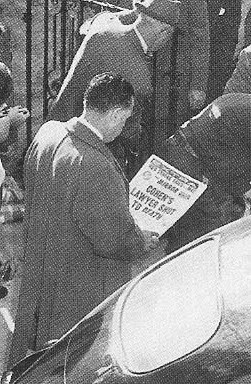 The above photo shows the murder scene of Los Angeles mob lawyer Sam Rummell who was messily dispatched in front of his Laurel Canyon villa via shotgun blast in 1950. Around 1:30 a.m., as he climbed the steps to the sprawling house, someone or someones with deadly aim blew off the left rear quadrant of his head. Rummell ran with the notorious mobster Mickey Cohen for years, and had been neck deep not only in Cohen's multimillion dollar prostitution and gambling operations, but also in schemes to oust mayor Fletcher Bowron in a recall election, and to take control of the LAPD.
The insider theory was Rummell was killed to prevent his appearance before a grand jury to testify about an alleged conspiracy between the L.A. County Sheriff's Department and a company called Guarantee Finance, a front for a massive Cohen-controlled bookmaking operation. The insider theory was also that L.A. Sheriff's officers pulled the trigger. These remained mere theories, because the killer or killers were never caught.
All very interesting, one more dead mob underling, but that isn't why we shared the photo. A close look reveals, at center, a man holding an edition of the Los Angeles Mirror with a headline reading: Cohen's Lawyer Shot To Death. Yes, Mirror staff were so quick with their Extra edition that it hit newsstands before Rummell's murder scene had been cleared. That's journalism—late night, coffee-fueled, time-pressured, editor-with-a-whip journalism. And the photo is an fascinating example of it working perfectly, sixty-six years ago today.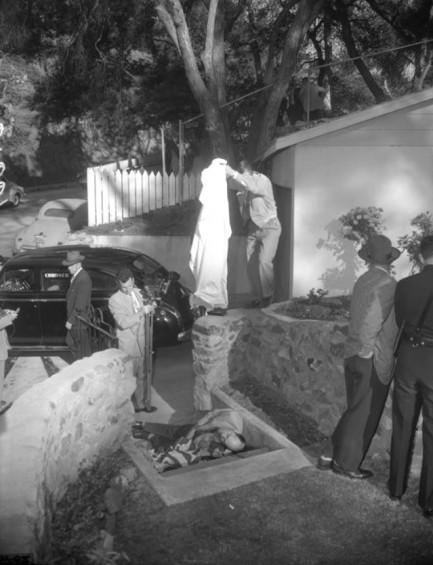 ---
Did she or didn't she?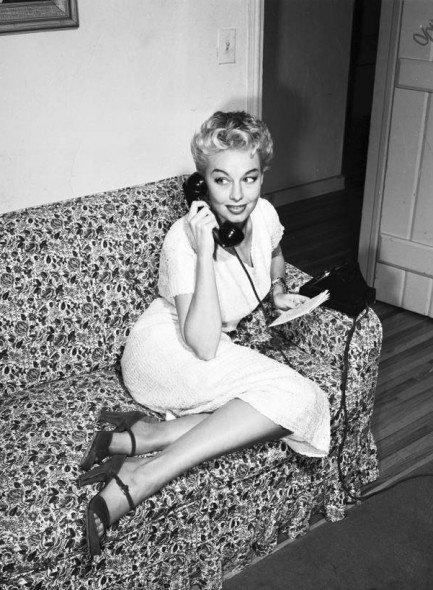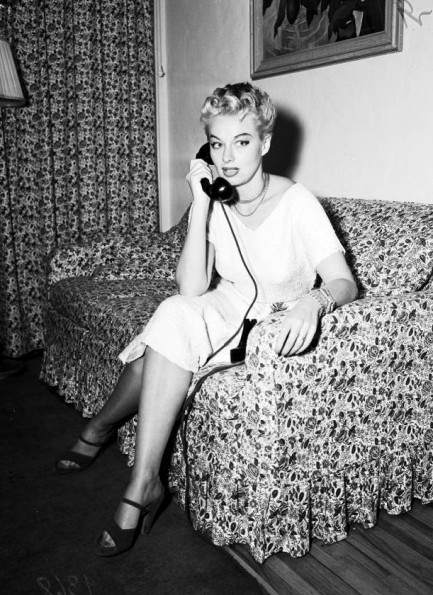 These two photos showing burlesque dancer Lili St. Cyr were shot today in 1951 for a Los Angeles Examiner story about St. Cyr's legal difficulties. On 23 February of that year she had begun performing at Ciro's supper club in Hollywood. It was a different type of club for her—it lacked the intimacy of her normal venues, and would sap some of the heat from her act, but the place was world famous and considered by the smart set to be classy. It had hosted Edith Piaf, Marlene Dietrich, Duke Ellington, and Dinah Washington. Of late it was facing stiff competition from Macambo's, a Brazilian themed joint across the street, and owner Herman Hover wanted to make a splash with St. Cyr. He spent thousands refurbishing the stage just for her, and she would be the first burlesque dancer to transition from men's clubs to L.A.'s most famous supper club.
On premiere night celebs such as Ronald Reagan, Nancy Davis, Franchot Tone, Barbara Payton, Lex Barker, Mickey Rooney, and Los Angeles mayor Fletcher Bowron watched her strip down to toned perfection as they ate dinner and sipped drinks. Other celebs that visited that summer included Bette Davis, Humphrey Bogart, and Clark Gable. During St. Cyr's residency she varied her act, but a standard bit was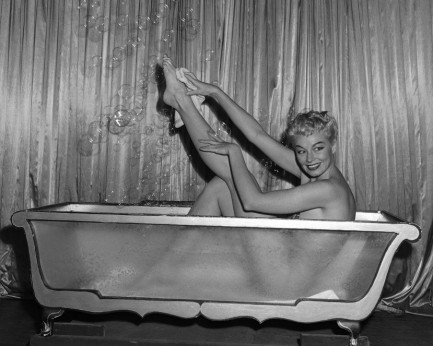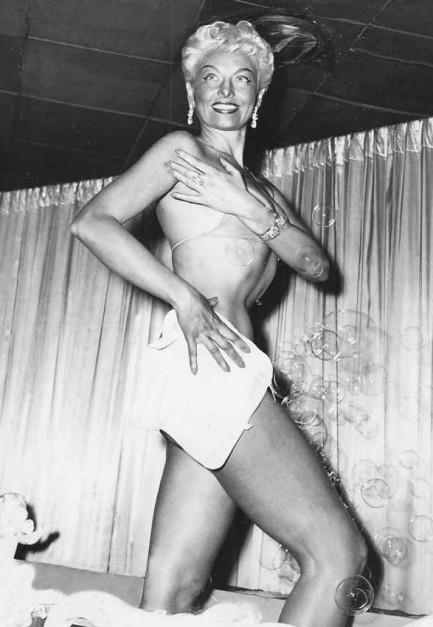 entitled "An Interlude Before Evening," and involved being helped from her clothing by her maid Sadie before slipping nude into a bathtub. But the nudity was an illusion, the cleverest part of her act, achieved through a combination of lighting, positioning, flesh-colored underwear, and sheer athleticism as she slipped quickly from behind a towel and into the sudsy tub.
On 18 October a group of Los Angeles sheriff's deputies, who were trying to enforce a countywide ban against stripping, arrested St. Cyr and Herman Hover. The charges were the usual slate. St. Cyr called upon celebrity lawyer Jerry Giesler—an event the two Examiner photos at top are supposed to be illustrating—and Giesler proceeded to help turn what was already a media boon for St. Cyr into a full bonanza. Giesler was a showman, and he loved cases that had the potential to increase his fame. He made assorted sensational statements to the press, including one in which he promised to have his client perform her bath routine in the courtroom, and another in which he opined that putting together a jury of peers required empaneling a dozen strippers. He described St. Cyr as merely trying to improve her station in life, just an industrious woman trying to carve herself a piece of American pie. The press ate it up.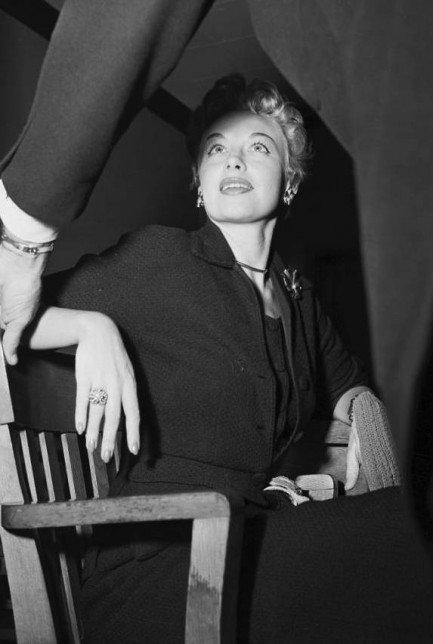 The trial was scheduled for early December in the Beverly Hills Courthouse. Giesler kept the jury—which wasn't all strippers, but at least was mostly female—laughing with his continual antics. He introduced St. Cyr's rhinestone encrusted bra and g-string as people's exhibits A and B. He drew diagrams on a blackboard illustrating how different observers' vantage points toward the stage were blocked by St. Cyr's maid. He flustered police officials by making them discuss in detail such such terms as "bump," "grind," and "half-bump," and followed that up by putting Herman Hover on the witness stand and having him demonstrate those moves. The sight of the portly Hover attempting burlesque sent ripples of laughter through the courtroom. Years later Giesler wrote: "I can honestly say I succeeded in having her case laughed into a not-guilty verdict."
That may have been true, but St Cyr's icy demeanor was also an important factor. The women found her elegant and remote—the opposite of what they had expected. And the cops did their part for St. Cyr's defense by being terrible witnesses. One claimed that she emerged from the tub completely nude (the normal conclusion to her Interlude, and just as illusory). Another said she wore undies but that he could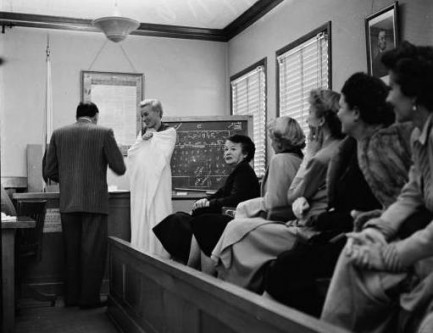 see the outline of her "private parts," which he discerned in enough detail to determine "were shaven." The inconsistencies were epic. Some said she caressed herself, others weren't sure. Another described her towel as "about twenty, twenty-four inches." In reality it was three times that size. It was as if St. Cyr's dance had dumbfounded the cops.
The confusion has extended even to the present day. For a performance that lasted barely fifteen minutes, it has had an amazing amount of conflicting information attached to it. Columnist Army Archerd claimed St. Cyr was indeed nude that night (clearly wrong, according to multiple testimonies); Sheila Weller's book Dancing at Ciro's claims an "all-male" jury (it was mostly female) was taken to Ciro's to see the act (Giesler tried, but the judge said no); some sources claim St. Cyr performed a reverse strip, beginning nude in the tub and emerging to be slowly dressed by her maid (indeed, that was an oft-performed variation, so it is certainly possible it happened that night). Who's right, and who's wrong? Short of using a time machine to return to October 1951 there's no way to tell.
At the end of the six-day trial the jury acquitted St. Cyr following a mere seventy-eight minutes of deliberations. There had been no indecent exposure. At least not that night. All St. Cyr's biographers agree on this much—she was shy and regal offstage, but her performances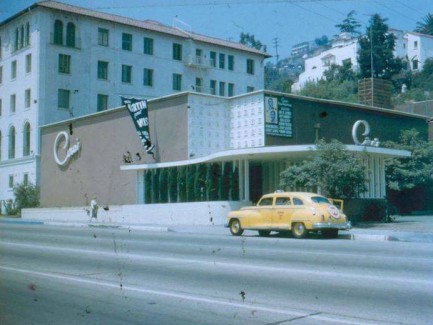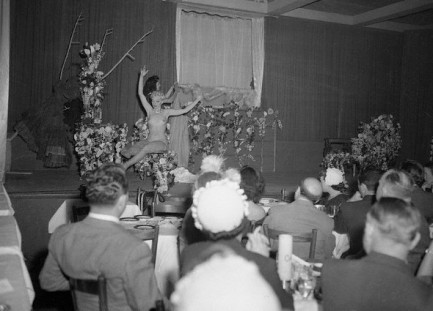 freed her to inhabit different characters. Despite her assertions that she always wore at least a g-string and bra, she definitely performed topless on occasion, as shown by the above photo taken at Ciro's during early 1951.
Sheriff's deputies had gone to the club already intent upon arresting her based on what they had heard about the act, which may have influenced their testimony—i.e., they didn't
see
her nude, but knew she had done it before. St. Cyr admitted in court she knew police were in the audience, thus she was especially careful that night. But what of other nights? Maybe Army Archerd did what columnists do—took an event he witnessed on one night and pretended it happened on a more useful one. Maybe St. Cyr, on occasions when she knew the cops were far away, flashed her audience to generate buzz. It's likely we'll never know what really happened, but that merely adds to the St. Cyr mystique. Did she or didn't she? Only her maid knew for sure.
---