Scenes from a marriage.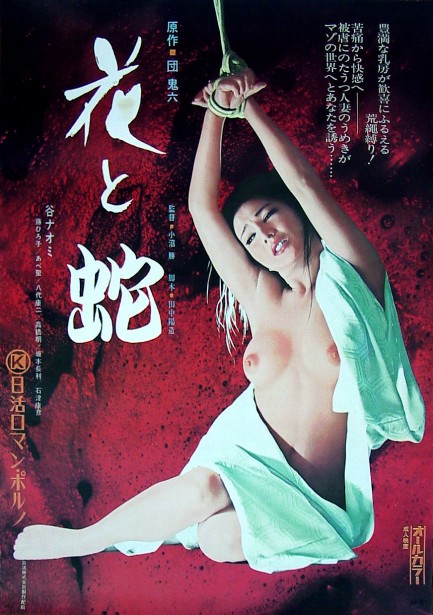 If there's one indisputably true statement about Japanese cinema, it's this: they will try anything. 1974's Hana to hebi, aka Flower and Snake, is a bondage comedy based on a novel by Oniroku Dan, who specialized in S&M fiction. For the screen version, Nikkatsu Studios recruited reliable sexploitation queen Naomi Tani, who had already appeared in a previous version of the same film entitled Hana to hebi yori: niku no shiiku, aka Flower and Snake: Rearing the Flesh. Where that version was a mere pinku film, this new version would be a Roman porno—which simply meant Nikkatsu would spend more money in an effort to elevate the genre into something mainstream Japanese would accept. In the film, Tani plays an aristocratic wife who asks for a divorce but instead is forced into bondage and submission by a man hired for the task by her husband. She experiences a sexual awakening, the employee forms an emotional bond, and complications ensue from there. We haven't read the novel, but apparently it's very different from the film and its adaptation was a source of friction between studio and author. But it didn't matter—Hana to hebi was a smash. It was the first of Nikkatsu's many Roman porno flicks, and the first of what would become a Hana to hebi franchise. It premiered in Japan today in 1974.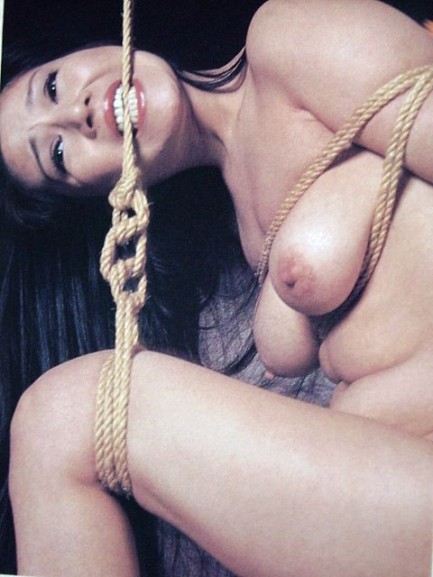 ---
I wanna hold your hana.
Hana to hebi: kyûkyoku nawa chôkyô was released with the English title Flower and Snake 4: Rope Magic, which is a very pretty collection of nouns for an exercise in torture porn. Fairly hard torture porn, too, probably because by the time this was made by Nikkatsu Studios, adult video was taking a major bite out of Japan's pinku market. The plot here is simple: a gambler with debts loses his wife and daughter to the Yakuza, who proceed to humiliate the women in various fiendish ways. There's an escape attempt that goes awry, but basically the story is just a framework for increasingly devilish forms of sexual degradation. You got your dildos. You got your hot wax. You got your urine. This is soooo not our thing. But what is our thing is the promo art, which is just lovely, even while evincing the film's highly dubious nature. Experienced pinku fans, or those into the Japanese art of Kinbaku-bi (beautiful bondage) may dig this movie. All others proceed with caution. Hana to hebi: kyûkyoku nawa chôkyô, premiered in Japan today in 1987.
---