Ouch! Oof! I get it! I get it! You don't want to pick on someone your own size!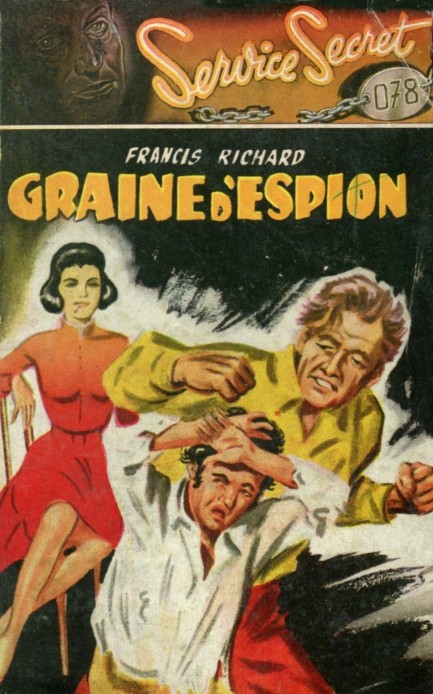 Above is another fun cover from Société d'Éditions Générales, or SEG, for its series Service Secret 078. Graine d'espion translates as "spy seed," another inscrutable title, which by now you know is par for the course when it comes to French paperbacks. Francis Richard was in reality Paul Bérato, who you can learn a little bit more about here. As usual with SEG, the art is uncredited.
---
Okay, in she goes. Now I just need some bubble wrap and a dozen or so pine air fresheners and she's good to ship.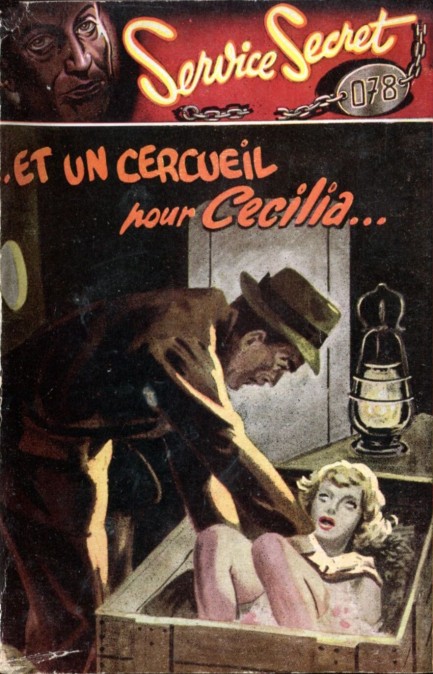 This is such a macabre image, a man stuffing a woman's corpse in a crate, that we probably should have posted it around Halloween. 1958's Et un cercueil pour Cecilia was written by Francis Richard, aka Paul Bérato, for Société d'Editions Générale and its collection Service Secret 078. This is one of those tales where the author pretends to be the hero. In other words, it was written by Bérato as Francis Richard, but the main character is also named Francis Richard, and he's a globetrotting spy who heads to Chile on a mission, where the villains apparently crate up corpses. Though the grim art on this is not attributed, others in the series were signed E.G. or F.G. and the style here is similar. Unfortunately, we don't know who E.G. or F.G. is.


---
French paperback illustrators could teach real world spies all about leaving no clues or evidence behind.
When it comes to French pulp, the cover art will often be uncredited. Such is the case with this attractive front for the thriller Quadrille d'Espions, published in 1956 by Société d'Éditions Général, aka SEG, for its popular series Espionnage/Service-Secret. The book was written by Francis Richard, which was a pseudonym used by Paul Bérato, who also wrote as Yves Dermèze, Paul Béra, er al. We dug deeper into the identity of this artist, to no avail. Someone out there knows, though, and with luck, we'll hear from them.
---