Boys, there's no need to fight over me. I can be icy and unobtainable enough for both of you.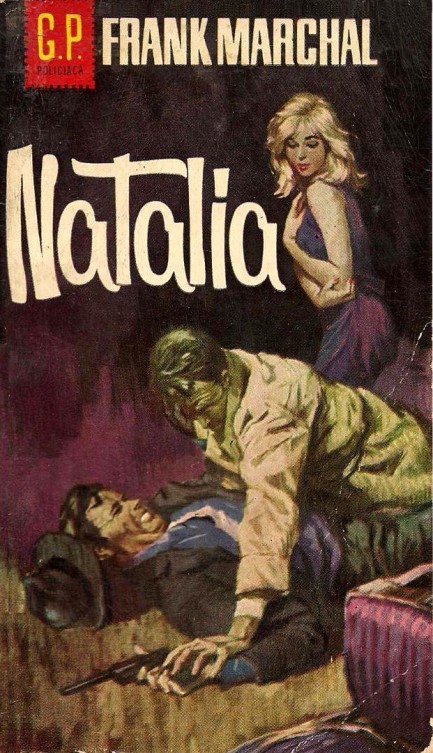 A couple of months back we shared a cover from Spain's Ediciones G.P. for Franck Marchal's Natalia enciende la mecha, which we mentioned was part of a series written by French authors Pierre Aspetéguy and Monique Henry. Above is the first entry in that series, simply titled Natalia, featuring the 1959 debut of their part-time fashion model/full-time ass whipping super spy. We're sharing this today because we've dug up some new info on the series—we couldn't identify the cover artist on the previous example, but we we think this one may have been painted by a Spanish artist who called himself or herself Chaco. That's all the info we have, but we'll keep digging. Anyone out there know anything? Drop us a line.
---
I call this game Project Runaway. A model—that's me—points one of these shotguns at a pest—that's you. Guess what you do next?
Above, Natalia enciende la mecha, or Natalia Lights the Fuse, from Ediciones G.P. out of Barcelona, 1961. This was one of a series of books about Natalia, a French model who leads a double life as an international spy, with Marchal serving as the shared pen name of French authors Pierre Aspetéguy and Monique Henry. We first saw a front for this paperback over at the blog Spanish Book Covers way back, but this scan comes from a different copy, so we thought we'd share it here. Spanish Books Covers has been on hiatus a long while, but the site is still live and there are numerous interesting fronts there worth viewing. What we'd really like to know is who painted the cover art. Often with these European editions you get art reworked or copied from U.S. paperbacks, but in the case of Ediciones G.P. we think not. Put this one in the unknown file until further notice.

---