My medical advice is to spend the rest of the night in bed. Let me just phone down to the desk because I'll need an early wake-up call.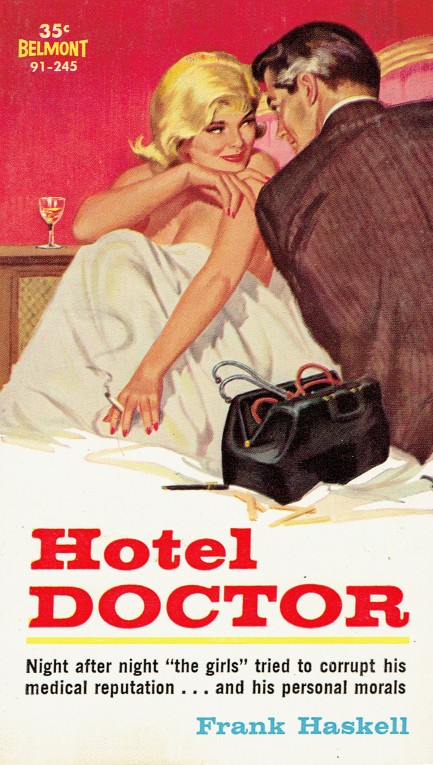 Another lecherous physician stars on this cover for Frank Haskell's Hotel Doctor, published in 1954 by Belmont Books. We've been documenting these over the years, and if you actually have the patience, you can see some of them here, here, here, here, here, here, here, here, here, and here. We have others, as well, but there can't possibly be time for you to look at them all. We know. We should make a keyword for these. We will, we promise. Haskell was aka Haskel Frankel, and when he wasn't authoring novels was a theatre critic and ghost writer. Hotel Doctor was also published by Carnival Books and Venus Books, so it must have been pretty good. The art is uncredited.
---
It doesn't look like much now, but slap on some paint, scatter some knick-knacks around, and we can open a bed & breakfast and make a fortune.
Initially published in 1953 as House of Lost Women, Frank Haskell's Boarding House acquired its new title in 1954 when re-published by Cameo Books, and retained the new name on the above 1969 edition from Macfadden-Bartell. Frank Haskell was a pseudonym for author Haskell Frankel, whose real name strikes us as a bit more literary sounding than his moniker, whereas the pen name sounds like it belongs to maybe a high school football coach or a union president. No artist info on this, but it's unusual and we like it.
---