His looks might have been ruined but his reputation was assured.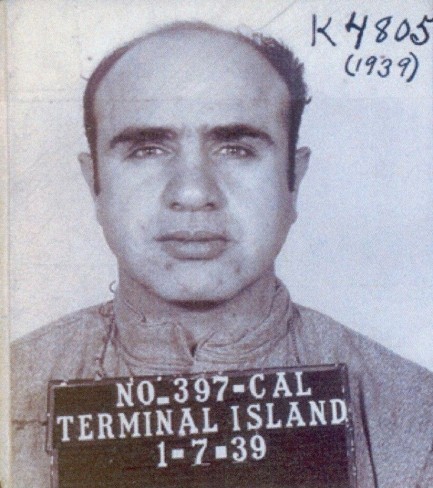 These mugshots show mobster Al Capone the day he entered Terminal Island Prison in California today in 1939, having been sent up for eleven months for tax evasion. The photos caught our eye because Capone generally tried to hide his scars, but in the second shot you see them clearly, three parallel slashes along his cheek, jaw, and neck. Capone told various stories about how he acquired these marks, but in truth he got them by being a little too familiar with fellow thug Frank Galluccio's kid sister Lena. It happened in 1917 in Frankie Yale's Harvard Inn, a bar and brothel in Coney Island, New York. After numerous insinuating comments to young Lena, Capone finally told her, "You got a nice ass, honey, and I mean that as a compliment. Believe me." At as result of that overture Frank Galluccio went at Capone with a knife—aiming for a fatal wound to the jugular but missing three times.

Capone had a notoriously short temper accompanied by a long memory, but even though he'd been disfigured for life during this incident he never sought revenge, even after he became basically the most powerful mobster in the U.S. Again, there are different stories about this, but the consensus seems to be that Capone had violated mob rules by messing with Galluccio's sister, and seeking revenge over what had been his own breach of ethics would have caused him no end of trouble. Galluccio worried about possible revenge, but never regretted what he'd done, saying in an interview many years later, "Fuck him. He deserved it." Ultimately, maybe Capone should have thanked Galluccio for both his gruesome appearance that made many a rival wither, and his nickname that was fearfully whispered coast to coast—Scarface.


---