You'd Hammer in the stomach, you'd Hammer in the jaw, you'd Hammer all over the body.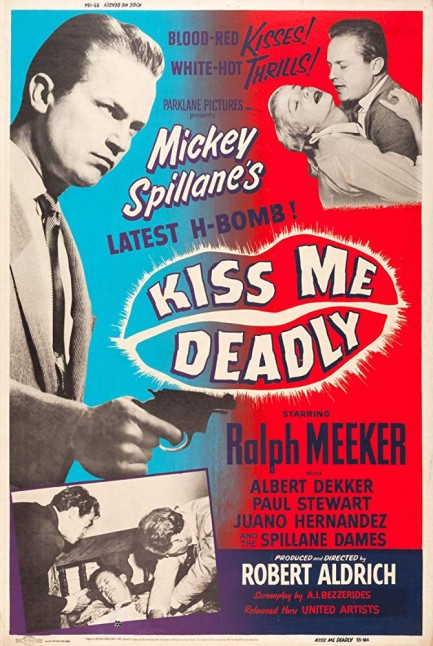 Does anyone not know what's in the suitcase in Kiss Me Deadly? We imagine almost everyone does, but we won't tell. We'll give you two hints, though: it isn't the same thing that's in the case in the novel; and the change the filmmakers made places the film on a progression along the line of such what's-in-the-case thrillers as Pulp Fiction (where you never see) and Ronin (where you never find out). Ralph Meeker stars as Mickey Spillane's harder than hard-boiled detective Mike Hammer, and Maxine Cooper plays his his assistant/friend-with-benefits (she was only his assistant in the novel) Velda Wickman.
Plotwise the first couple of reels follow the novel pretty closely, with Hammer almost running over a woman on the Pacific Coast Highway, letting her into his car, and quickly finding she's being pursued by villains of the worst kind. She and Hammer are captured, the woman is tortured, then the two are placed unconscious back in Hammer's prized Jaguar and pushed over a cliff. But the murder attempt only snuffs one of them—Hammer is left alive to seek answers and vengeance. With the help of his slinky sidekick he sets about turning the town upside down.
We wanted to watch Kiss Me Deadly again after reading the novel for the first time several years ago, but didn't get back to it until spurred to do so by Noir City, which is showing the film tonight on a double bill with Killer's Kiss. It's a pretty streamlined adaptation in parts, courtesy of A. I. Bezzerides. Spillane hated the movie, and we imagine he was particularly critical of some of the choices Bezzerides made. But the production is helmed by Robert Aldrich, who shows general flair along with impressive creativity in getting shots that were fresh for the time.
Best exchange of dialogue in this one:
"According to our information he calls himself a private investigator."
"His specialty is divorce cases."
Yeah, we're juvenile. Kiss Me Deadly is aimless in the beginning, and is marred by a silly Greek stereotype used for discordant comic relief, but picks up greatly in the second half and hurtles toward an explosive conclusion. The final product would have been merely decent had the movie stayed on the same course as the book, but Bezzerides wrenched the second half into a hard left turn, and his final commentary—an inspired change—saves the movie, in our opinion. It's preposterous, what Bezzerides does, but it works. So in the end Kiss Me Deadly earns its place on the list of twenty or so best entries in the film noir genre.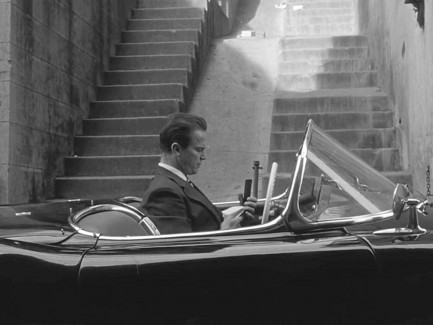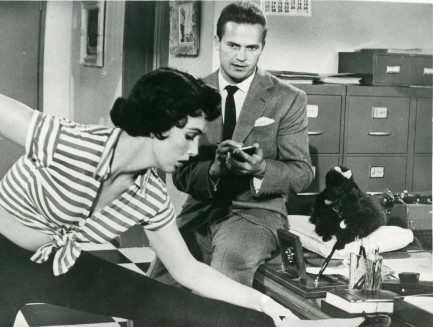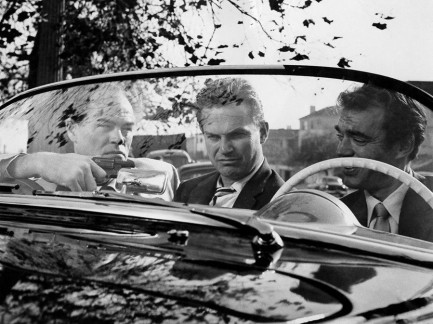 ---