She's like an onion—every layer you peel gets you closer to the tender parts.
American actress Gwen Verdon was born in Culver City, California. That's a little like being born in Hollywood—Culver City was home to Triangle Studios, The Culver Studios, Metro-Goldwyn-Mayer, and other production houses, and it remains home to Sony Pictures Entertainment. Verdon entered the studio system at age eleven and eventually appeared in such films as Gentlemen Marry Brunettes, The Blonde from Brooklyn, and Damn Yankees! This photo is a promo from the latter film, and dates from 1958.
---
And as far as gentlemen go, they'll take whatever they can get.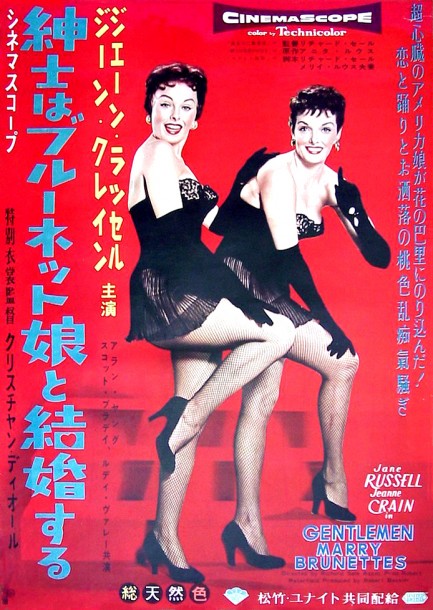 Above is a brilliant poster for the film musical Gentlemen Marry Brunettes starring Jane Russell and Jeanne Crain. Both Brunettes and 1953's Gentlemen Prefer Blondes had begun as novels written by Anita Loos, in 1927 and 1925 respectively. Blondes (it was actually the second time the book had been filmed) was of course a smash with Marilyn Monroe and Jane Russell in the leads. A year later Monroe was unavailable to reprise her role as Lorelei Lee, so both leads were rescripted into entirely new characters and Jeanne Crain scored the new part opposite Russell. Gentlemen Marry Brunettes appeared in 1955, but the result wasn't quite as electric as Gentlemen Prefer Blondes. Same old story—it's almost always pointless trying to capture lightning in a bottle twice, and a sequel without Monroe was destined to disappoint, at least artistically. But it did become one of the top box office movies of 1955. Amazing, considering it's almost forgotten today. Seems the audience has stated its preference rather clearly. Well, even if Brunettes fell short of Blondes in the memorability department, there's nothing forgettable about its Japanese poster.
---