The Devil went down to Georgia looking for souls to steal.
We found a little piece of real world pulp and thought we'd share it because it relates to what we wrote last month about Sean's Penn's El Chapo interview. A news story yesterday revealed that in the U.S. forty-six current and former officers of the Georgia Department of Corrections were arrested for running a drugs and contraband ring in prisons around the state. Yup, you read that right—forty-six officers. These cops and guards facilitated cocaine and meth deals both inside and outside of prison, and smuggled liquor, tobacco and cell phones inside in exchange for money. Convicts used the phones to commit wire fraud, money laundering, and identify theft. And we should point out that none of this is unique to Georgia. In 2014 a North Carolina convict orchestrated a kidnapping in Atlanta using a contraband cell phone.
In our Sean Penn piece we quoted Roberto Saviano, the internationally respected author and researcher, who has said the illegal drug trade has an influence on the global economy similar to that of oil or gold. That is to say, it's so lucrative international law is ignored, and people are killed by the thousands to keep the profits rolling in. The main difference is all the millions of dollars have to be cleaned in the legal financial system. But that's no problem. Several huge banks, including Wachovia and HSBC, have intentionally laundered drug money and gotten away with mere fines. Other huge institutions, such as Bank of America and J.P. Morgan, are known to have been used for money laundering but claim it all somehow happened without their knowledge.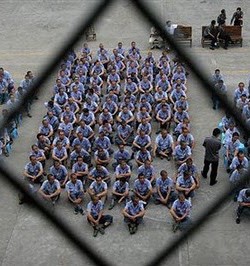 To the FBI's credit, they're not treating this as a one-off. Special agent Britt Johnson, who you see above, hinted at wider problems, commenting at a news conference, "It makes a huge challenge for law enforcement. After you chase down, arrest, and prosecute criminals and put them away for life, they continue to direct crime on the streets from their jail cells."
So what's the solution? Make the prisons even harsher? Legalize drugs? We have no idea. We're not suggesting that anyone have sympathy for the guards that got arrested, but you have to admit, when drug profits are so vast they corrupt entire third world political systems and entire first world banking systems, it's a lot to expect lowly prison guards not to try and join the party.


---
He really appreciates the wilder side of life.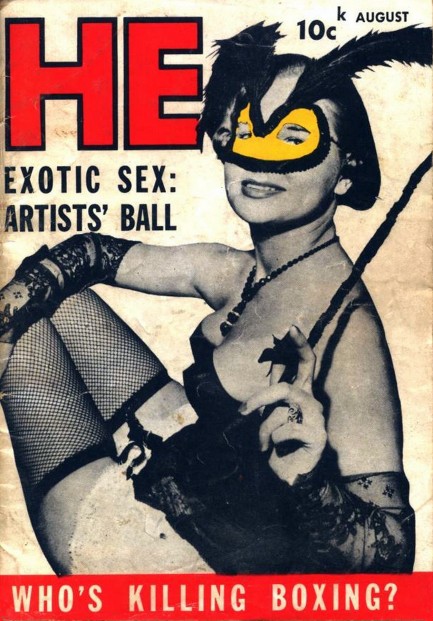 Last year we posted the front and back covers of an issue of He magazine. As usual, it's taken us longer than we intended, but today we're back with more. The above cover appeared this month in 1953 and features a masked model shot at New York City's annual Artists Equity Ball, which, according to He, pretty much turned into an orgy. We don't know about that, but the photos do reveal a rather racy scene. You also get shots of (we think) Rocky Marciano knocking out someone or other and lightweight champ Jimmy Carter mashing some hapless opponent's face, photos of Laurie Anders, Lili St. Cyr, Lilly Christine, Daniele Lamar, and other celebs of the day, an amazing still of Julie Newmar, aka Julie Newmeyer, dancing in Slaves of Babylon, plus a back cover featuring highly touted but ultimately underachieving actress Mara Corday. We don't have to bother too much with a description today, because these digest-sized magazines have text that scans large enough to be read even on small computers. So read and enjoy.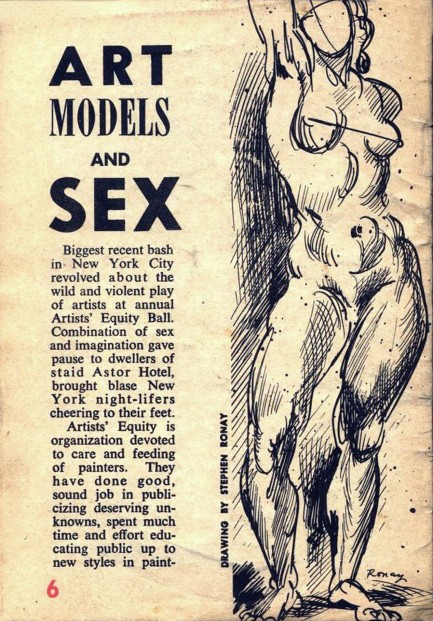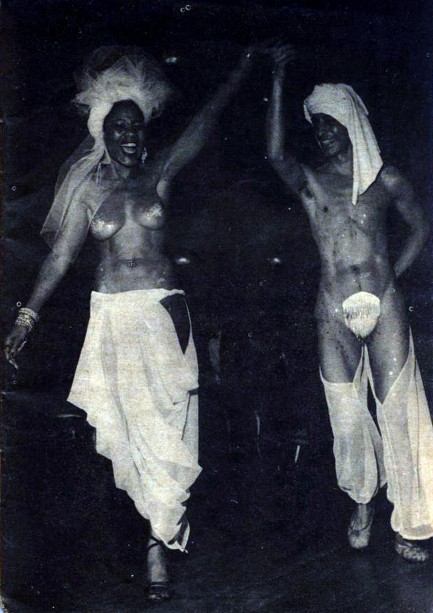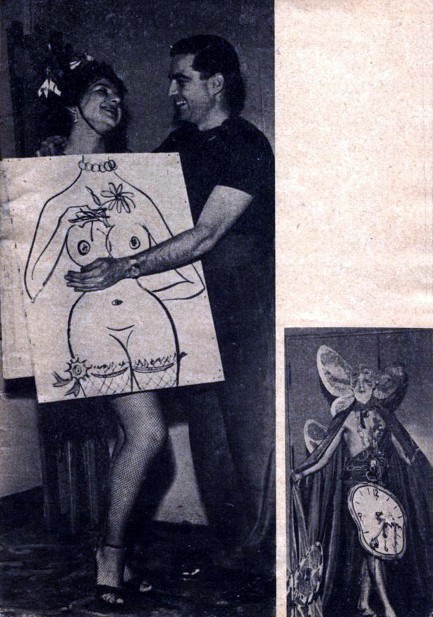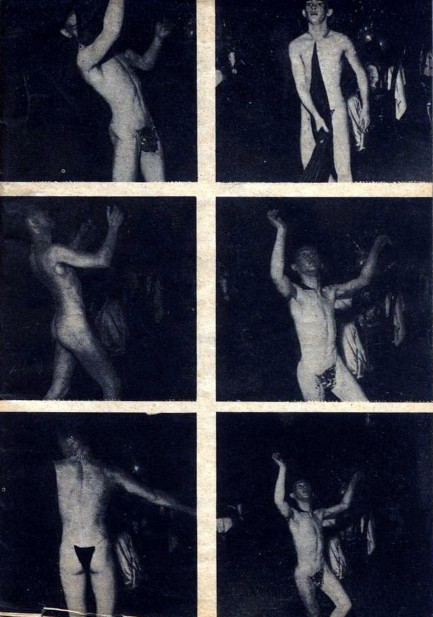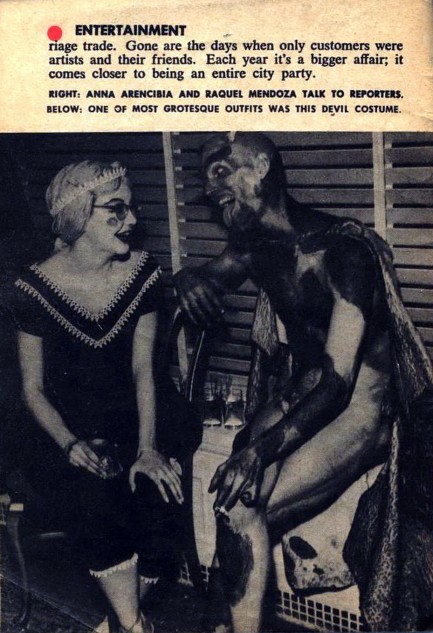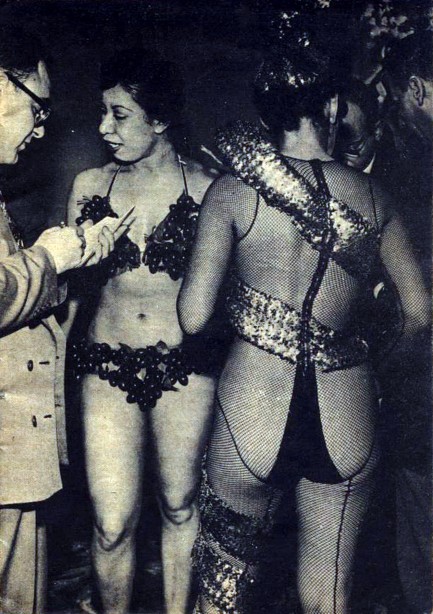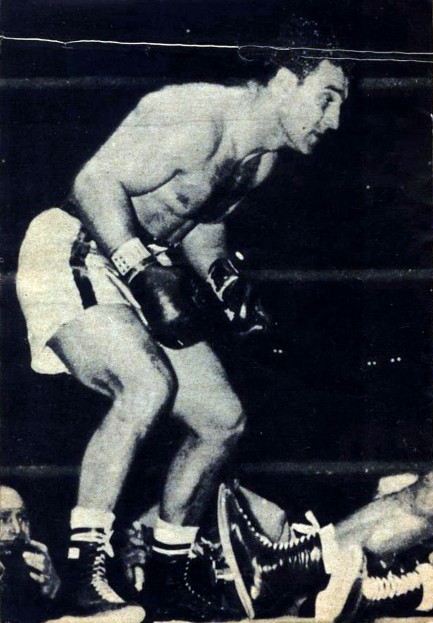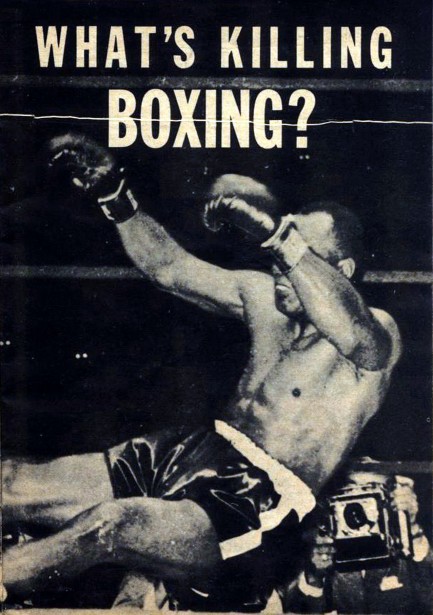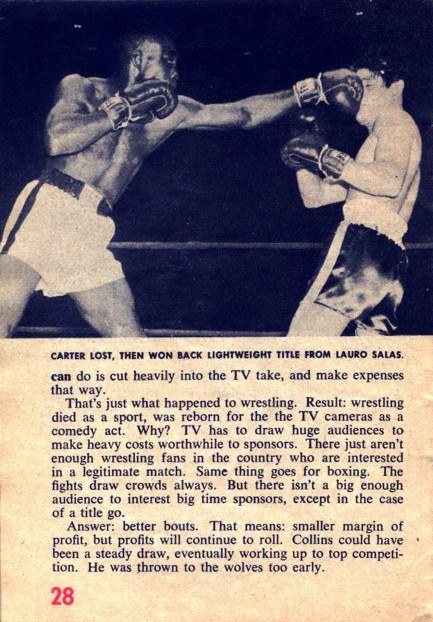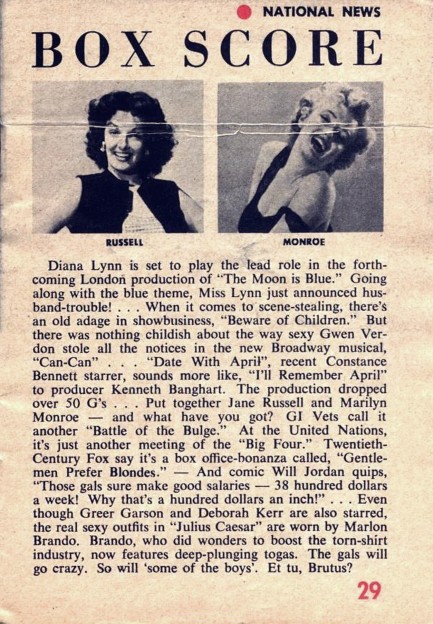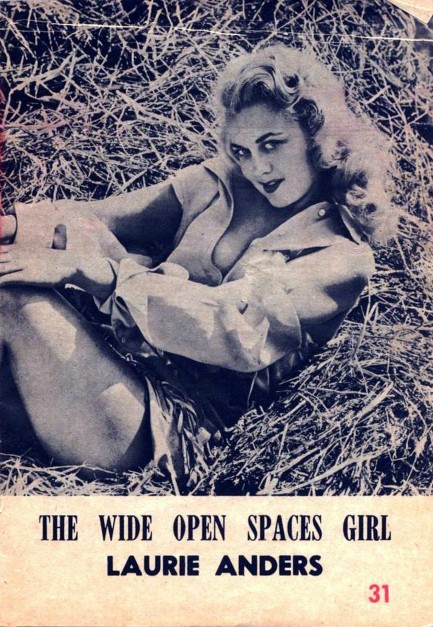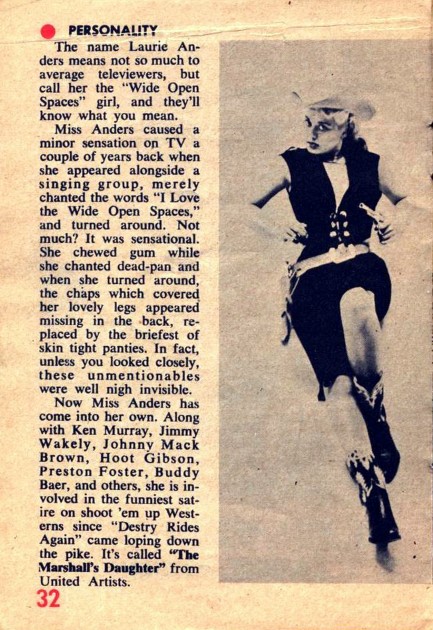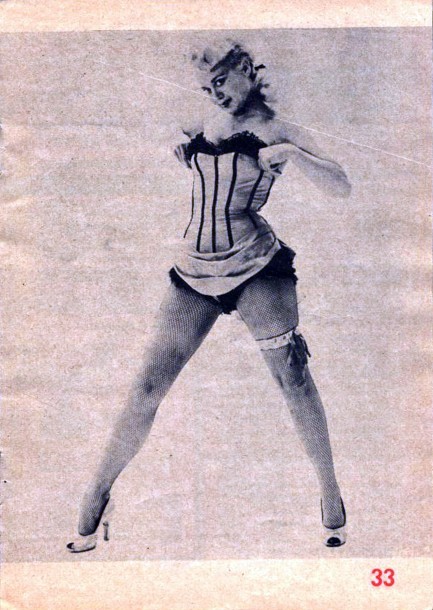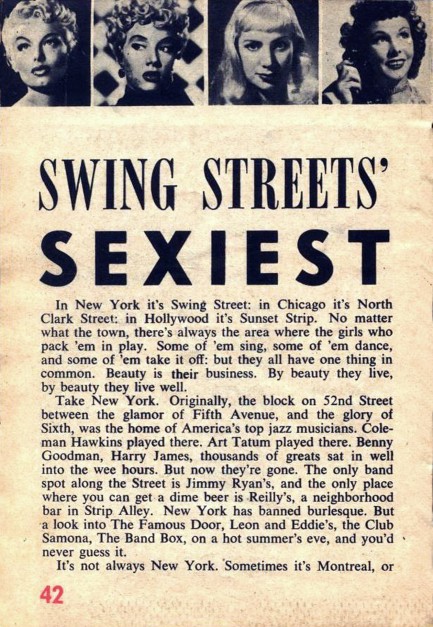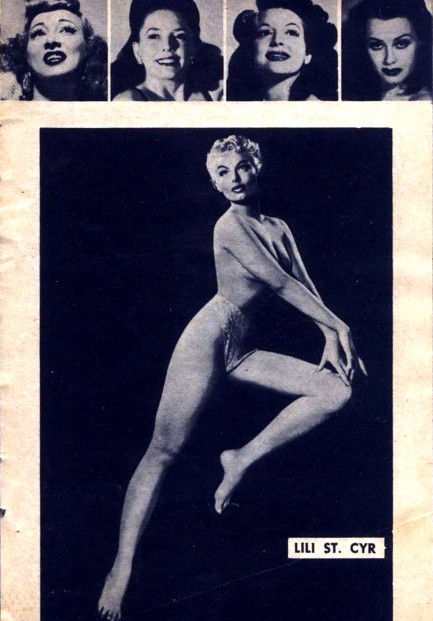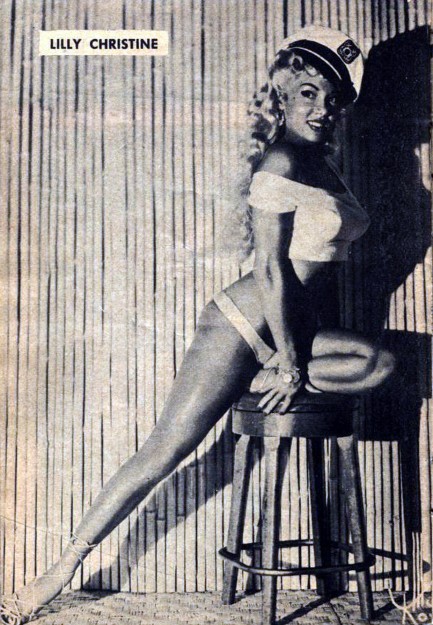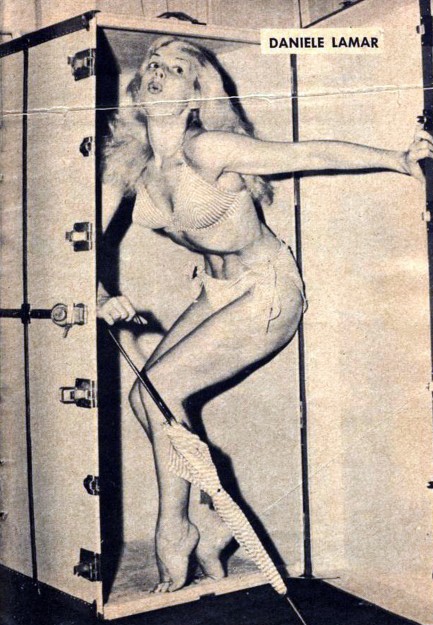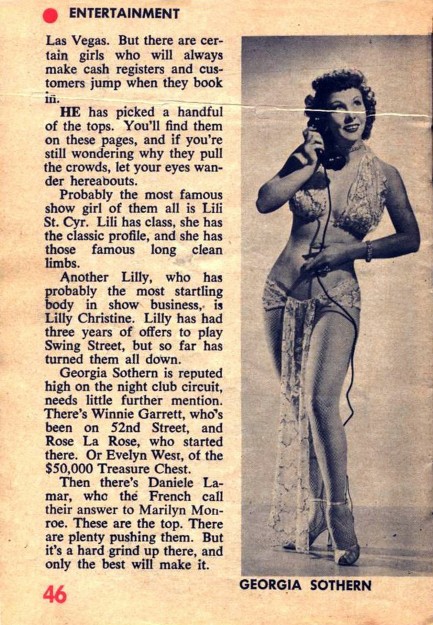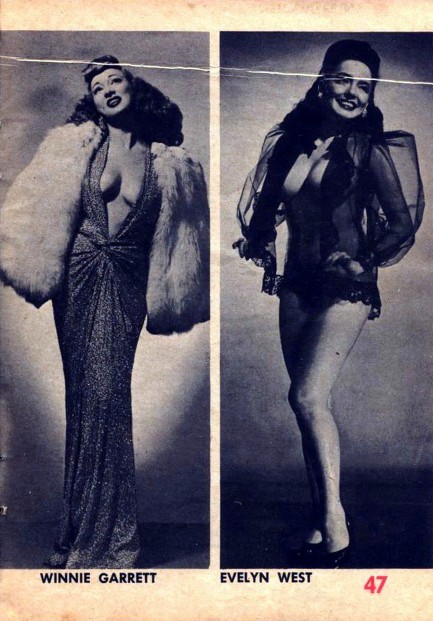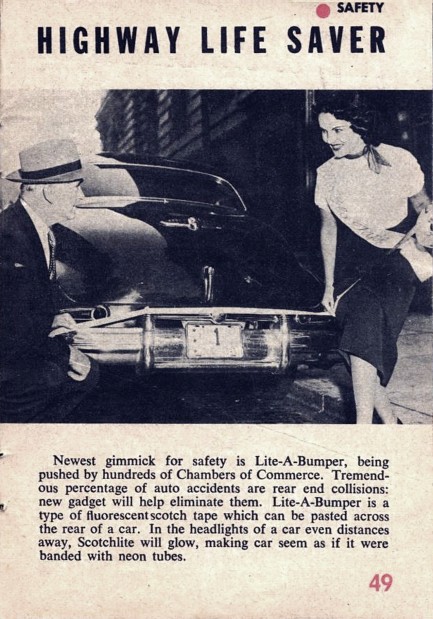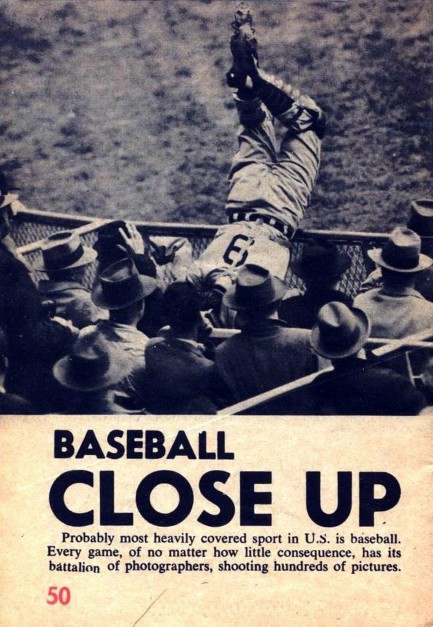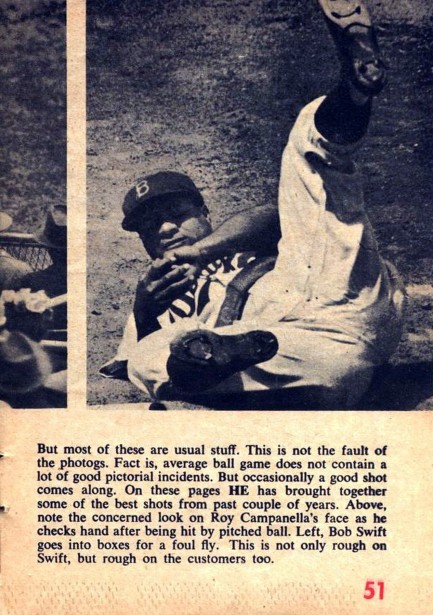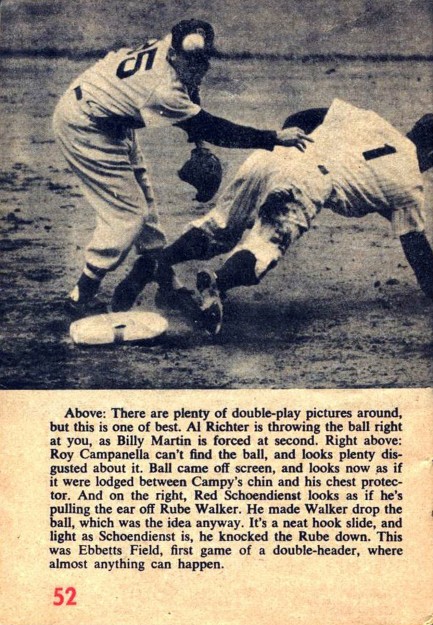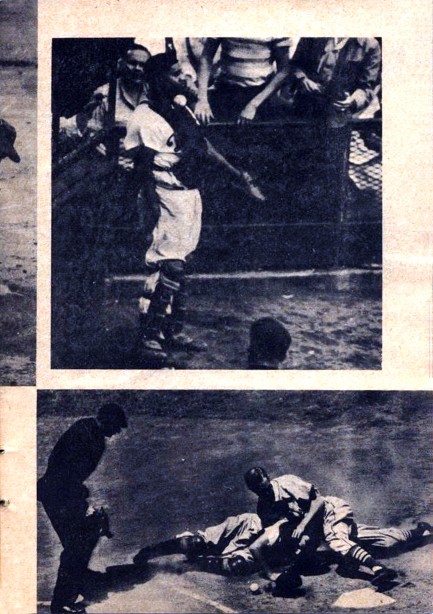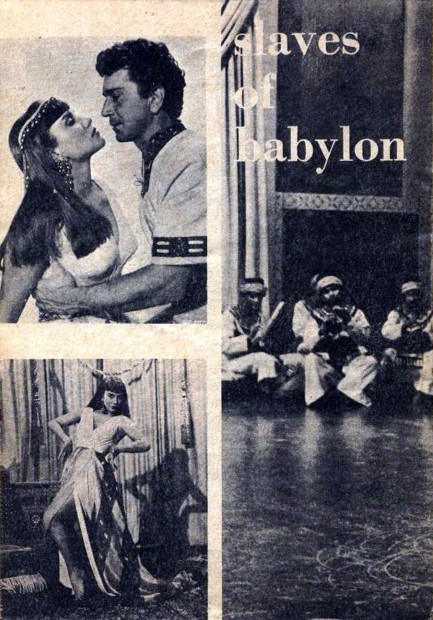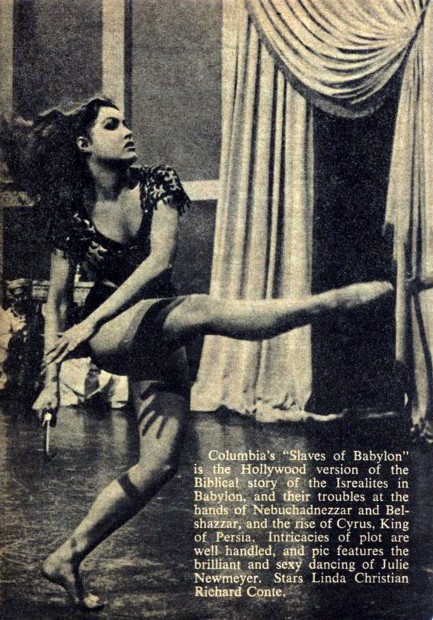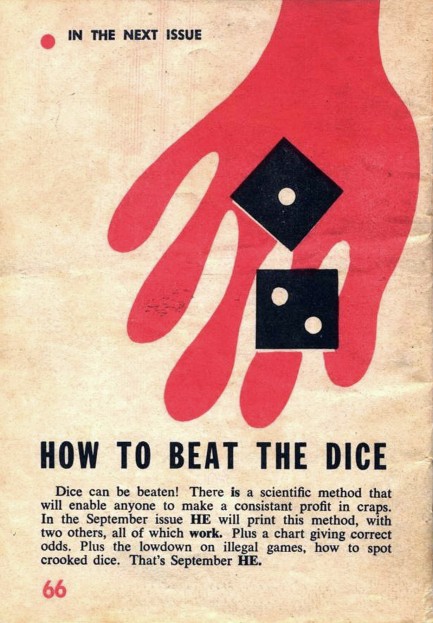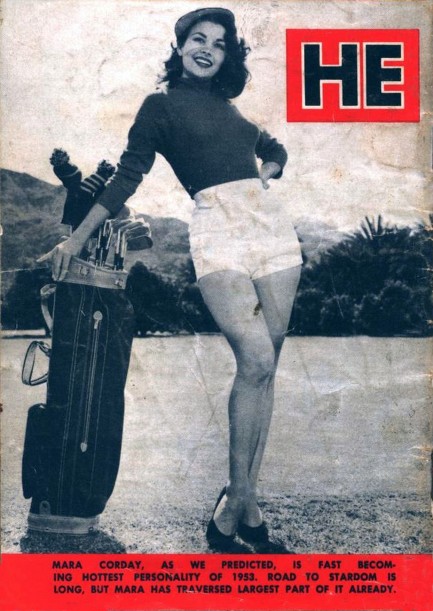 ---
That's the sound of the men working on the chain gang.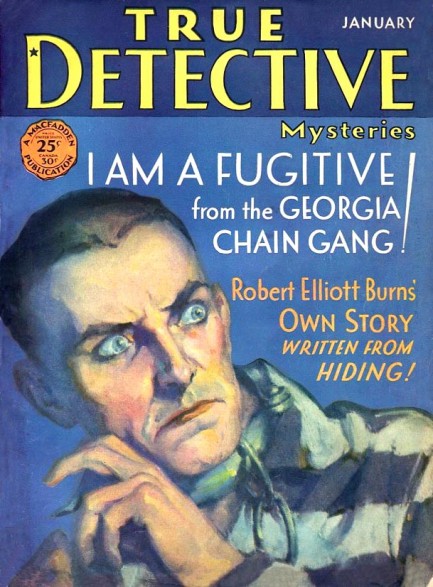 Dalton Stevens' cover for this January 1931 issue of True Detective looks a bit like a horror illustration, but it's actually supposed to represent Robert E. Burns, who in 1922 helped rob a Georgia grocery, earned himself 6 to 10 at hard labor, but escaped and made his way to Chicago, where he adopted a new identity and rose to success as a magazine editor. Years later, when he tried to divorce the woman he had married, she betrayed him to Georgia authorities, and what followed was a legal battle between Georgia courts and Chicago civic leaders, with the former wanting Burns extradited, and the latter citing his standing in the community and calling for his pardon. Burns eventually went back to Georgia voluntarily to serve what he had been assured would be a few months in jail, but which turned into more hard time on a chain gang.
Angered and disillusioned, Burns escaped again, and this time wrote a book from hiding, which True Detective excerpts in the above issue and several others. This was a real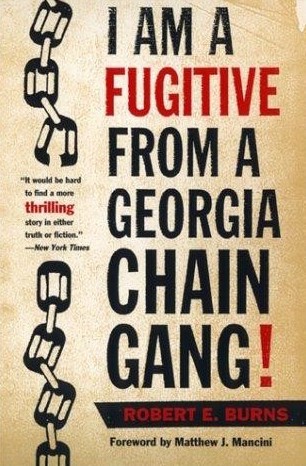 scoop for the magazine—it was the first to publish Burns' harrowing tale. The story generated quite a bit of attention, and Vanguard Press picked it up and published it as I Am a Fugitive from a Georgia Chain Gang, which led directly to Warner Brothers adapting the tale into a hit 1932 motion picture starring Paul Muni. The movie differed somewhat from the book, of course, which differed somewhat from reality (Burns himself admitted this later), but his account cast a withering light on the chain gang system. The exposure helped chain gang opponents, who claimed—with some veracity—that the practice was immoral because it originated with the South's need to replace its slave labor after defeat in the U.S. Civil War.
Burns continued to live life on the run, but was eventually arrested again, this time in New Jersey. However, the governor of the state refused to extradite him. The standoff meant Burns was, in practical terms, a free man. That practical freedom was made official in 1945 when he was finally pardoned in Georgia, and his literary indictment of the chain gang system helped bring about its demise. Well, sort of—it returned to the South in 1995, was quickly discontinued after legal challenges, but may yet be reintroduced as politicians push for more and more extreme punishments to bolster their tough-on-crime credentials.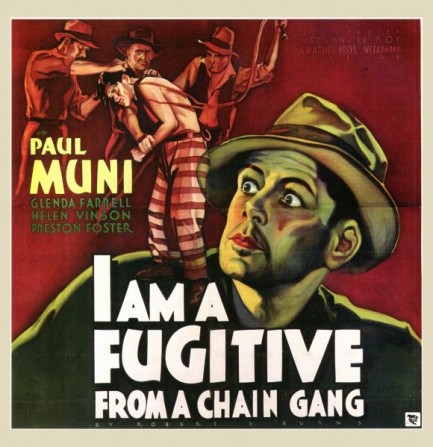 ---