It's a movie with the power to make a blind man see.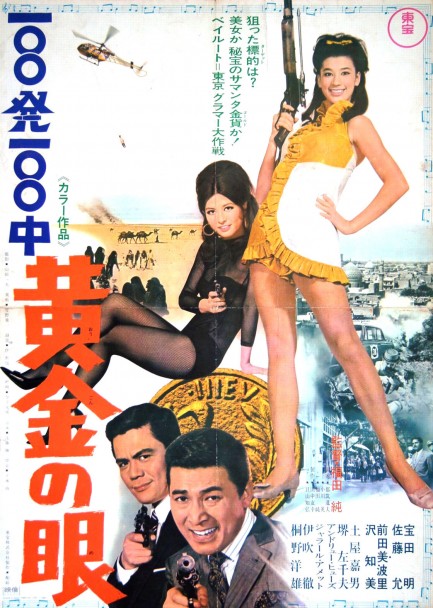 We may never run out of beautiful Japanese posters. Today we have one for the goofball spy thriller Hyappatsu hyakuchu: Ogon on me. The title on this one gets complicated. It was retitled in English Booted Babe, Busted Boss, and mostly referred to as such. Yeah, pretty bad title. In Japanese it was known as 100発100中 黄金の眼, which means "golden eyes 100 shots out of 100." That title was shortened in English to just Golden Eyes. We like that better than Booted whatever.
The film was a sequel to Hyappatsu hyakuchu, known in English as Ironfinger. We had somewhat high expectations for this, considering Ironfinger was pretty entertaining in that stupidly funny sort of way. Akira Takarada stars again as Andy Hoshino. He goes to Beirut, is asked by a little girl to kill her father's killer, and is paid for his services with the only currency the girl has—a silver dollar. Neither of them knows that this coin is in reality a priceless Spanish gold medallion covered in silver.
Soon numerous parties are chasing Andy around Beirut, and later Tokyo, trying to retrieve this priceless artifact. The main pursuer is the arch-villain Mr. Stonefeller, a blind Emilio Largo clone (think Thunderball) whose hearing is so precise he can pick foes off with a sniper rifle. So why isn't the movie called Golden Ears? Just doesn't have that snap to it, does it? We guess Toho Company called it Golden Eyes because the villain wants the gold so badly, therefore he has eyes for it, so to speak. Best guess.
The plot is less important than the gags here, and there are a couple of good ones, particularly during a gunfight in which Andy kills several foes by throwing a machine gun at them, then shooting the trigger of the machine gun in mid-air, thereby causing it to fire, plowing the bad guys under like weeds. But still, the sophomore jinx is a real thing, and Golden Eyes has diminished sequel syndrome. It's watchable, though, if likely offensive to anyone of Lebanese descent. You'll see what we mean. It premiered in Japan today in 1968.

Must dodge hook.
Must dodge hook. Must dodge hook.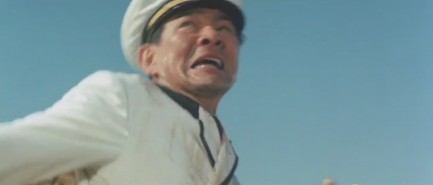 Really must dodge hook!
Must dodge hook! Must dodge hook!
Oww! Motherfuck me!
Anyone got more shoe polish? Lebanese Brown if you have it. I ran out before I finished my ears.
The irony is he told me he'd learned he was being racist and came up here to wash it off in the bath. Ten more minutes and there'd have been no justification for this.
I can hit anything with this pistol.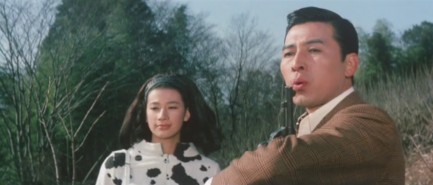 Including d-flat. Here, listen. Isn't that cool?

Wait until you hear Miss Tomoni sing, Mr. Stonefeller. This will blow your mind. She's considered the Bob Dylan of Tokyo because of her incisive and politically relevant lyrics.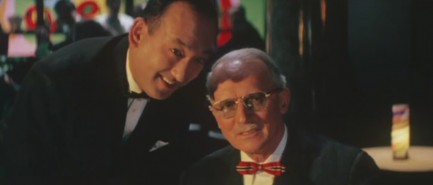 You're right, she's amazing. And though I'm blind, and technically shouldn't be able to see her, I also find it incredible how she changes costumes multiple times mid-song like that.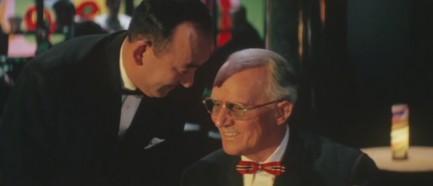 Oh, that's nothing. The midnight show she goes full frontal. Maybe your off-and-on vision will be on around then.
Room service, sir. You ordered two duck dinners?
Surprise! Duck à l'Agent Orange!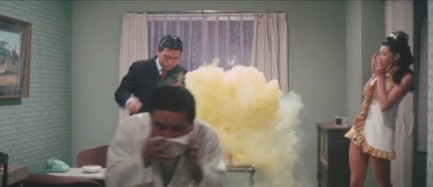 Gotta run! Hope you die! Go vegan! You can leave my tip on the nightstand!
Hi! Commercial Girl here. You haven't seen me for a while, right? Hate to interrupt, but I've been called by the Pulp Intl. girlfriends to put a stop to this endless post. The Pulp guys are on virus lockdown and it's making them a little loopy. But under threat of sexual boycott they're done for today. See you soon!


---