Hmm, maybe I should change this wallpaper.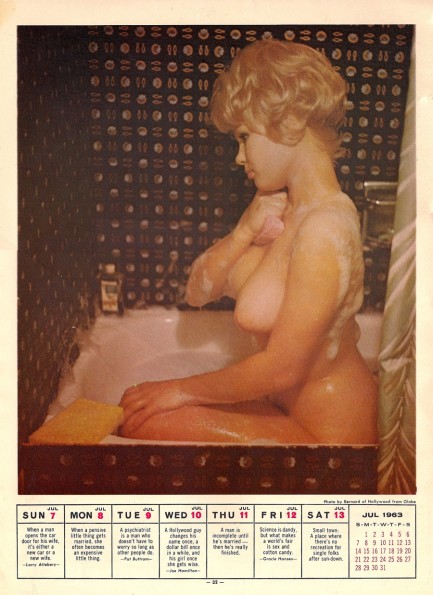 Some well known photographers have contributed to the Goodtime Weekly Calendar, but the above image is by a true icon—Bruno Bernard, aka Bernard of Hollywood. The German-born Bernard possessed a doctorate in criminal psychology and had no formal photographic training, but after leaving Germany in 1937 was operating his own portrait studio within a year. His second studio was on Sunset Boulevard, and that's where he worked for 25 years, along the way creating such iconic images as Marilyn Monroe's Niagara and River of No Return promos, Lili St. Cyr's Indian headdress and transparent bathtub shots, and portraits of virtually every star in mid-century Hollywood. The Goodtime Calendar has several other Bernard contributions, and you'll see those as the year continues.
As a side note, you may be wondering why we're showing you this second week of July image a week early. It's because we're headed off to Sevilla, Spain tomorrow for a week or so, and we won't be posting during that time. Well, you never know. Probably we won't. Depends on what we see. But anyway, we didn't want our vacation to interrupt our Goodtime Weekly series, so you get this page a week early. You also get the quips a week early:

July 7: "When a man opens the car door for his wife, it's either a new car or a new wife."—Larry Attebery
July 8: When a pensive little thing gets married, she often becomes an expensive little thing.
July 9: "A psychiatrist is a man who doesn't have to worry so long as other people do."—Pat Buttram
July 10: "A Hollywood guy changes his name once, a dollar bill once in a while, and his girl once she gets wise."—Joe Hamilton
July 11: A man is incomplete until he marries—then he's really finished.
July 12: "Science is dandy, but what makes a world's fair is sex and cotton candy."—Gracie Hansen


July 13: Small town: a place where there's no recreation for single folks once the sun goes down.

Update: Turns out the model is named Terry Higgins. We just discovered this in June 2015, but better late than never. At least you know we're always updating and refining the information on our site.


---