He'll make you love him even if it kills you.
Patricia Highsmith's reputation demands that you read any book of hers you find, so when we ran across This Sweet Sickness we knew it would be good. Originally published in 1960 with this paperback coming from British publisher Great Pan in 1963, she tells the story of another troubled man à la her famous Tom Ripley novels. Here we have David Kelsey, in love with a woman who, inconveniently, is married. No problem, though, because obstacles mean nothing. He's determined to win his prospective love's affections, ignoring the fact that she's both unavailable and uninterested.

The book is told from the perspective of this dangerously deluded man, and his mental dissonance, deftly written by Highsmith, is cringe inducing. In Kelsey's head, everything is proof his love is returned. When the woman he desires is kind, it encourages him. When she's resistant, he assumes she isn't acting of her own accord, but instead is being pressured by her husband. There's nothing she can do—literally nothing—to dissuade Kelsey from the idea that his love for a woman obligates her to love him back. It all leads pretty much where you expect—to conflict, terror, death, and the high, lonely ledge of insanity.

It's fascinating to us that the U.S. born Highsmith was unappreciated in her own country, despite her breakthrough at age twenty-nine with Strangers on a Train. Well, considering she spent her life writing novels while residing mainly in France and Switzerland, we doubt she suffered much from the neglect. She's well remembered now, and deservedly so. This Sweet Sickness is an interesting and relevant book, and we highly recommend it.


---
A stranger in strange lands comes to know pure evil.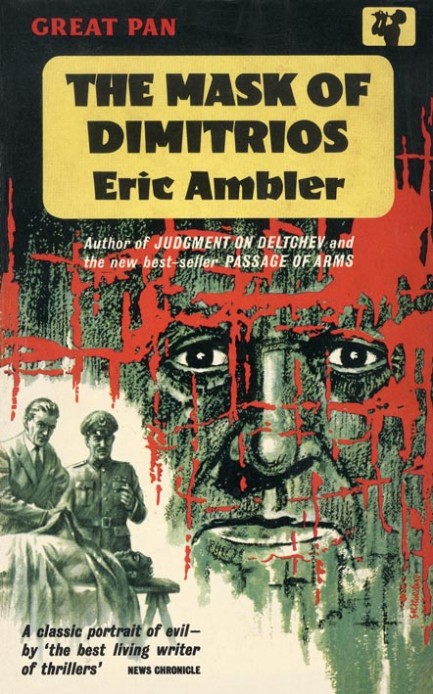 Because Eric Ambler's 1939 thriller The Mask of Dimitrios is the source of the 1944 film noir of the same name starring Peter Lorre and Sydney Greenstreet, we should have read it long ago, but better late than never. The book tells the story of a writer in Istanbul who becomes interested in a killer, smuggler, slaver, and political agitator known as Dimitrios Makropoulos. In hopes of finding inspiration the writer begins to piece together the life of this mystery man.

The investigation carries him from Istanbul to Sofia to Geneva and beyond. That sounds exotic, but the story is almost entirely driven by external and internal dialogues, with little effort spent bringing alive its far flung locales. While we see that as a missed opportunity, and the book could be shorter considering so much of the aforementioned dialogue fails to further illuminate matters, it's fascinating how Dimitrios is slowly pieced together. Here's a line to remember, as the main character Latimer reflects upon the modern age and what the world is becoming:

"The logic of Michelangelo's David and Beethoven's quartets and Einstein's physics had been replaced by that of The Stock Exchange Yearbook and Hitler's Mein Kampf."

That isn't one you'd soon forget. Ambler sees casino capitalism and Nazism as twin signposts on a road to perdition built by people like Dimitrios. We can't even imagine that being written by a popular author today without controversy, but Ambler, writing in England during the late 1930s, had zero trouble identifying exactly what he was looking at. This Great Pan edition of The Mask of Dimitrios appeared many years later in 1961, and it has unusual but effective cover art from S. R. Boldero.

---
Okay, I take it back—you don't hit like a girl.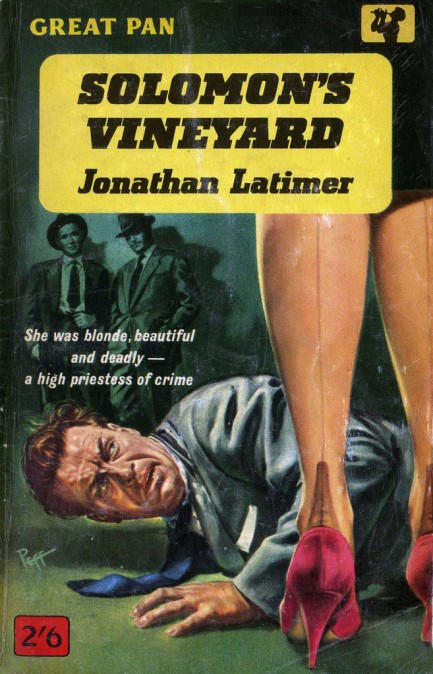 Above you see a great Sam Peffer cover for Jonathan Latimer's Solomon's Vineyard, originally published in 1941, and banned in the U.S. until 1988. We could go into why it was blacklisted, but as always it doesn't really matter, because save for a brief mention of underage sex the book is not racy by today's standards. Its best quality is not sexual innuendo anyway, but toughness. To give you an example, we'll transcribe one of its many interesting scenes. The main character Karl Craven—a burly ex-football player-turned-private detective—becomes upset at the layered deceptions he's had to deal with and finally loses his temper:

I grabbed her by the arms and shook her. Her false teeth fell out and rolled across the carpet. [snip] I started into the parlour, but a thin man in shirtsleeves was in the way. I hit him and he went down. In the parlour the blonde who'd slugged me with the lamp began to scream. She thought I was coming for her. I went to the big radio in the corner. I picked it up, tearing out the plug, and tossed it across the room. It shattered against
the wall. I kicked over a table with two lamps on it. I tore some of the fabric off a davenport. I threw a chair at a big oil painting over the fireplace. I took a metal stand lamp and bent it up like a pretzel. I pulled up the oriental rug and ripped it down the middle.
That's going berserk like you mean it. We won't bother with a long plot summary since you can find those all over the internet, but basically the protagonist is hired to spring a woman from a cult and finds himself neck deep in corpse worship, hidden treasure, police corruption, and sado-masochism. The book is reasonably well written, very hard boiled, and built around a set of unlikely characters—including a femme fatale known by all as "The Princess." Great Pan published it in 1961, and it had an alternate cover which you also see here. It was re-issued several times after its debut—including by Popular Library as The Fifth Grave—which means it isn't hard to find. We recommend you give it a read.


---