Blame it on the radio.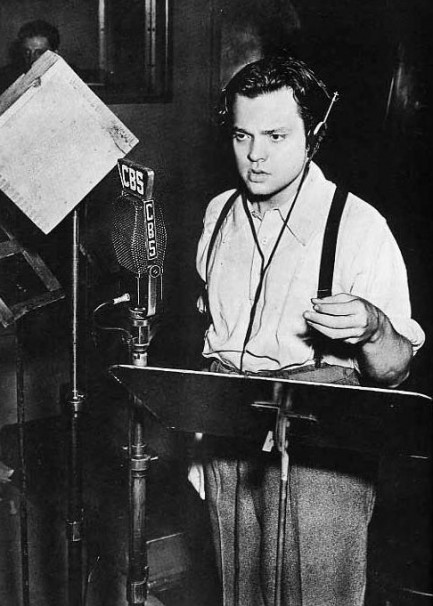 Today in 1938, Orson Welles vaulted into stardom by narrating his famous radio presentation of H.G. Wells' The War of the Worlds. In adapting the novel, which concerns an invasion by malevolent Martians bent on the total destruction of humanity, Welles decided to use fictional news bulletins to describe the action. These were presented without commercial breaks, leaving listeners to decide whether the familiar sounding news flashes were truthful. Since a radio show had never used the news flash for dramatic purposes, many people were confused. The public reaction was described at the time as a panic, but historians now dispute that claim, suggesting that newspapers embellished the stories to make radio look bad. At the time print media feared radio would put them out of business, so they took advantage of an opportunity to deride radio broadcasters as irresponsible.
Newspaper embellishments notwithstanding, there is no doubt the broadcast caused widespread anxiety. Only the first forty minutes of the show were in bulletin format—after that it would have been clear to listeners they were hearing a dramatization. But not everyone listened to the full hour. In the tense atmosphere that had been created by the lead-up to World War II, many people assumed they were listening to a broadcast about attacking Germans, rather than Martians. Some people left their homes, either to confirm events with neighbors, or to try and see the invaders for themselves. A crowd gathered in Grover's Mills, New Jersey, where the attack was reported have begun. If there was indeed a panic, it subsided quickly when it became clear there were no invaders. In the end there was only one long-lasting effect from the broadcast—Orson Welles, who had been just another radio personality, became the most famous man in America.

---