Leisurely gentle lovemaking? Oh, and I suppose all those cows I need to inseminate today can just wait, huh?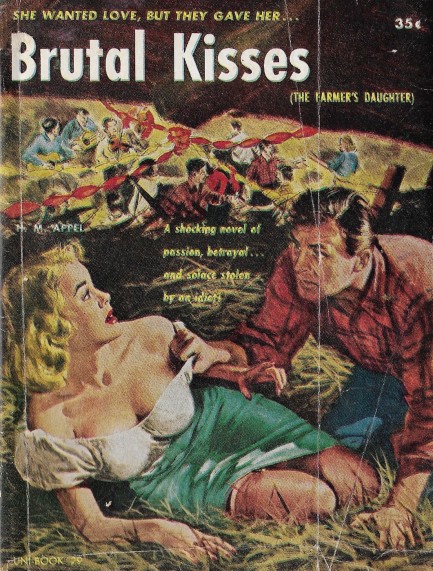 Many authors took on the challenge of writing about mental disability during the mid-century period. John Steinbeck's Of Mice and Men, Erskine Caldwell's Tobacco Road, and numerous other books touched upon it to lesser or greater degrees. Add H.M. Appel to the list. His character Lonnie, generally referred to in Brutal Kisses as "the half-wit," finds himself the prime suspect in a murder mystery. Someone in town has taken an axe to sexually precocious Mazie Callahan, and several people had motives.

We'll say this much for the book—it's probably better than it has any right to be, considering its numerous unoriginal elements. Hard working old pa? Check. Virginal good girl? Check. Loutish local boy? Yup. Mandatory Saturday night dance? A cow that's like a member of the family? Check and check. Brutal kisses? Let's just say men are a rough sex to deal with. Though some, in this book as well as in real life, work hard to be better. The story finally culminates in an Agatha Christie style gathering of suspects, with the killer unmasked on the final page. But you'll know who it is long before then.

This was originally published in 1936 as The Farmer's Daughter, with this Uni Books abridged edition coming later (there's no copyright date inside). The uncredited cover art was retasked from an earlier book, and if you look below, you'll see it was altered as well as recycled. The original had a horse in the background, while the Uni edition has a— Well, we don't know what it is. A scene from the Saturday dance maybe. It's hard to tell because the cyan plate was printed askew, and the whole thing has a psychedelic look as a result.

In any case, Brutal Kisses is a reasonably entertaining expenditure of all-too-precious reading hours. Appel's take on mental disability would be considered offensive today, but you know offense is lurking before you go in, right? The best defense is to note it then put it aside, or else you can't read any of these old books. Appel's so-called half-wit Lonnie isn't going to win any prizes for realism or generate much from readers in the way of understanding or compassion, but he isn't nearly the worst written character of this type to be found in vintage literature. Not a ringing endorsement, we know, but it's all we can offer.
---