This thing reminds me of my ex-boyfriend—loud as hell and powered by compressed gas.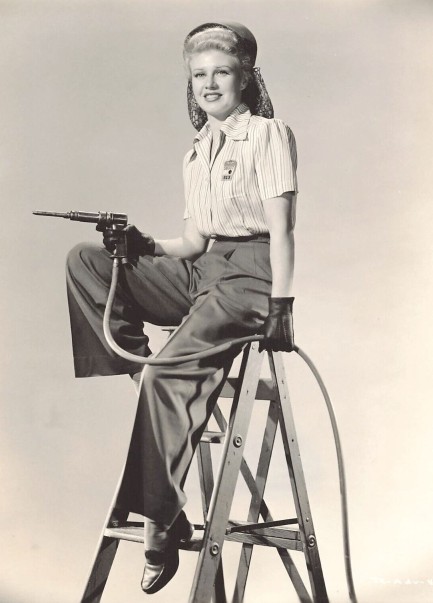 Above: cinema sweetheart Ginger Rogers poses with a pneumatic rivet gun in a promo image made for her wartime romantic drama Tender Comrade. The movie is about Rogers and three other women sharing a house and working in an airplane factory while their fellas are away on the front. It was a wild success and looked patriotic to filmgoers, but somehow the reactionaries and opportunists comprising HUAC—the House Un-American Activities Committee—in an effort to blacklist the writer Dalton Trumbo turned Tender Comrade upside down and managed to shake out what it claimed were examples of communist propaganda. As we've noted before, history has rendered its verdict on HUAC, and it isn't a good one.
---
Hey ho! Hey ho! Huston and Ferrer must go!
Today in 1952 protestors comprising members of the 17th District American Legion Un-American Activities Committee demonstrate outside the Fox Wilshire Theater in Los Angeles against director John Huston and actor José Ferrer, whose new film Moulin Rouge was premiering that night. Why was the American Legion pissed? Basically because in 1947 Huston helped form the Committee for the First Amendment to protest the House Committee on Un-American Activities hearings (HUAC), and because Ferrer was a liberal. The anti-communist hysteria was in full swing at this point, and more than five-hundred names had been added to anti-communist blacklists.
Today there are numerous HUAC apologists, and their arguments boil down to nothing more than: "But there were communists in Hollywood!" Certainly that was true, but U.S. government incompetence and opportunism destroyed many more innocent people than communist spies were ever caught. A moral effort in crime fighting never hurts more innocent people than criminals. When it does, history later
labels such periods tyranny. HUAC has been labeled exactly thus, an assessment that is extremely unlikely to change. And of course, it's worth pointing out that being a communist was not equivalent to being a spy, nor was it a criminal offense. At least not yet—two years later President Dwight D. Eisenhower made communism illegal in the U.S. with the Communist Control Act.
---
Protecting democracy by killing democracy.
Above you see photos of various people involved with the House Un-American Activities Committee, the government body that sought to ferret out communism in the U.S. beginning in 1938. The images were made today in 1951, and the men pictured are A.L. Wirin, Robert Shayne, William Wheeler, Arnold Krieger, and Morton Krieger. Wirin was a defense lawyer who later became prominent in the ACLU, Wheeler was a lead investigator for HUAC, and the others were witnesses called to testify. Some of the latter group offered varying levels of cooperation, with Morton Krieger giving up at least one name, that of Dr. Murray Abowitz, who interrogators described as "a member of one of the professional cells of the Communist Party in the field of medicine." Abowitz was later fired from his position at Cedars of Lebanon Hospital in Los Angeles.
His destruction was indicative of the fact that the communist witch hunts which had begun in Washington, D.C. had by 1951 spread into every sector of society—the entertainment industry, the professional ranks, labor unions, and black communities such as Watts, Harlem, and Oakland. It was a disgraceful period in U.S. history. Consider—many other countries, particularly those in Europe, lived up to their democratic ideals by allowing communist parties to have a voice in the political discourse. But given free reign to disseminate their solutions, communists didn't then and haven't since had great success convincing significant numbers of voters to follow their path. In the U.S., by contrast, top political powers decided that Americans could not be allowed to hear such ideas at all. Thus the anti-democratic red squads were conceived and over the next two decades ruined thousands of careers and lives.


---