For her taking risks is just feline nature.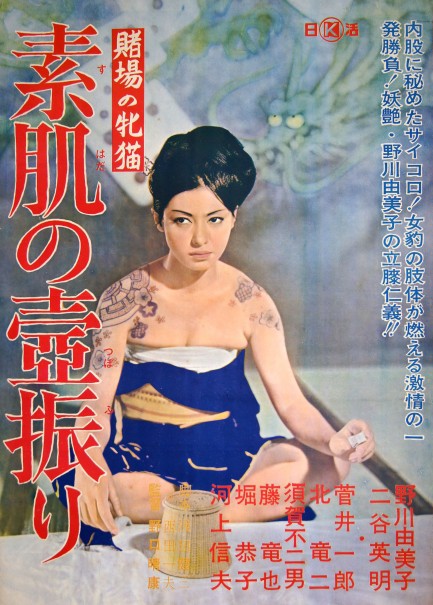 This poster was made for Toba no mesu neko: Suhada no tsubo furi, known in English as Cat Girls Gamblers: Naked Flesh Paid into the Pot, the second of three Cat Girls films. We shared a poster for the first back in 2014 before we could access the movies, but now we have them, so we screened part two last night. The lead in this and the other installments is Yumiko Nogawa, who plays a wandering gambler whose murdered father was a famous maker of rigged dice. After Nogawa's lover is killed in a dice game she swears never to play again, takes a job working at a Turkish bath, and seems to be dedicated to living a quiet existence.
But her idyll is turned upside down when she shelters a recently paroled criminal who wants to gain control of a yakuza territory he'd been promised before going to prison. The crime boss currently running the territory has no intention of giving it up, and Nogawa seems likely to be dragged into the middle of the conflict. As it turns out, she's working in the Turkish bath only as a means to find her father's killer. Since her interests and those of her new friend are aligned, they hatch a plot that just might give them both what they want.
This is a solid effort from Nikkatsu Studios, before the front office bigwigs had their roman porno revelation and leaned hard into sexploitation for the entire 1970s and beyond. Shot in black and white, the feel is arthouse, with a police subplot giving it shadings of an American detective drama. Nogawa, a movie veteran who began her career with 1964's famed Nikutai no mon, is self-assured as the headliner, and the entire supporting cast is good. A climactic fight perhaps won't seem convincingly choreographed to modern viewers, but we recommend taking a chance on this gambling drama anyway. Toba no mesu neko: Suhada no tsubo furi premiered in Japan today in 1965.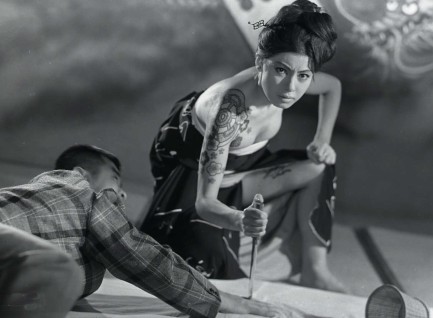 ---
When the cat's away, the cat will play too.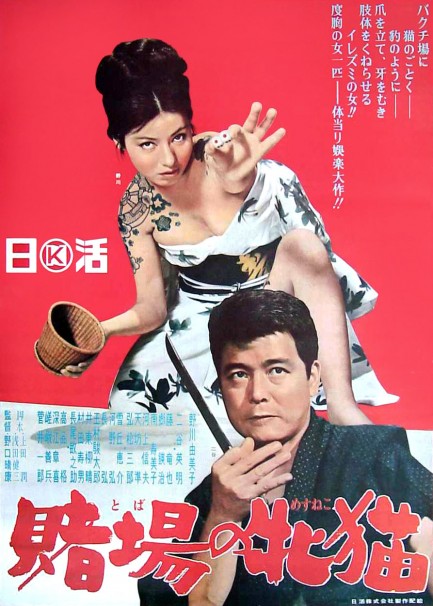 Above, a poster for Haruyasu Noguchi's 1965 drama Toba no mesu neko, aka Cat Girls Gamblers. The movie starred Hideaki Nitani, Ichirô Sugai, and Yumiko Nogawa, who had earned widespread recognition for debuting in 1964's shocking Nikutai no mon, known in the West as Gate of Flesh. That's her holding the dice on the artwork. Despite Nogawa's fame and her long film career that's still ongoing, there's no information about Cat Girls Gamblers on the web, just a bunch of skeletal pages designed to draw traffic. We hate those things, so we're glad to have uploaded something substantial in the form of this great poster.
---
A guy named Jo.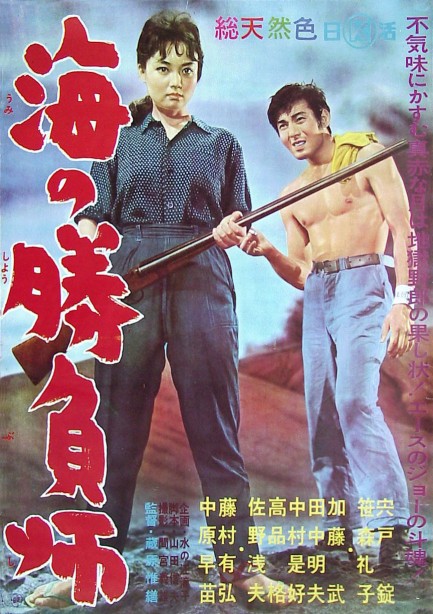 Above are two posters for 1961's action adventure Rokudenashi kagyo. One of our readers Chris D. tells us: "Using the hiragana pronunciation key (the small letters that can be seen to the left of the title on the poster which has vertically-oriented type, the title says Umi no Shobu Shi, which roughly translates as "Showdown by the Sea." However, sometimes the English titles of Japanese movies are not direct translations, so the official international English title chosen for this flick was Tiger of the Sea. For the U.S. it was called Sea Fighters. Both posters are nice but the top one is particularly good. The movie, which is about a castaway who joins a gang of pirates, starred Jo Shishido, Nobuo Kaneko, and Hideaki Nitani. And big thanks to Chris for keeping an eye on this for us.
Update: We got an email from a reader named Chris.
I am writing regarding the two posters you have posted here. Both of these posters are, as Chris D. has stated, for the movie Umi no Shobu Shi. They are not for the film Rokudenashi Kagyo at all. Rokudenashi Kagyo is an entirely different film. You might not care, at this point, but I just wanted to let you know. Great site by the way! All the best,
Chris, as we've mentioned before, our analytics indicate to us that many visitors are digging through the site for research purposes. At least that's what it looks like to us. So it's never too late to get something right. These Japanese posters are especially hard, so thanks for your help and please keep visiting.
Update 2: the intrepid Chris C. has remained on the case and has solved it. He writes:
Thanks for your message. I am happy to have been of some help. Further research has indicated that IMDB is responsible for a lot of the confusion here. They have Rokudenashi kagyo listed incorrectly. There are three entirely different films in question here.

1. Umi no shobu shi (Showdown by the Sea), which you have the posters for on your page. I have never seen this film and do not know much about it, other than its title and possible year of release (1960).
2. Rokudenashi kagyo (Good-for-nothing Business, or Bastard's Occupation), which is a modern (for the early 60's), light-hearted action romp featuring Shishido Jo and Nitani Hideaki. A somewhat poor image of the original poster for Rokudenashi kagyo (we've added it above at right ed.) is the first attachment here. The film was released in 1961.
3. Umi no tora (Tiger of the Sea), which actually had a release (dubbed in English) here in the USA under the title of The Sea Fighters. The second attached image (below, ed.) shows the poster for this wild, modern day (well, mid-1960's, that is) pirate film. This film was released in 1964. Just further proof that IMDB cannot be relied on conclusively. Especially when it comes to Japanese cinema!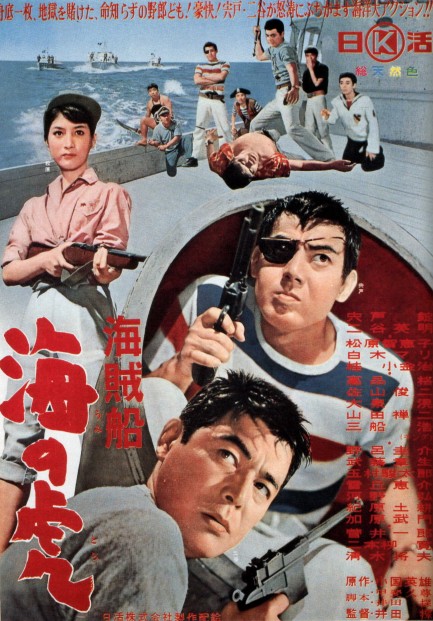 Thanks, Chris, for settling this. Usually when we get something wrong we just correct the post, but this time we'll share all this correspondence as a reminder to Pulp intl. visitors that we're first and foremost interested in getting the correct info out there and sometimes we need a little help. Thanks again for taking the time to do this.
---