You can't keep a good woman down south.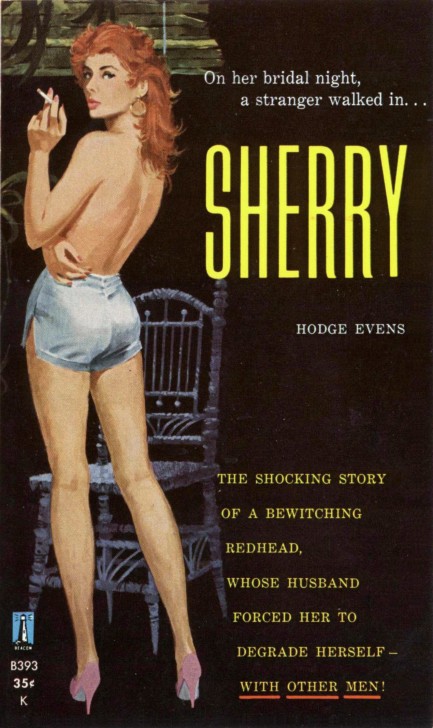 Another day, another bit of light sleaze. Sherry, written by Hodge Evens and published by Beacon Signal in 1961, tells the story of a naive young woman who takes a trip south of the border to Mexico with her boyfriend, loses him, loses her money, and loses reasonable options for getting back to the U.S. after she's mistaken for a prostitute, accused of murder, and pursued by heroin smugglers. She must somehow make it home before she ends up in an Ensenada prison or enslaved, but how, when she's broke and hunted? With the only currency she has, of course. That sounds positively sleaze-packed, doesn't it? But considering the premise, Sherry is pretty chaste. We'll give Evens credit, though—he gets you rooting for his heroine. His name was a pseudonym, it seems, though nobody can say with certainty what his real identity was. It'll probably turn up eventually, though. They usually do. The cover art on this is uncredited.


---
Aussie publisher beats the life out of a classic Howell Dodd cover.
Didn't we just share a cover for Whip Hand? We did, but that was a totally different book. That was Whip Hand by W. Franklin Sanders, 1961, and this one is Whip Hand! by Hodge Evens, 1952. And as you can see below, this is yet another book for which the art was copied by a foreign publishing company—Sydney, Australia based Star Books, in 1953. It may seem impossible that Dodd didn't know of this, but back then it was indeed likely he had no clue. And even if he did know, there's little he could have done. Whoever painted this was not credited, and why would they be? Compared to Dodd's original it's pretty limp.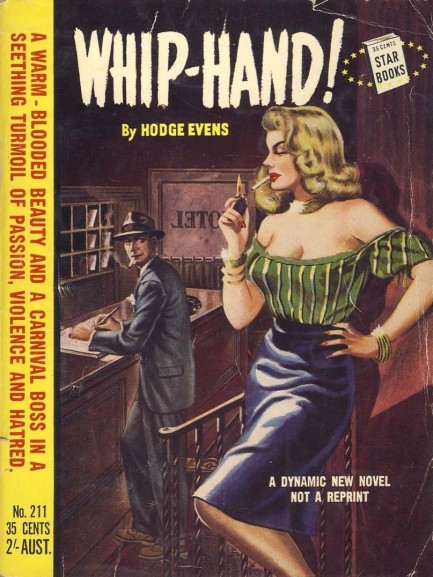 ---