Hope Springs eternal in the human breast.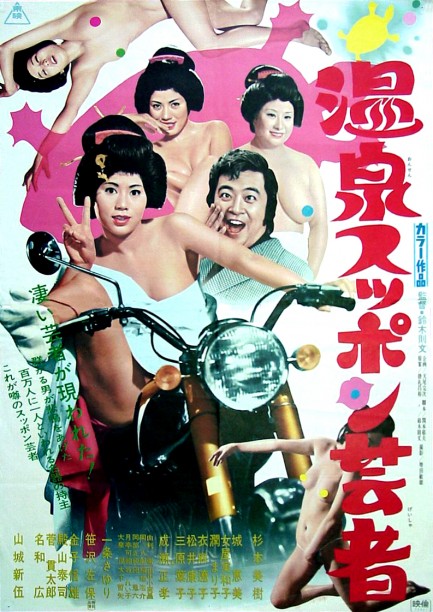 We've been watching a lot of these old Japanese films lately because, well, they're usually pretty fun. Today we have Toei Studios' comedic romp Onsen suppon geisha, aka Hot Springs Kiss Geisha, and to cut right to the chase here, Miki Sugimioto stars as a character known as Prostitute with Strong Vagina Muscles. Seriously. But it's all in good fun. Which reminds us, we feel we've been remiss in pointing out to those unfamiliar with pinku, roman porno and the like that these flicks aren't pornographic. Sexually discomfitting? Yes. Absurd? Usually. In terrible taste? Almost always. But they aren't pornographic. Everything is accomplished through suggestion, camera angles, and clever editing. Onsen suppon geisha was part of a Hot Springs series, with Sugimoto having debuted in the first installment in 1971. In this one, she's so good at using that super strong vagina of hers that she can fuck guys to death. In the end, she's pitted against a sexual superman and a showdown ensues. There's also a subplot about a mad scientist type who needs vaginal juices to create a potion designed to turn Japanese girls black—see below. Is this where the ganguro trend began? We have no idea. Onsen suppon geisha opened in Japan today in 1972.

---
1950s tabloid aired Tinseltown's dirty laundry to millions every month.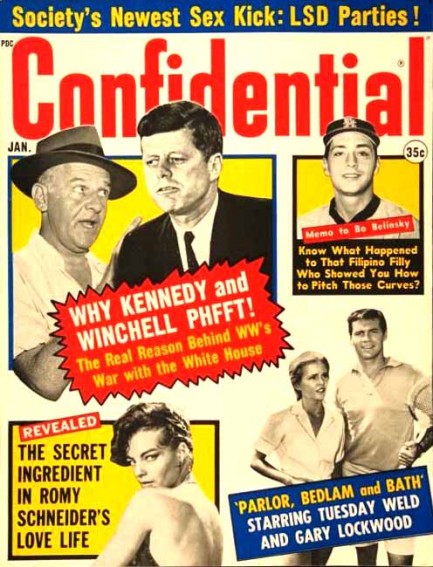 This month in 1952, right wing scandal rag Confidential hit newsstands for the first time. It was owned by Robert Harrison, who got his start in publishing at the New York Graphic, one of the earliest celebrity scandal sheets. Confidential was based in New York City, but its focus was Hollywood and its environs. To gather information Harrison cultivated a vast network of west coast informants—everyone from hotel concierges to taxicab dispatchers. The magazine was lurid, filled with doctored photos, and shamelessly exploitative of hot-button social fears. A typical issue might accuse Hollywood glitterati of using illegal drugs, sympathizing with communists, associating with other races, or working for the mob.

The formula worked. Within two years Confidential grew into a bestselling magazine. It screamed from American newsstands about interracial affairs, LSD parties, and backalley abortions, always in a glaring red-yellow motif that would become its visual trademark. Humphrey Bogart once famously called Robert Harrison "The King of Leer," sentiments
which were echoed throughout Hollywood. Stars were galled not just by the magazine's constant attacks, but the fact that they originated from three-thousand miles away. It meant Confidential either fabricated its stories, or gathered info by means of spies. Neither possibility was pleasing to consider.

Hollywood began fighting back. Ronald Reagan, who at the time was a snitch for Tinseltown's hated blacklisters, chaired a committee that smeared Confidential staff. Postmaster General Arthur Summerfield
at one point banned mail delivery of the magazine. In 1957 the Kraft Commission put Robert Harrison on trial for conspiracy to publish criminal libel. The trial ended in a plea deal, but not before Hollywood stars realized their greatest ally was the legal system. Lawsuits kept Confidential in litigation from that point forward, and Harrison finally sold out in 1958.

The new owners managed to keep Confidential going, but mindful of lawsuits the magazine had lost under Harrison in 1956 and 1957, operated more cautiously. Soon, readers began to suspect the tabloid was no longer living up to its stated credo: "Telling the facts and naming the names". Confidential stopped flying off newsstands. Sales dipped to a third what they had been at their zenith. A 1970s shift in editorial focus toward hippie counterculture did little to reverse fortunes, and Confidential finally folded in 1978.

Though defunct, its twenty-two year run was a success by almost any standard. Confidential outlasted a dozen competitors, and its influence extends into today's newsstand tabloids, Hollywood-oriented television shows, celeb blogs, and even popular fiction. Author James Ellroy's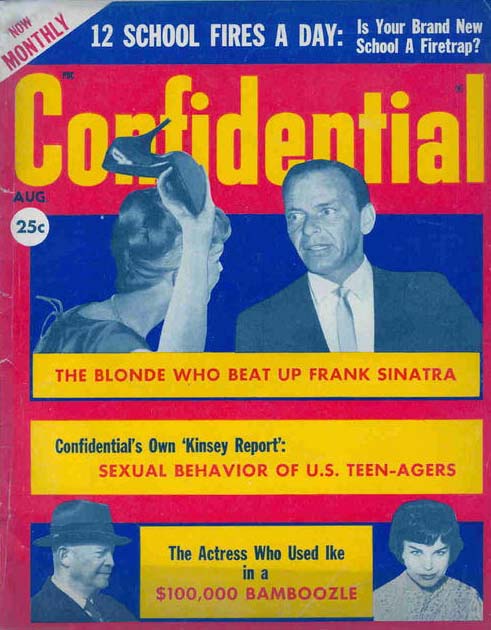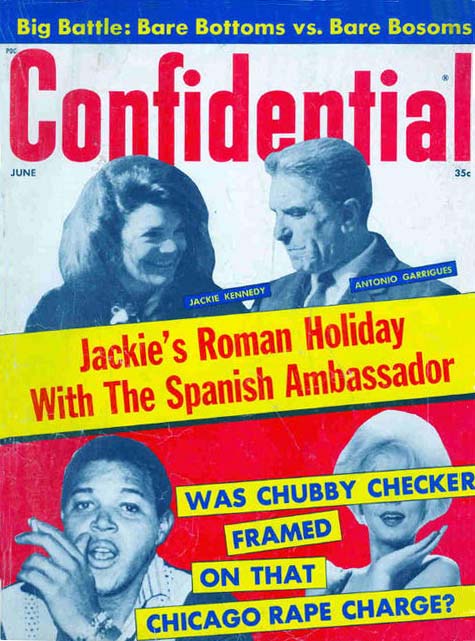 award-winning pulp thrillers frequently reference Hush Hush, a Confidential copycat. And Pultizer Prize winning columnist Stephen Hunter wrote a bestselling thriller about the Mafia's presence in Hot Springs, Arkansas during the 1950s, a subject Confidential covered in its very first issue.
---