*yawn* What a refreshing nap. Oh, hello. How long have you been standing there and why do you have a banana in your pocket?
Above: a nice photo of Marilyn Monroe in bed, shot in 1953. That was arguably her pivotal year. It was when her massive hits Gentlemen Prefer Blondes and How To Marry a Millionaire came out, and she made two appearances on The Jack Benny Show. No wonder she was tired.
---
Caution: emits flames, sparks, and blinding light.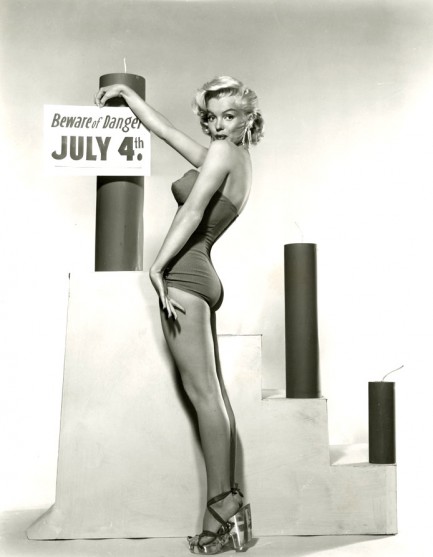 Above, the incomparable Marilyn Monroe in two promos made for U.S. Independence Day. Many actresses posed for similar July 4th shots, but these are two of the nicer ones. And she's wearing those Lucite platform heels again. Man, she absolutely lived in those. See here and here. Monroe made these photos in 1953 when she was filming How To Marry a Millionaire, the hit comedy in which she and two pals move into a fancy hotel and use it to attract rich suitors. Guess who played one of the other gold diggers and was actually top-billed in the film? Betty Grable. Why is that curious? Well, let's just say Hollywood's difficulty coming up with new ideas is not a new problem. See the next post.
---
Star and stripes forever.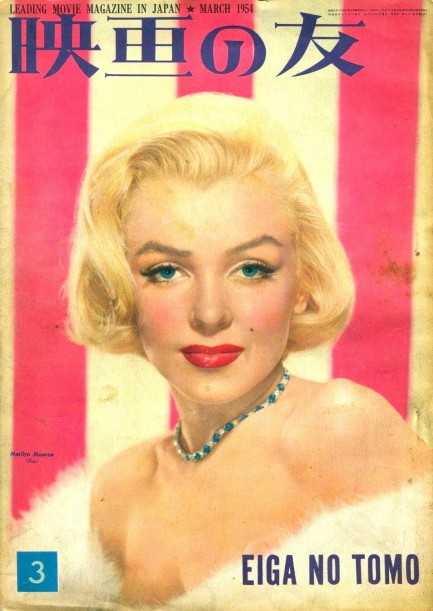 Above, Marilyn Monroe on the cover of the Japanese cinema magazine Eiga No Tomo, aka Friend of Movies, which published between 1947 and 1957. This issue, with its candy-like striped motif, is from March 1954, promoting her film How To Marry a Millionaire, which would open in Tokyo on March 17.
---