So this is a maraca? Hmph. Now I know what men have been asking me to shake all these years.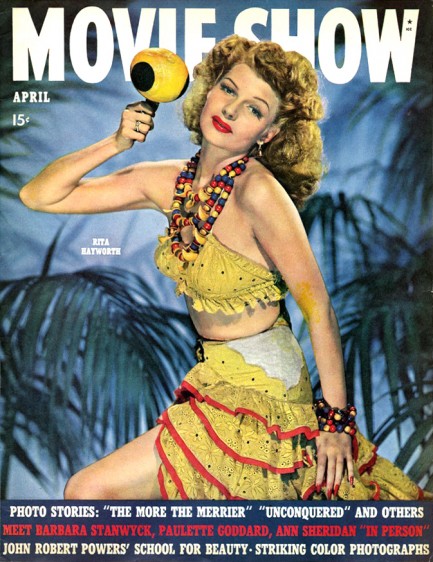 Above, another Movie Show cover, this one from April 1943 with Rita Hayworth shaking her maraca. We never heard of this magazine before last week, but it's aesthetically brilliant. Hopefully, we'll find more out there somewhere. If we do, we'll definitely share. Below are selected interior pages from this issue, featuring Ida Lupino, Anne Sheridan, Mona Maris, Mapy Cortés and others.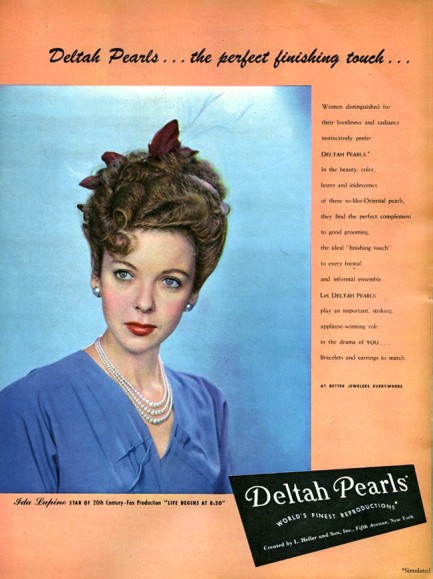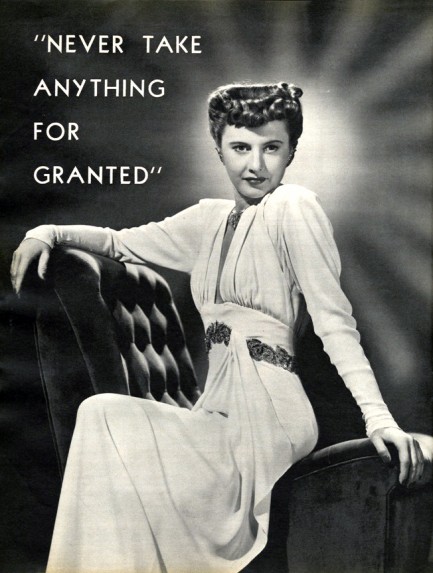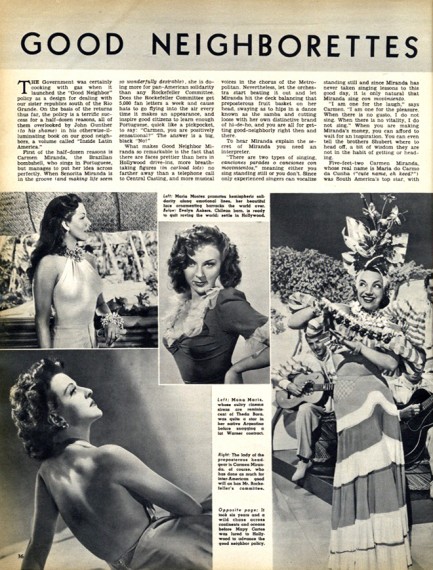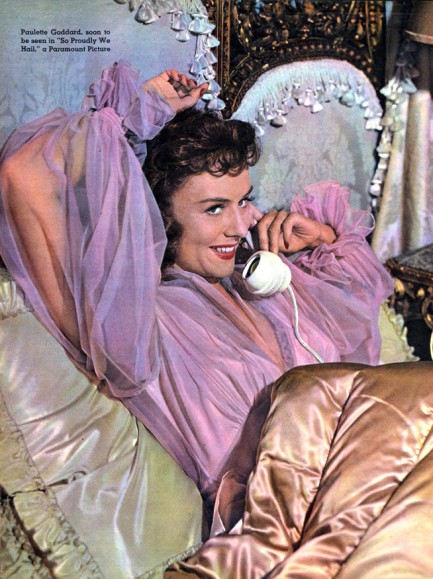 ---
Early Adam hadn't yet figured out the "skin" part of pulp's sin & skin formula.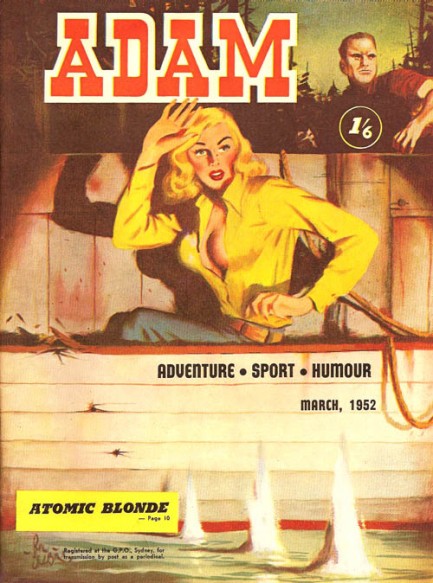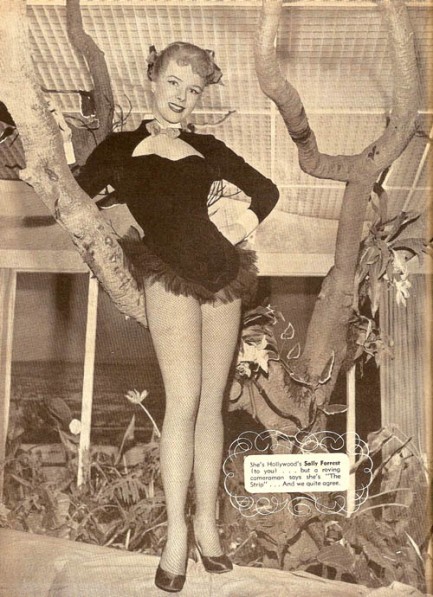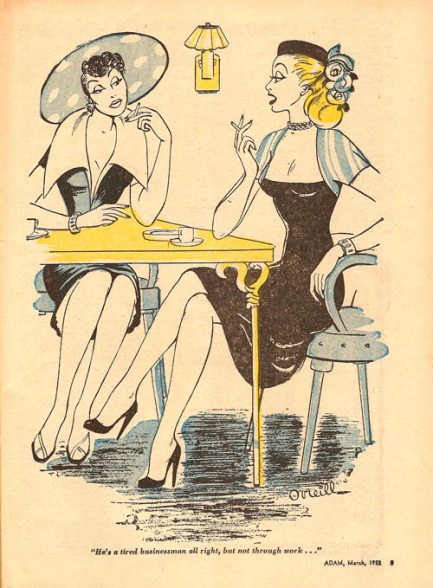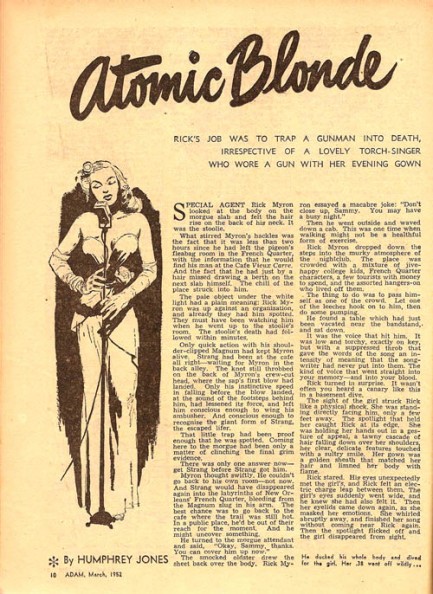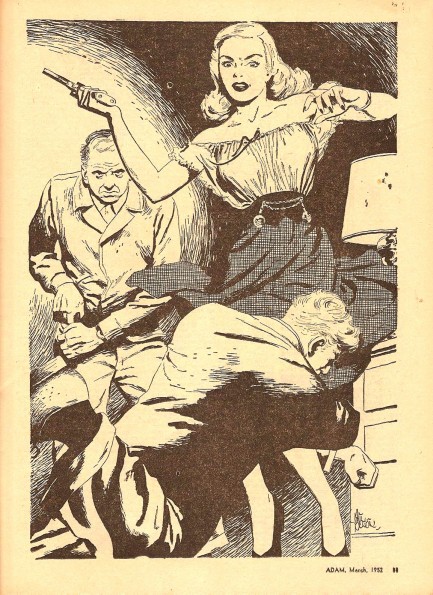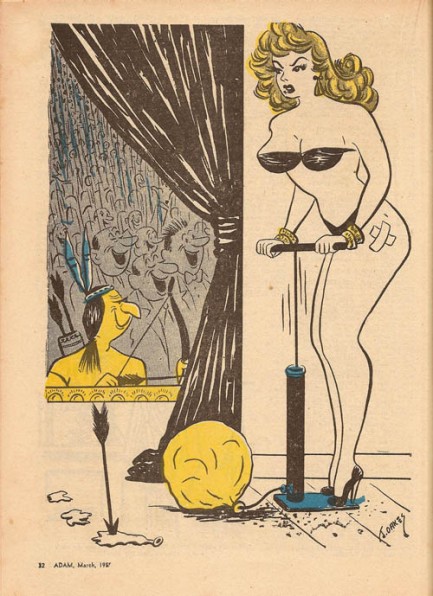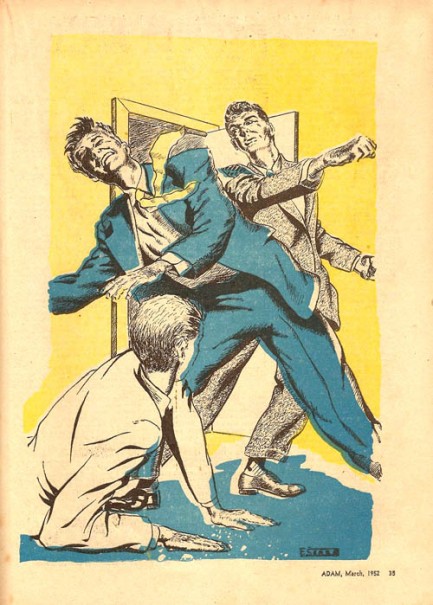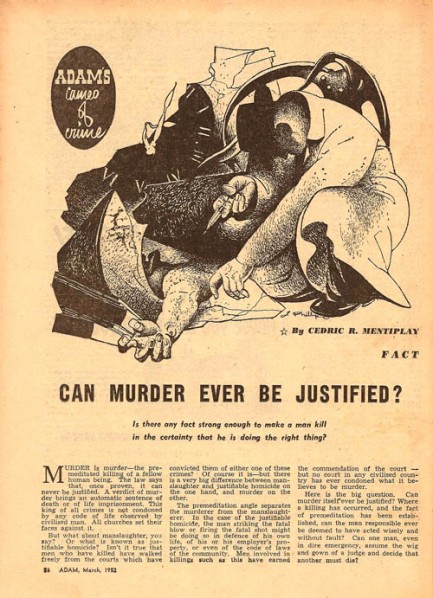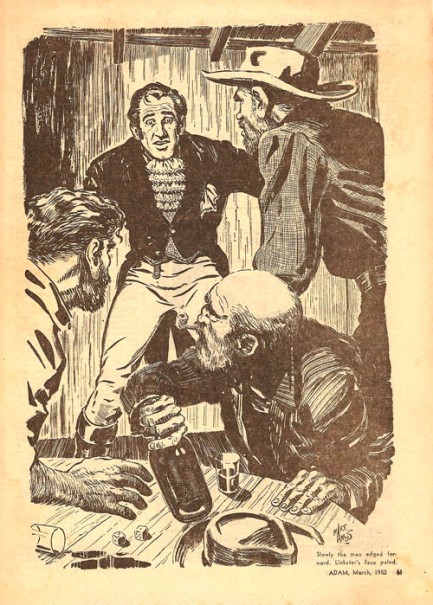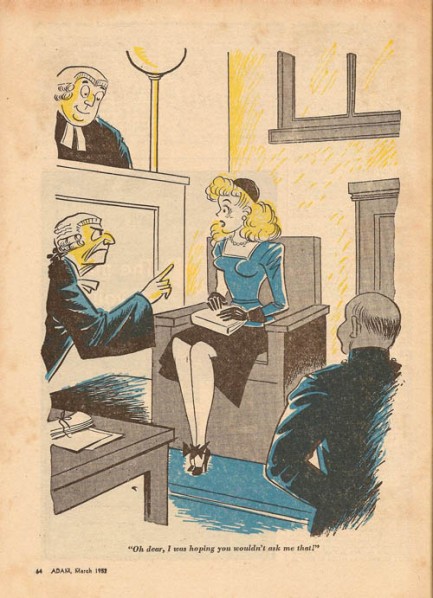 Above are selections from a March 1952 Adam magazine, with interesting cover art of a blonde being narrowly missed by several rounds of machine-gun fire. By the 1970s Australia's Adam was publishing pages of fully nude women, as you can see for yourself here and here, but in this early issue there's exactly one photograph—American actress Sally Forrest, who you see in panel two. Forrest is pretty much unknown now, but she appeared in notable films such Fritz Lang's noir While the City Sleeps, Joseph Pevney's horror flick The Strange Door, and Hard, Fast and Beautiful, which was directed by Ida Lupino, who as a woman director during the forties and fifties kicked open some of the doors that led to Kathryn Bigelow's Oscar win last night. More Adam magazines soon.
---
Note to self: Next time I hire a handyman, ask for references.
We have a nice poster here for Beware, My Lovely, starring Ida Lupino and Robert Ryan. Lupino hires Ryan to do some work around her house but doesn't know he's a seriously deranged mental case subject to violent mood swings. Interesting as the film is, we can't fully recommend it because of its somewhat improbable confinement scenario. Or put another way, even though reasons are presented for why the heroine can't simply escape by running out of the house, they aren't very convincing. But on the plus side, the movie does have the ultra-talented Lupino, who was one of Hollywood's top quadruple threats (writer, director, actress, producer). In fact, her contributions to film noir are extensive and important. So it's an enthusiastic yes on Lupino, but a qualified maybe on Beware, My Lovely. It premiered in the U.S. today in 1952.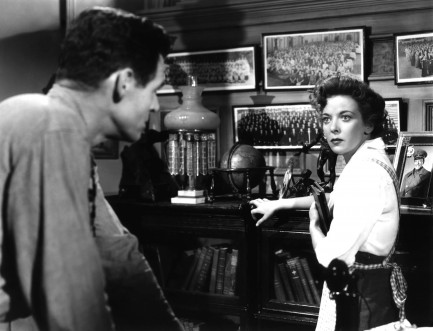 ---