Sex education class is now in session.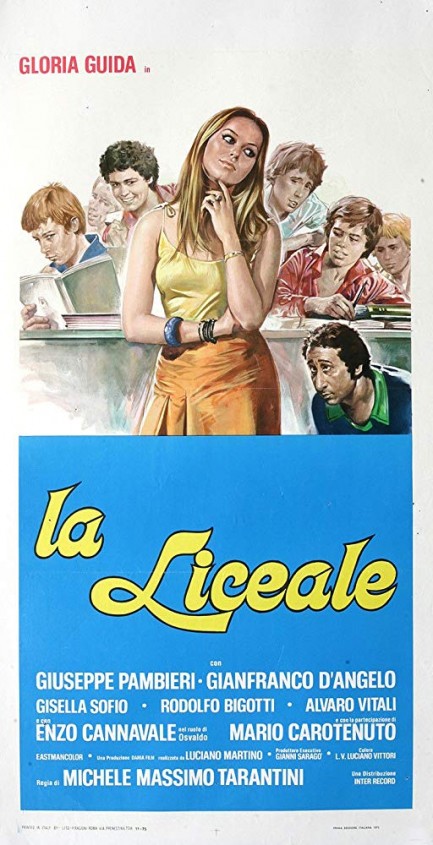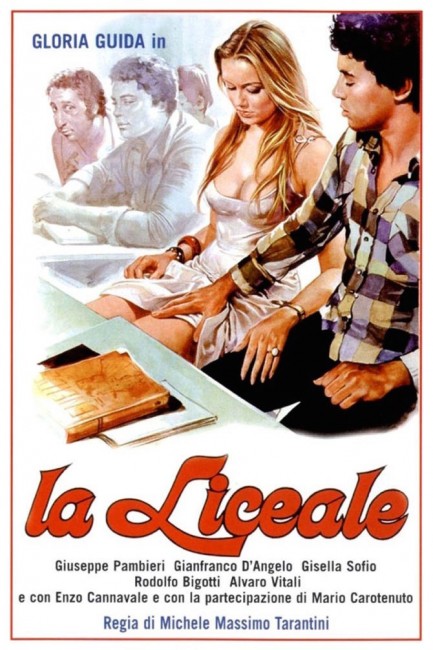 Above, two alternate posters for the Italian high school sex comedy La Liceale, known in English as The Teasers. But there's only one teaser that matters here—Gloria Guida, star of this and many similar movies. See more at this link. La Liceale premiered in Italy today in 1975.


---
Gloria Guida is the classic virgin sex bomb in La Liceale.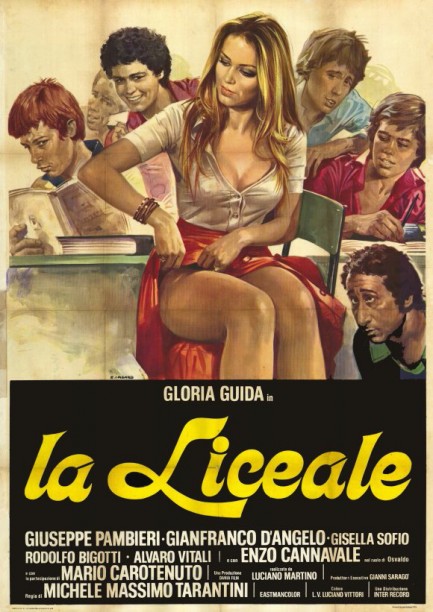 In the Italian sex comedy La Liceale, aka The Teasers, Gloria Guida plays the sort of cocktease supreme we've seen in films such as Lolita, Fast Times at Ridgemont High and American Beauty. Those are all great films, but the slapstick tone of La Liceale makes it more like a Benny Hill episode with nude scenes. Still, we give credit—Ms. Guida plays the role of a predatory virgin with an engaging sort of breeziness that makes clear why this movie was her starmaking screen appearance.
She isn't the only sex symbol on display here—Ilona Staller, aka Ciccolina, gets her kit off as well, in her cinematic debut. You may remember she went on to a career in hardcore porn before winning election to the Italian parliament promoting a platform of legalized brothels and no nukes. While those are two sentiments we support, we can't quite fully support La Liceale. But we think it has amazing poster art. It opened in Italy today in 1975. More Guida below.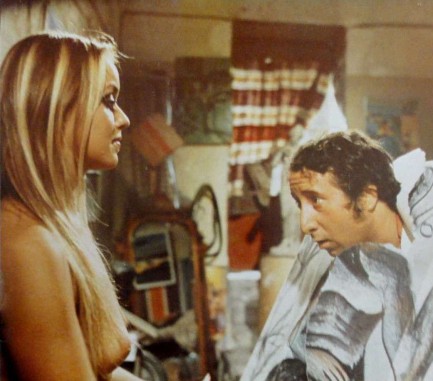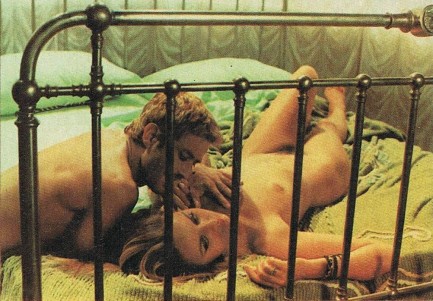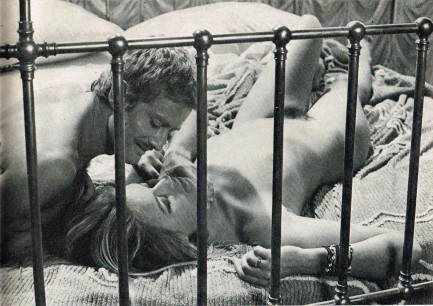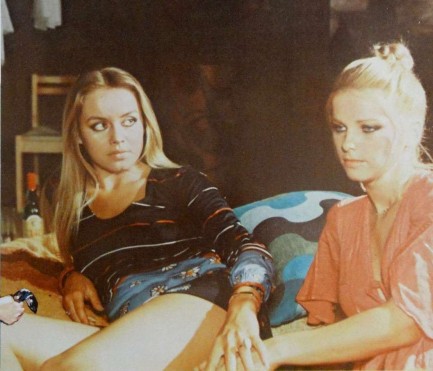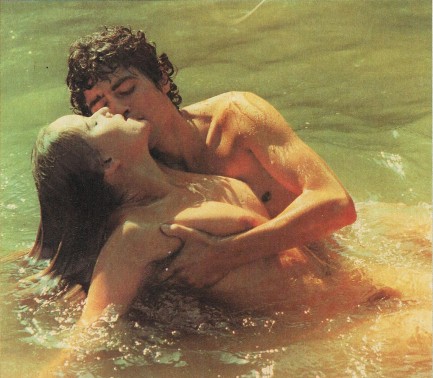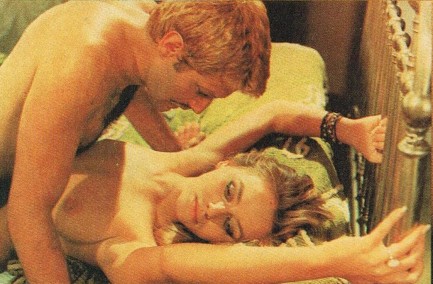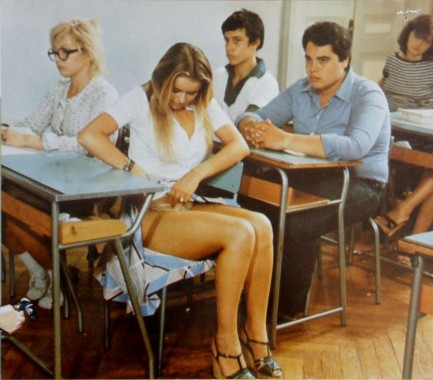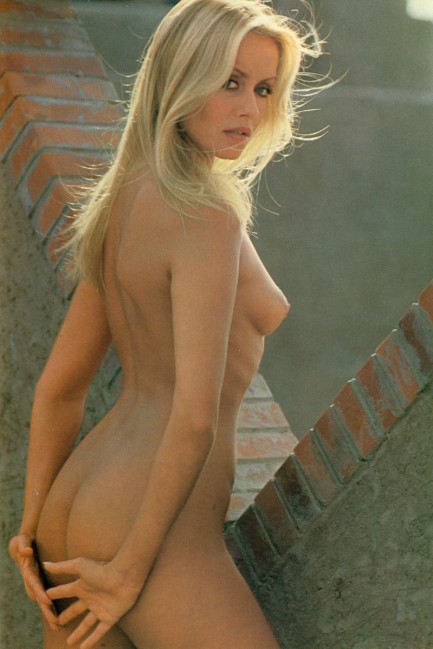 ---
Italian premier depicted by artist as leering angel.
In Italy, artist Filippo Panseca recently unveiled a controversial painting in which Italian premier Silvio Berlusconi takes the form of a nude angel canoodling with a bare-breasted government minister and former starlet named Mara Carfagna. Though Panseca has created similar pieces over the years, including one showing Berlusconi's wife Veronica Lario topless and with neat v-shaped pubes (below), the reaction to this new portrait surprised him. "I did it as a joke," Panseca told the Associated Press yesterday. "I've been doing all sorts of works for fifty years. I didn't expect to raise such clamor with this."

Perhaps not, but in Italy, where politics and sex are so intertwined Italians once voted porno actress Ilona Staller into the parliament, it isn't so surprising people took notice, particularly when one considers that two years ago Berlusconi commented to Carfagna, "If I weren't married I would marry you immediately." The aside infuriated Berlusconi's wife, and she demanded a public apology. Intentionally or not, Panseca definitely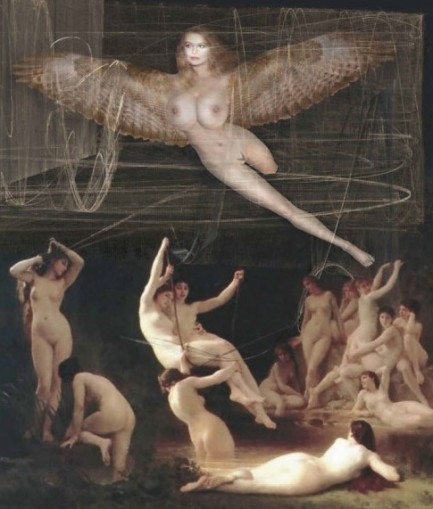 captured a conspiratorial moment in his new portrait. Berlusconi might as well be whispering to Carfagna that he has a nice little stimulus package under his drape. In any case, now that he's eternally enshrined on canvas with the object of his lust, it's safe to assume his wife is seriously peeved again. If she buys the painting and burns it, we won't be surprised. As for Filippo Panseca, perhaps it's finally time to expand his repertoire beyond Italian political figures. We suggest a winged Sarah Palin flying above a crowd of heavily armed Alaskan bird hunters.

---