Two's company, three's a love triangle.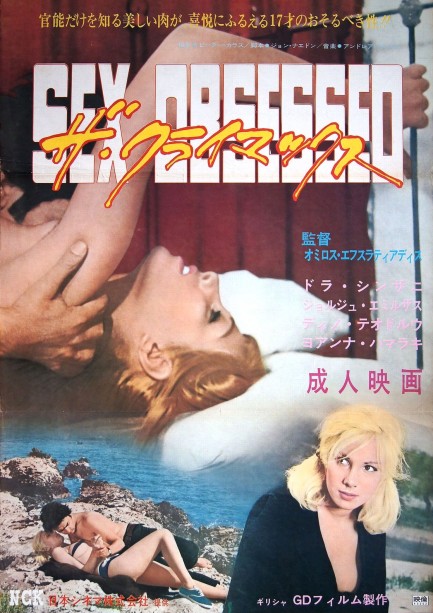 Above is a Japanese poster for the Greek sexploitation flick Anilikes amartoles, which played in English speaking countries as Sexual Eroticism. We can't find any record of the movie ever being called Sex Obsessed, but apparently it was, since it's right there on the poster. The Greek title translates to something like "juvenile sinners," which seems straightforward enough, but we know nothing about the movie itself except that it opened in Greece sometime this month in 1971, and it starred Dora Sitzani in a story about a fisherman whose girlfriend piques the interest of a rich playboy. So we're fishing for answers. Greeks—step up and post some info on this one.
---
Reiko Ike and Sandra Julien get together and sparks fly.

Gendai poruno-den: Sentensei inpu, aka Modern Porno Tale: Inherited Sex Mania, aka The Insatiable is a Noribumi Suzuki-directed tale of sexual awakening, but we bet most viewers don't awaken until co-stars Reiko Ike and Sandra Julien end up in the shower together. Pretty steamy stuff, and as a bonus the two migrate into bed, which you see in the photo below. Prefacing that agreeable sequence are less agreeable but standard pinku elements, including legions of slimy horndogs, shameful voyeurism, forced de-virginization, a drugging, and an alcohol fueled orgy. The only good thing that happens is that Ike falls into bed with Pulp Intl. fave Miki Sugimoto. Actually, that's nearly the opening sequence, which is nice because it lets you know exactly where the movie plans to take you. But that interlude aside, other aspects of Reiko's life really suck, and her escalating problems eventually lead to a brawl which she escapes by hiding in a parked car. The man who owns that car seems to be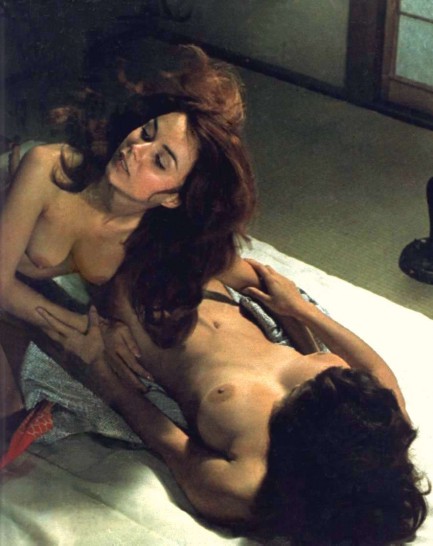 the person destined to save her from the sordid club girl life she's made for herself. Or is he? He slaps her within minutes of their initial meeting, but can you blame the guy? She was trying to kiss him. We can't pretend to truly understand these movies, and since there are no real reviews of this one online we're flying blind with our interpretation, but the message seems to be that sluttiness is genetic. In any case, we love the two posters at top. We also love the two promo images below of Ike and Julien. Gendai poruno-den: Sentensei inpu opened in Japan today in 1971.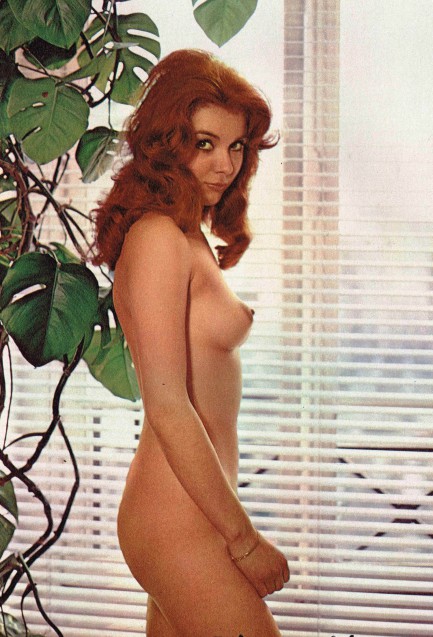 ---
When a woman says she's ready.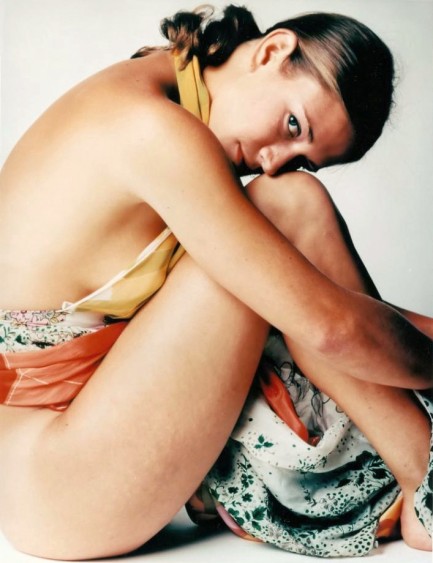 Above, a super rare promo photo of American actress Marilyn Chambers, who we've discussed several times previously. Chambers, who starred in the mainstream horror film Rabid but is better known as the girl from the porno films Behind the Green Door and Insatiable, was born today in 1952, and died in April 2009.
---