Something about that gal just makes him want to play with his wood.
We had completely forgotten about Fred Ross's Jackson Mahaffey until we ran across this great cover. We read the book back when we first got into pulp literature. Our version was a Riverside Press hardback, but we wish we'd had this Bantam mass market paperback. Note the stick at crotch level and the masturbatory motion that would be required to whittle it. Also note the unsuspecting lass and the mixing bowl between her legs. As it turns out, though the book is indeed about a man trying to get his stick in a girl's bowl, it's also a very funny square peg/round hole story in a broader sense.
Published in 1951, with the paperback appearing a year later, Jackson Mahaffey is set in Prohibition era North Carolina, and is told in first person by the eponymous Jackson, an orphan who has grown up to be a master liar, consummate hustler, and inveterate horndog. When he catches a glimpse of beautiful Molly Burns, he decides he simply must have her, but in order to do so he must appear to be a respectable gentleman. Just a few of the things poor Jackson gives up to woo the girl: cussing, brawling, smoking, cock fighting, and drinking. Pretty tough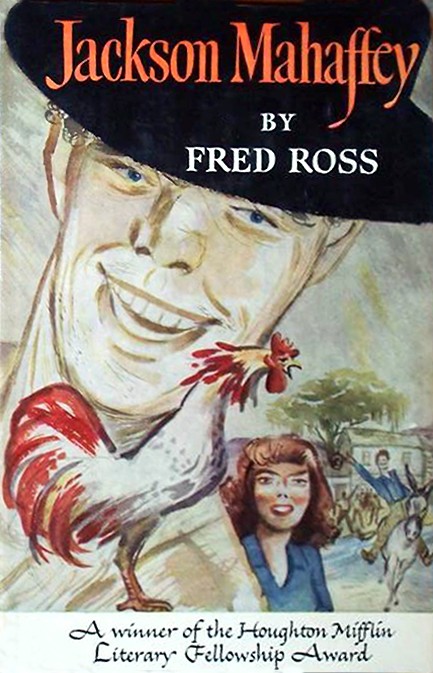 makeover for a guy who manages the meanest fighting cock on the Rock River and carries brass knuckles and a pistol in his pocket, but he gives Southern gentility a go anyway, even though the subterfuge cannot possibly last.
When he inevitably falls off the wagon, the only way he can think of to get back into Molly's good graces (and hopefully into her panties) is to run for state senator. It should be an impossible task for a rootless hick like Jackson, but it turns out that everything he's learned during his years of double dealing and raising hell suddenly work to his advantage. This is politics, after all, and he's uniquely equipped with malleable morals and lots of friends in low places. Filled with backwoods humor and Jackson's particular brand of countrified wisdom, this one is well worth a read.
---