My colleagues would be shocked if they knew the perverse pleasure I take in not washing my hands.
Does he go naked under his smock? Does he prefer Merlot over Syrah? What exactly is the doctor hiding? His secret is—spoiler alert!—he isn't really a doctor. Gerbrand was a year from finishing medical school when World War II swept him up and he found himself serving as a Wehrmacht medic, first in battle, and later in concentration camps. That's a serious secret. We were thinking about other terrible secrets doctors could have. If we were being treated by Gerbrand, here are five more things we'd hate to discover.

He took the Hippocratic Oath with his fingers crossed.
He gets a bizarre sexual thrill from giving injections.
No matter what time your appointment is he has his receptionist let you in an hour later.
During chest surgery he squeezes patients' hearts and makes quacking noises.

He knows exactly where Hitler's other ball is.

Anyway, during the war
Gerbrand
learns everything a real doctor would, and then some. When peace comes he lands a job as a surgeon in West Germany, becomes known and respected, and has romantic liaisons with upper crusty women. But his secret will come out and when it does he'll be in trouble bigtime. We won't tell you how it turns out, because that would require a second spoiler alert, and one per write-up is our limit. The book was originally published in 1955 as Without Sanction, and this retitled Dell paperback came in 1959 with cover art by James Hill.
---
Hayworth finds the elusive cure for zombiedom.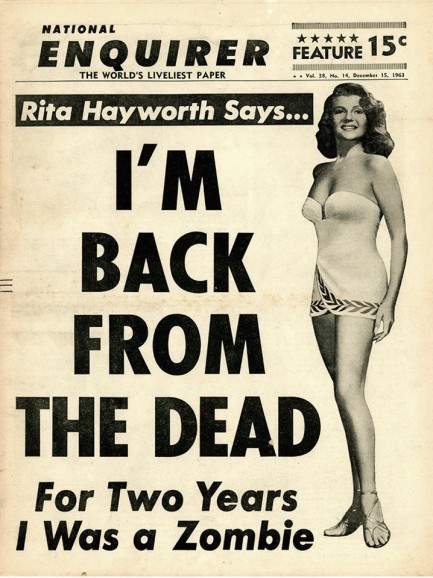 National Enquirer tells readers Rita Hayworth has come back from the dead on this issue from today in 1963. What a curious statement. We can't find corroboration anywhere, but she may been referring to the fact that she hadn't appeared in a movie in two years, but was back to work filming Circus World, which would premiere in mid-1964. Why the break? Possibly because in 1961 Hayworth had filed for divorce from her fifth and final husband, film producer James Hill, on the grounds of extreme mental cruelty. It seems she wanted to retire, but he forced her to keep working and the impasse eventually broke the marriage.
Hayworth was forty-five in 1963, and looked just fine, if stills from Circus World are any indication, but Enquirer editors figured they'd dig into the past for a more youthful cover photo. They settled on a promo shot Hayworth had made ten years earlier while making the film Salome. As a tie-in to the movie, she had modeled a figure slimming swimsuit known as a Salome Sea Mold for her Rita Special Swimwear line marketed by the company Flexees. We have no idea how well the tie-in worked, but the company is still around. Hayworth continued working after Circus World, making a movie every year or two until 1972. At that point we assume she slid into zombiedom, or at least retirement, on her own terms.
---