So just out of curiosity, why aren't you paddling an Uber? Seems like everyone else is.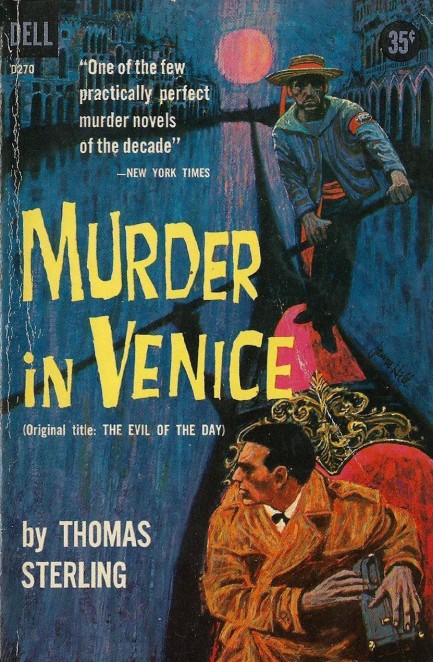 This spectacular cover for Thomas Sterling's Murder in Venice was painted by James Hill, an artist of obvious skill but one we rarely encounter. The book was originally published in 1955 as The Evil of the Day, with this beautiful Dell edition coming in 1959. Sterling tells the tale of a man named Cecil Fox who invites three guests from abroad to his Venetian mansion in order to pretend he's near death and tease them with the promise of inheriting his wealth. These three guests are people he's not had much contact with in recent years, which makes the game even more delicious for him, the way the trio feel plucked from their lives of obscurity to possibly be gifted wealth and status. Factions form and subterfuges abound, but everything is thrown into disarray when one of the guests is murdered. Was it to eliminate a possible inheritor? To add intrigue to the game? Or for other, unguessable reasons?
Go with option three. The whole point of murder mysteries is to be unguessable. Murder in Venice is a pretty good puzzler, with a small set of curious characters and a few forays into the Venetian night. Sterling gets inside the head of his protagonist Celia Johns quite effectively. She's the personal assistant to one of the invitees, and thus has no skin in the game. She just wants a fair wage for a fair day's work. At least that what she says. Her host Mr. Fox, on the other hand, seems to think everyone is corruptible, and everyone is money hungry—it's just a matter of baiting the hook in the right way. He thinks he knows most people better than they know themselves, and he doesn't see Celia as any sort of exception.
While Murder in Venice is a mystery, it's also a minor sociological examination of what it means to some people to be rich but face losing their money, and what it means to others to not value money at all. Sterling scored a success, but interestingly, he borrowed the idea from Ben Johnson's play Volpone, which premiered way back in 1606. Sterling was up front about his inspiration, and within his novel the play even makes an appearance on a drawing room shelf.

Frederick Knott, who wrote the famed plays

Wait Until Dark

and

Dial M for Murder

,

later adapted Sterling's novel into a 1959 play called Mr. Fox of Venice. The next year the book was published in France as Le Tricheur de Venise and won Sterling the Grand Prix de Littérature Policière for foreign authors. And finally, Joseph Mankiewicz combined the original play, Sterling's novel, and Knott's play into a 1967 movie called The Honey Pot.
When material gets recycled to that extent, it's usually good, and Sterling does his part. He was a diplomat before becoming an author and lived in Italy for years, so we would have liked more color from someone who obviously knew Venice well, but he's an interesting writer even without the aid of scenery, as in this moment of musing from Celia: She said, "my sleep," as though it were, "my dress," or, "my ring." It belonged to her. Every night had a certain amount, and if she lost it she was frantic. She had forgotten that sleep was not a thing, it was a country. You couldn't get it, you had to go there. And it was never lost. Sometimes you missed a train, but there was always another coming after. In the meantime, neither the green hills nor the nightmare forests ever changed. They stayed where they were and you went to them. And sooner or later you would go and not come back.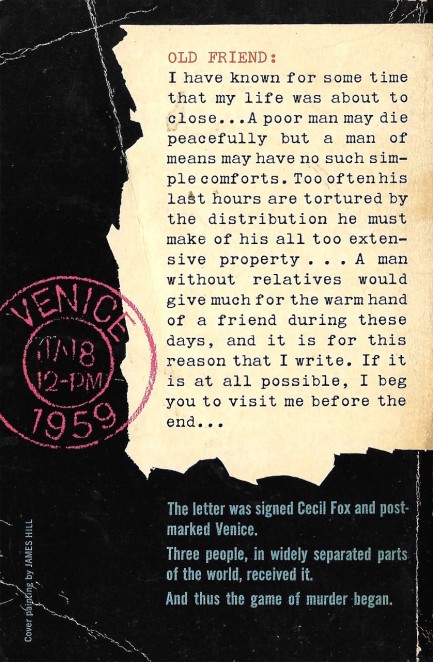 ---
My colleagues would be shocked if they knew the perverse pleasure I take in not washing my hands.
Does he go naked under his smock? Does he prefer Merlot over Syrah? What exactly is the doctor hiding? His secret is—spoiler alert!—he isn't really a doctor. Gerbrand was a year from finishing medical school when World War II swept him up and he found himself serving as a Wehrmacht medic, first in battle, and later in concentration camps. That's a serious secret. We were thinking about other terrible secrets doctors could have. If we were being treated by Gerbrand, here are five more things we'd hate to discover.

He took the Hippocratic Oath with his fingers crossed.
He gets a bizarre sexual thrill from giving injections.
No matter what time your appointment is he has his receptionist let you in an hour later.
During chest surgery he squeezes patients' hearts and makes quacking noises.

He knows exactly where Hitler's other ball is.

Anyway, during the war
Gerbrand
learns everything a real doctor would, and then some. When peace comes he lands a job as a surgeon in West Germany, becomes known and respected, and has romantic liaisons with upper crusty women. But his secret will come out and when it does he'll be in trouble bigtime. We won't tell you how it turns out, because that would require a second spoiler alert, and one per write-up is our limit. The book was originally published in 1955 as Without Sanction, and this retitled Dell paperback came in 1959 with cover art by James Hill.
---
Hayworth finds the elusive cure for zombiedom.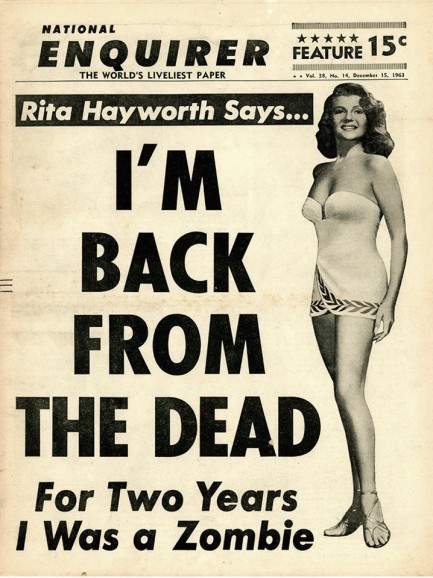 National Enquirer tells readers Rita Hayworth has come back from the dead on this issue from today in 1963. What a curious statement. We can't find corroboration anywhere, but she may been referring to the fact that she hadn't appeared in a movie in two years, but was back to work filming Circus World, which would premiere in mid-1964. Why the break? Possibly because in 1961 Hayworth had filed for divorce from her fifth and final husband, film producer James Hill, on the grounds of extreme mental cruelty. It seems she wanted to retire, but he forced her to keep working and the impasse eventually broke the marriage.
Hayworth was forty-five in 1963, and looked just fine, if stills from Circus World are any indication, but Enquirer editors figured they'd dig into the past for a more youthful cover photo. They settled on a promo shot Hayworth had made ten years earlier while making the film Salome. As a tie-in to the movie, she had modeled a figure slimming swimsuit known as a Salome Sea Mold for her Rita Special Swimwear line marketed by the company Flexees. We have no idea how well the tie-in worked, but the company is still around. Hayworth continued working after Circus World, making a movie every year or two until 1972. At that point we assume she slid into zombiedom, or at least retirement, on her own terms.
---