Trio decides it's a perfect day for pooling their resources.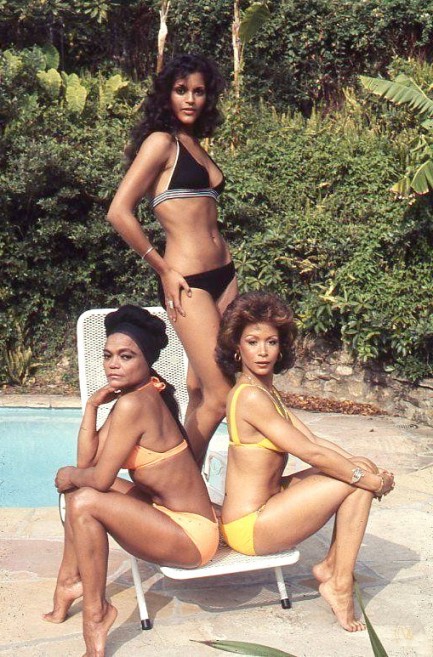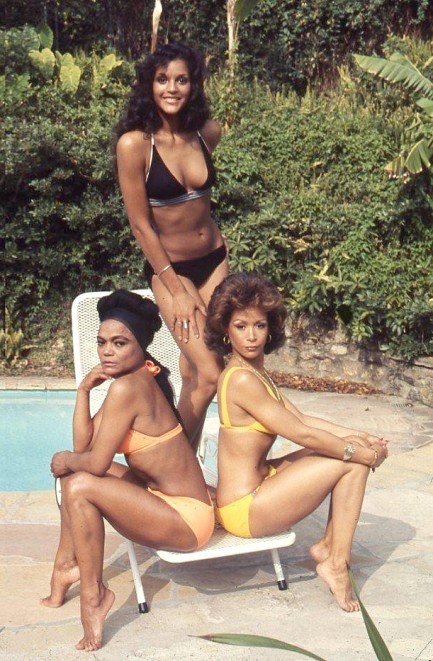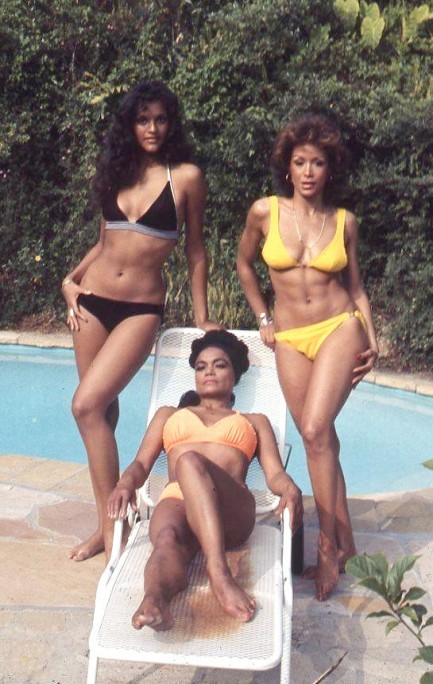 Demonstrating the beauty of brown skin in its various subtle shades are Eartha Kitt, Jayne Kennedy, and Freda Payne, hanging poolside in Los Angeles and looking quite nice. If you're unfamiliar with who's who, we can also use the shades of their bikinis to identify them: Kitt is in orange, Kennedy is in black, and Payne is in yellow with killer abs. We bet she went through some payne in the gym to get those. This shoot resulted in a famous cover for the pop culture magazine Jet in July 1974, and says summer in a big way. See more of Kennedy here.
---
Teach, nurture, encourage, love. That all comes later. Right now, they're mainly focused on killing.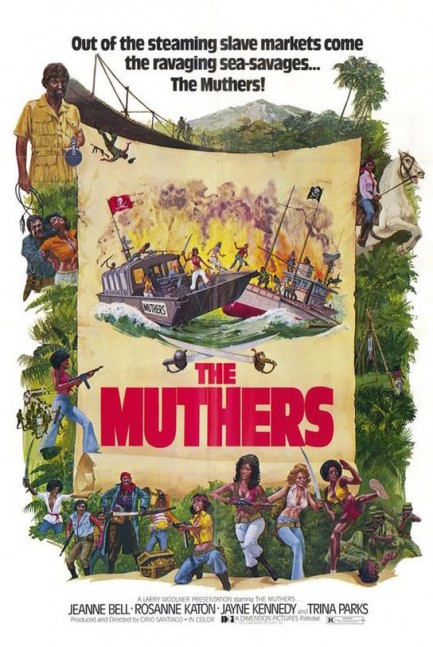 Yes, there are two movies called The Muthers. We covered the one from 1968 yesterday. Today we turn our attention to the unrelated blaxploitation flick, which premiered this month in 1976. Yesterday's Muthers was a simple nudie romp, rather innocent. Here eight years later we have a full blown savage adventure epic about a clan of female pirates who get themselves deliberately thrown in a coffee plantation/prison camp called Sal Si Puedes—Get Out If You Can—as part of a rescue mission. So what you basically have here is a women-in-prison movie, replete with sweat, cruelty, and a desperate plan to make a break for freedom.
Two of the pirates are portrayed by Playboy centerfolds Jeannie Bell and Rosanne Katon, while model Jayne Kennedy is a sort of privileged prisoner. Without getting too pervy about it, these are three of the more beautiful women from '70s b-cinema. Another pirate is played by Trina Parks, who while she isn't otherworldly like the goddesses previously mentioned, is certainly plenty hot by any normal measure. We bring up their physical characteristics because it's exactly why director/writer/producer Cirio Santiago cast them. He was an exploitation producer/director nonpareil, and his milieu was putting beautiful women—among them Pam Grier, Judith Brown, Roberta Collins, Margaret Markov, and Colleen Camp—in roles where they drove the action.
The Muthers takes place in what is supposed to be Central America, but it was really produced in the good old Philippines by Santiago and the same people who gave the world movies like She Devils in Chains and Savage! The women Santiago has assembled here karate kick, rabbit punch, and machine gun a series of anonymous bad guys, finally working their way up the prison camp's commandant, played by Tony Carreon. Who comes out on top? You never know in these jungle epics, but you can count on the end being pyrotechnic. Do we recommend this? Well... in terms of sheer quality maybe not, but in terms of watching Bell, Katon, and Kennedy? For sure. Those girls are poison!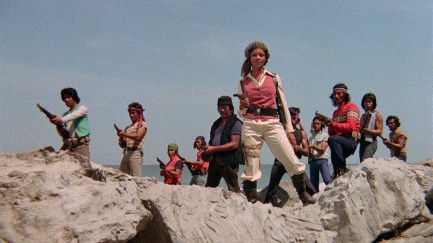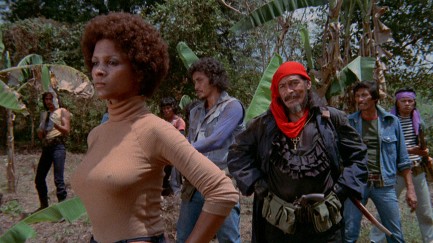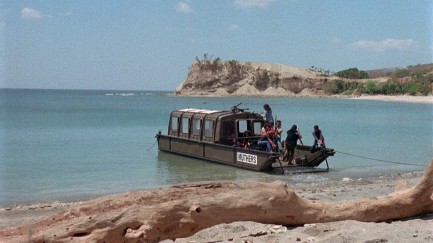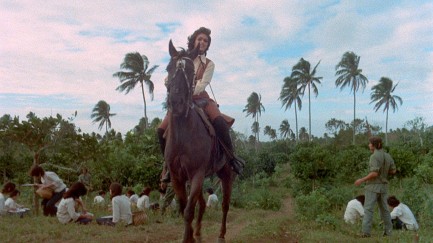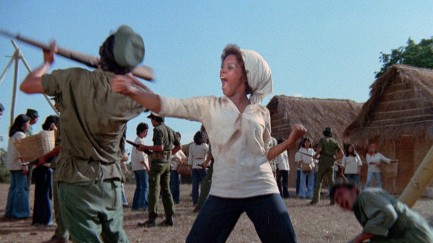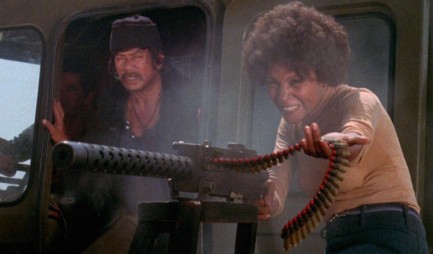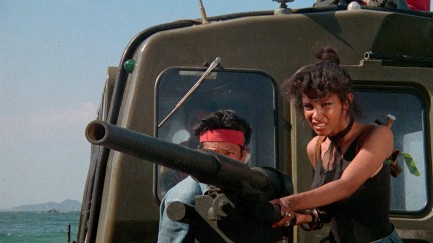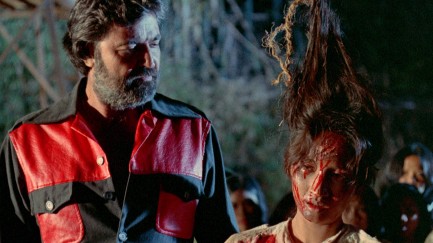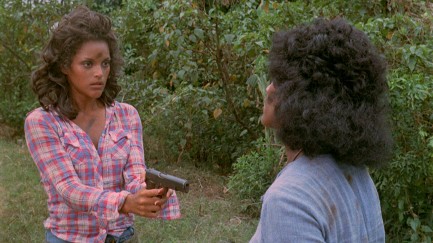 ---
She was always eager to take aim at new targets.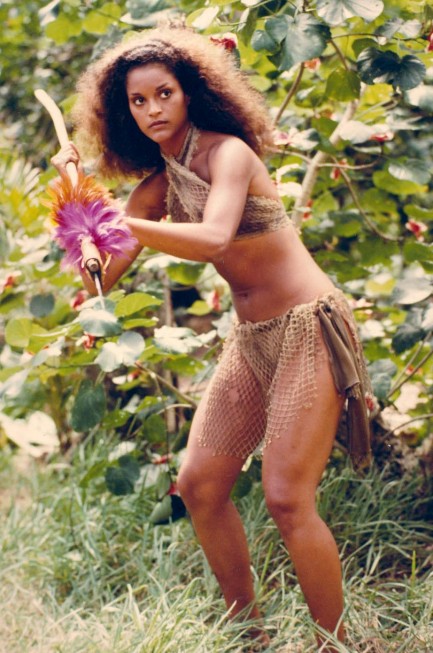 Above is a photo of American actress Jayne Kennedy from her hilarious television movie Mysterious Island of Beautiful Women. The shot doesn't begin to do her justice yet she still looks great in it. Kennedy started in beauty pageants before sliding into television roles and blaxploitation flicks such as The Muthers and Big Time, before veering into sports broadcasting in 1978 with The NFL Today. In pageants she was one of the first black women to blaze a trail, winning Miss Ohio in 1970 and making the semis at Miss U.S.A. the same year. In sportscasting she was one of the first women, black or white, to earn a prominent on-camera role, making her a dual trailblazer. Somewhere in there a sex tape leaked to the public, and since it was also one of the first, she can be said to have blazed a trail there too. Both of these shots are from 1979.

---