Don't you know it's gonna make me go blind.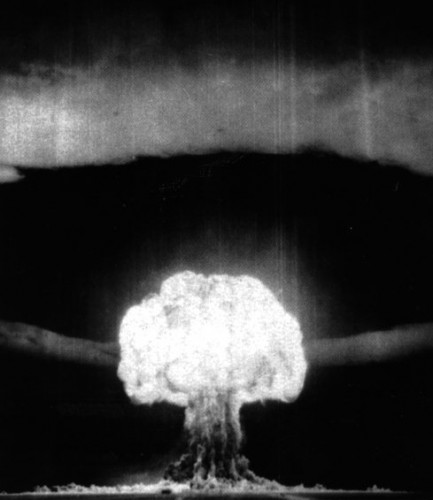 Photo of the mushroom cloud generated by the Soviet nuclear weapon Reaktivnyi Dvigatel Stalina, aka Stalin's Jet Engine, aka Joe 4, detonated at the Semipalatinsk Test Site in Kazakhstan today, fifty-six years ago.

---
I am the lizard king, I can do anything.
Today's nuclear theme continues with this poster for the Japanese monster flick Gojiratai Megaro, aka Godzilla vs. Megalon. If the title of the film sounds like a WWE undercard, then it's fitting the climax consists of a tag-team wrestling match pitting Godzilla and a giant robot named Jet Jaguar against the fearsome twosome of Megalon and Gigan. Of course, if this were a wrestling match neither of the villains would be able to tag in or out, because neither has hands. Instead Gigan has at the ends of his arms what look a bit like Viking mead horns, and Megalon sports models of the Chrysler Building. The story here involves the aquatic Megalon deciding to destroy Tokyo in retaliation for nuclear testing that has endangered the seas, which actually makes him the good monster, in our view. Godzilla, on the other claw, is radioactive by nature, which presumably means weakness, baldness, anal bleeding, and slow, agonizing death follow wherever he goes. But none of this truly matters. All that matters is this is the Godzilla film with the kick. The kick. Don't know what we mean? Your online search terms are: "Godzilla," and "kick." Trust us, you'll almost believe a lizard can fly. Gojiratai Megaro premiered in Japan today in 1973.
---
Jet magazine discovers twins under the skin.
Two pages from Jet magazine, featuring Eartha Kitt, Bob Hope and others, with interesting content you can read for yourself, circa 1950s.
---