This hat looks great. Now with water, fertilizer, and a lot of patience I'll be able to make a dress to go with it.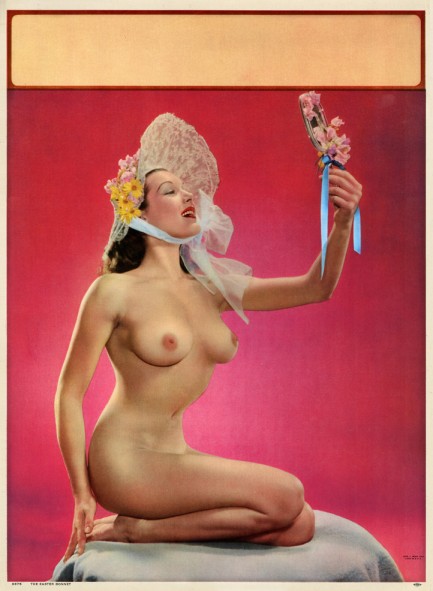 Above, a return engagement on Pulp Intl. for American model Joanne Arnold, who in this nice Technicolor lithograph is wearing nothing but a bonnet garlanded with daisies. Arnold was a 1954 Playboy centerfold and sometime model for famed photographer Peter Gowland, who made her the centerpiece of a famous series of underwater nudes, one of which we showed you way back in 2012. She also popped up on another Technicolor litho with four other models. You can see that here. The date on the above item is 1950. Arnold will return, we promise, at which point we'll see if she ever got the rest of her outfit together.
---
For the first time a rocky relationship sounds like a good thing.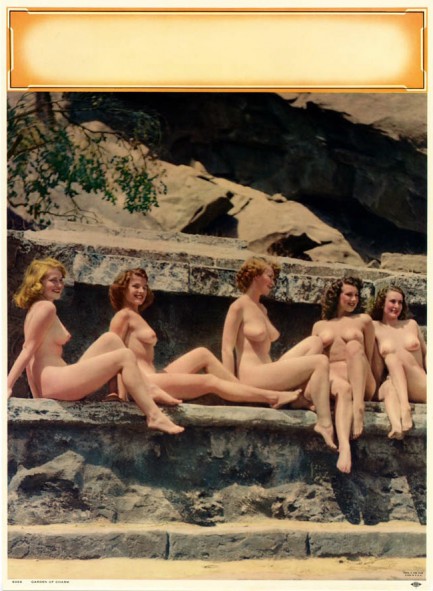 Above is another Technicolor pin-up for your enjoyment—or five pin-ups, to be precise. Is it just us, or do they sort of make you think of Mount Rushmore, plus one? Probably it's just us. Some background on this: after World War II the traditional pin-up market of stylized color paintings by talented artists such as Varga and Gil Elvgren had declined, which prompted several calendar companies to try to breathe new life into the format by using actual naked women. They opted for Technicolor because it resembled the classic paintings to which buyers were accustomed, but with the added thrill only real flesh-and-blood could provide. This lithograph is entitled Garden of Charm, and indeed these five anonymous curly-haired models make a charming tableau. They were photographed in 1955.
Update: We got an email from a reader, Herman, who informs us:
"This photo is one from the Garden of Charm, a location at Corriganville, a movie site owned by an old western actor by the name of Ray Corrigan. A more popular site such as this was Iverson's Movie Ranch. Both no longer exist. Many of the old camera clubs used the site for many of their sessions. One of the models, second from the right, is none other than Joanne Arnold, PB Playmate 1954-05."
Thanks a million, Herman. We would never have gotten the ID on her. Four models to go!
---
Gowland takes his camera underwater with perfect results.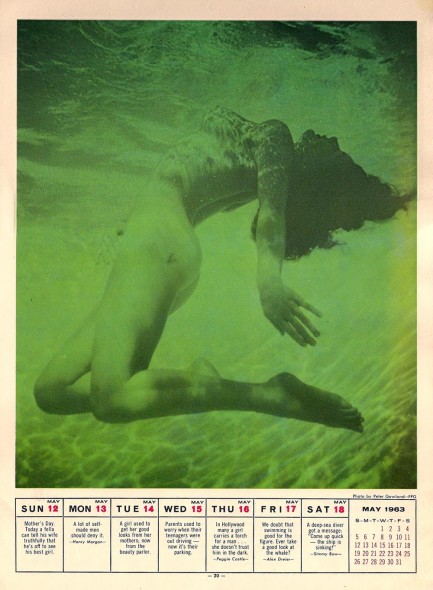 This week's image from the Goodtime Weekly Calendar of 1963 features glamour model Joanne Arnold and was made by Peter Gowland, whose name is probably familiar to all the photographers out there, but perhaps not to everyone else. Gowland, the son of actor Gibson Gowland and actress Sylvia Andrew, was not only one of the most famous glamour photographers of the 1950s and 1960s, but he also built highly precise cameras that are still sought after today. These cameras ranged from handheld to studio-sized, and he also built special underwater cameras, one of which we can assume he used in making the image above. Gowland's work appeared in too many magazines to name, and he shot everyone from Tallulah Bankhead to Muhammad Ali during a career that only ended with his death in 2010. There are several more Gowland images in the Goodtime Calendar—none of which have ever appeared online as far as we know—and they'll be coming up in due time. Calendar text appears below.
May 12: Mother's Day. Today a fella can tell his wife truthfully that he's off to see his best girl.
May 13: "A lot of self-made men should deny it."—Henry Morgan
May 14: A girl used to get her good looks from her mother; now from the beauty parlor.
May 15: Parents used to worry when their teenagers were out driving—now it's their parking.
May 16: "In Hollywood many a girl carries a torch for a man… she doesn't trust him in the dark."—Peggie Castle
May 17: "We doubt that swimming is good for the figure. Ever take a good look at the whale?"—Alex Dreier
May 18: "A deep sea diver got a message: 'Come up quickly—the ship is sinking!"—Simmy Bow


---