Even in the height of summer New York City can be a cold, cold place.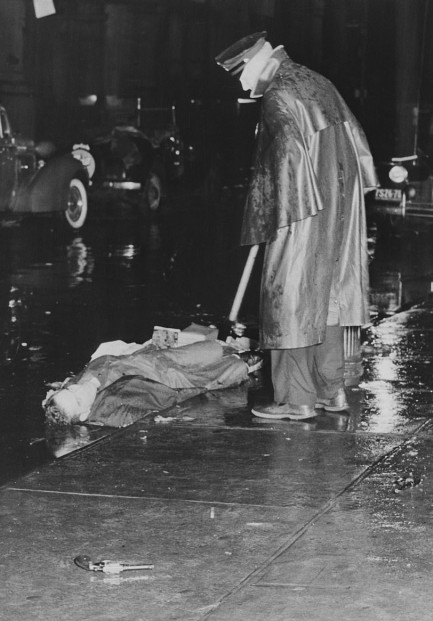 In this photo made today in 1930, a policeman stands over the body of Louis Riggiona, who had been shot twice in the heart by two gunmen as he and his brother Joe exited a restaurant in New York City's Bowery district. Joe fled and avoided injury, while the gunmen dropped their weapons (one pistol is visible in the foreground) and escaped. Louis Riggiona had become the latest casualty in what was known as the Castellammarese War, a Mafia power struggle whose opposing figureheads were Salvatore Maranzano and Joe Masseria. Maranzano was from Castellammare del Golfo, Sicily, thus the name of the conflict. He won the war, but got to be capo di tutti i capi for only five months before he too was murdered.
---
Mafia gunmen make a mess of Masseria.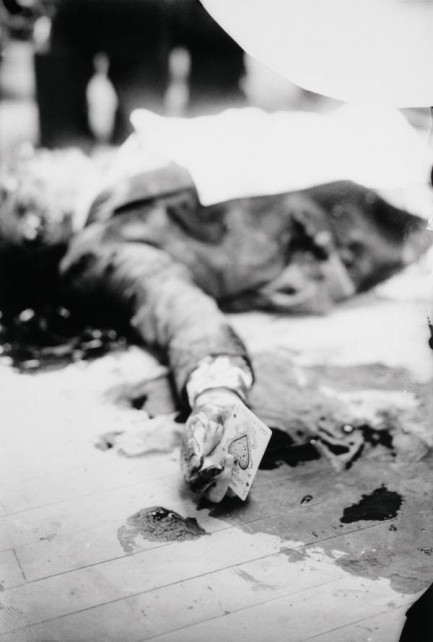 As artistic crime photos go, this shot of Giuseppe Masseria's corpse on the floor of Villa Tammaro, a seafood restaurant in Coney Island run by mobster Gerardo Scarpato, ranks highly. During the 1920s Masseria was the head of what later became known as the Genovese crime family. He was involved in a power struggle with another crime group run by Salvatore Maranzano, but at the same time there were tensions within Masseria's group because he was an old world, old school mobster who refused to work with non-Italians, and thus was leaving millions of dollars in criminal profits unclaimed. One of the young mafiosi in his clan who thought Masseria was an old-fashioned fool was Charles Luciano, aka Lucky Luciano. Tensions between Masseria and Luciano eventually devolved into open hostilities.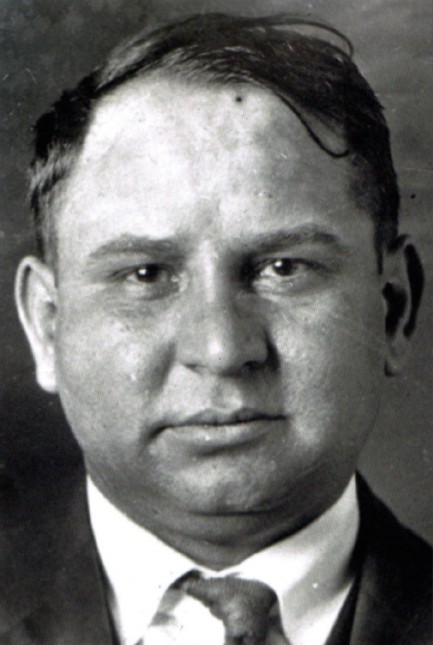 Masseria was a careful guy. He traveled in an armored sedan. But it's hard to take care of business from behind plate steel and bulletproof glass, so when Luciano invited him to a meeting at Villa Tammaro that promised to tamp down intra-clan tensions and refocus everyone on Salvatore Maranzano, the real enemy, he took the chance. He went to the restaurant, and the confab must have gone cordially up to a point, because Masseria, Luciano, and a couple of other men began playing cards. But at some point Luciano excused himself from the table and Masseria was gunned down by a fearsome foursome of Albert Anastasia, Vito Genovese, Joe Adonis, and Bugsy Siegel.
There were a few other skirmishes for control, but essentially, taking Masseria off the board was the beginning of the end of hostilities. One more old school kingpin had to go—Maranzano, who had been communicating secretly with Luciano and had offered a deal of peace in exchange for Masseria's death. Months later Luciano took care of him too. With Masseria and Maranzano gone, the new mafia was restructured, modernized, and began working with non-Italians. Many accounts of Masseria's killing say he died at dinner, and while that's technically true, the autopsy showed that he had eaten nothing. Maybe he was afraid of being poisoned. Though cards had been scattered around the room in the chaos, the ace of spades was probably placed in his hand by a photographer. That was today in 1931.
---