Love and the art of armed robbery.
Above, a French promo poster for the American film noir Gun Crazy, which premiered in France as Le Démon des armes today in 1950. Haven't seen it? We
think
it's well worth a viewing.


---
A change of title helped turn an overlooked film into a revered classic.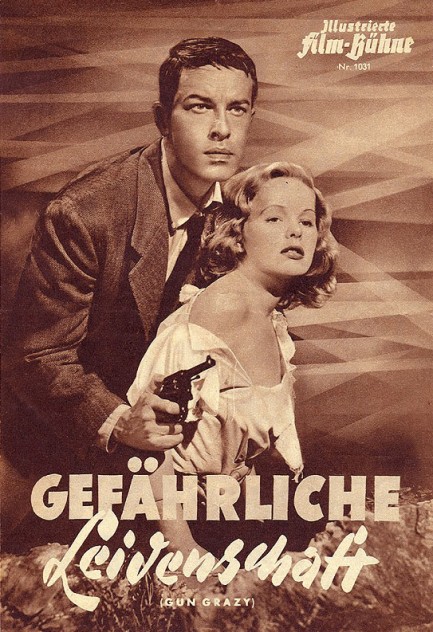 Above, a West German promo pamphlet for Gefährliche Leidenschaft, which was the American thriller Gun Crazy. If you read German, then you know the German title means "Deadly Is the Female," and that's in fact what the film was called in the States upon its initial release. But after lackluster box office, King Brothers Productions changed the title and marketing campaign, and success followed. Today the movie is in the U.S. Library of Congress's National Film Registry, an honor reserved for movies of special cultural, historic, or aesthetic significance. This pamphlet was made by Illustrierte Film-Bühne, and you can see more examples of that company's work here and here. Gun Crazy premiered in the U.S. in 1950, and in West Germany today in 1951.
---
Born with a six gun in her hand.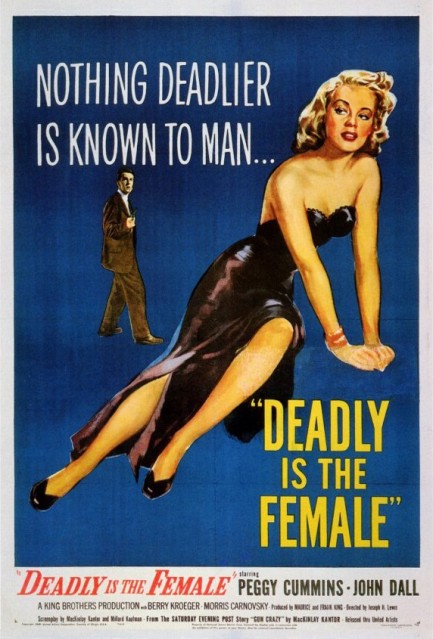 The tagline from the film goes: She believes in two things... love and violence. The film is called Gun Crazy, aka Deadly Is the Female, and it was way ahead of its time. The leads are two of the first legitimate anti-heroes in American film, and Peggy Cummins, as a carnival sharpshooter named Annie Laurie Starr, is one of the baddest women this side of Bonnie Parker. She wants the finer things in life, and it is her ambition, more than that of her partner, that propels the pair into their crime spree. They see themselves settling down in Mexico, but their "one last job before quitting" goes terribly wrong and instead they find themselves running for their lives. We really recommend this one. It isn't perfect by any means, but it transcends its limitations to evolve into a surprisingly artful film. There's a moment where John Dall muses: "We go together, Annie. I don't know why. Maybe like guns and ammunition go together." It's one of the best summations of a relationship we've ever heard. Cheapie B-flicks from this period disappeared forever nine times out of ten, but this one is still with us. There's a reason for that. Gun Crazy premiered in the U.S. today in 1950.
---