A Haven for your deepest desires.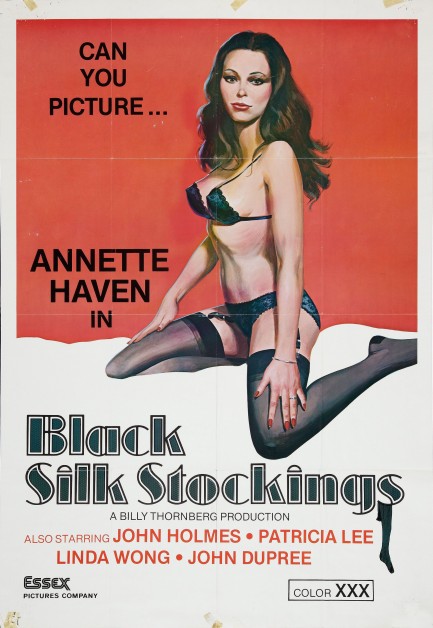 We're always on the lookout for GGA style art even when it doesn't occur on vintage book covers, and above you see an example—a promo poster for Annette Haven's adult flick Black Silk Stockings. We have no idea who painted this piece, but it could easily front a detective thriller or sleaze novel. It's also a very good likeness of Haven. We didn't watch the film but we know it's a vignette style story with all five segments involving black stockings. Of course plot is just a fig leaf. Sex is the point. You know what to expect.
Black Silk Stockings premiered in Chicago, Illinois today in 1978 (yes, in an actual cinema, if you can imagine a time when regular people used to be seen going inside to get boners—and even bonettes). John Holmes, John Leslie, and Linda Wong co-starred, along with Pulp Intl. mega femme fatale Desirée West. What do we mean by mega? Look here. And along those lines we searched for a photo of Annette Haven wearing the titular black silk stockings but had no luck. You'll have to make do with the stockingless shot we found.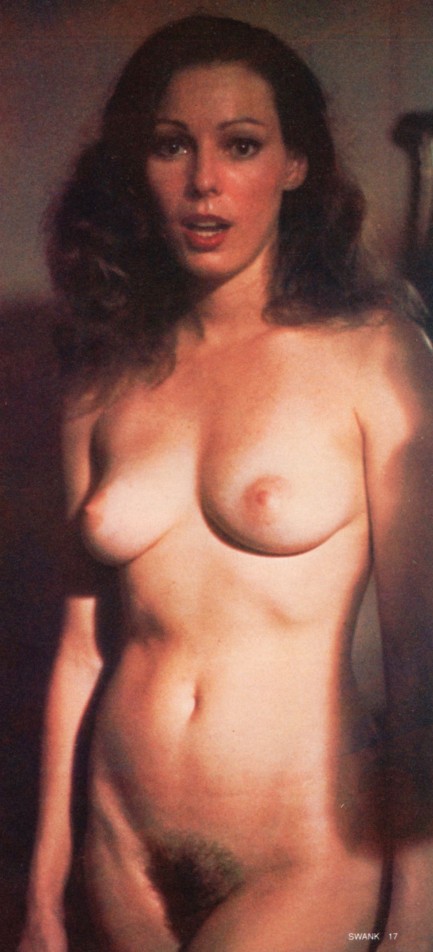 ---
She's an Angel but she knows all the tricks devils know.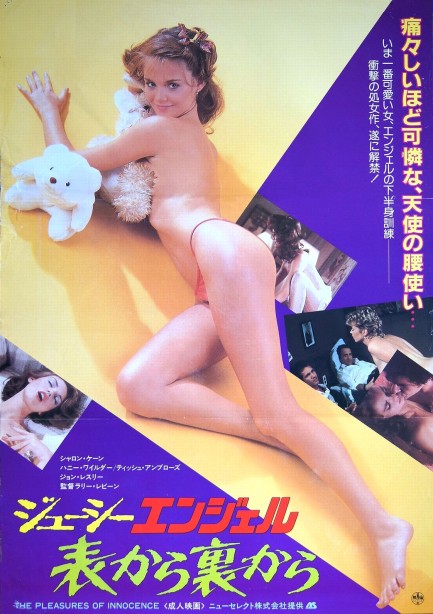 This poster comes from our rather large collection of Japanese promos for x-rated U.S. movies, and was made to publicize The Pleasures of Innocence, starring all-time beauty Angel, aka Jennifer James. Porn copied successful mainstream films as a matter of course, and this is Flashdance influenced, with workout montages, sweat, and 100% earnest, specially made for the film, bass-popping, electro-drumming mid-'80s dance music. Angel plays a smalltown girl who ditches Des Moines and heads to NYC to catch a break. Other performers include Sharon Kane, Honey Wilder, real life former ballerina Terri Hall, and porn legend John Leslie as a slimy agent determined to gain entry to Angel's holy place.
Best line: "She always falls for those writer types. She was seeing a lawyer pretty regular back home."
Second best line, as the writer is having sex with Angel: "You're a writer's dream."
Well, Angel is anyone's dream. We won't get into the plot much more except to say that if you took all the sex out of the film the script would be more like a treatment you could read in nine minutes. We're mainly about the poster anyway, and as usual with Japanese promos, this one features a shot of the star that doesn't exist in any other form. That's no surprise—the photo that would have supplied Angel's likeness doubtless was either lost through carelessness, irreparably damaged through neglect, or was appropriated and will turn up on Ebay when the assistant graphic designer who swiped it dies and his kids find it in a box under his bed.
Obviously, we can't recommend this movie. It's dumb, despite professional film stock, good lighting, location work, split screen trickery, and serious performances. In its favor, the dancing is interesting to watch, a bit like revisiting MTV new wave videos, Kim Wilde maybe, or Pat Benatar. We know—that isn't great enticement, but there's also Angel, don't forget. She's an adult film industry legend for a reason. There's no known Japanese release date for The Pleasures of Innocence, but it premiered in the U.S. today in 1986. Bonus material: Angel dances below, and fronts three more posters here.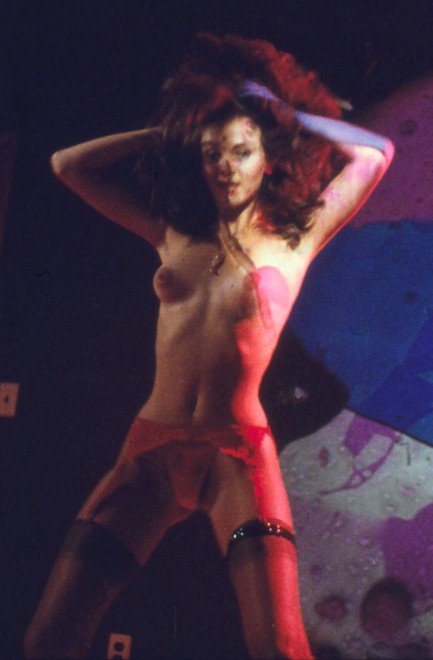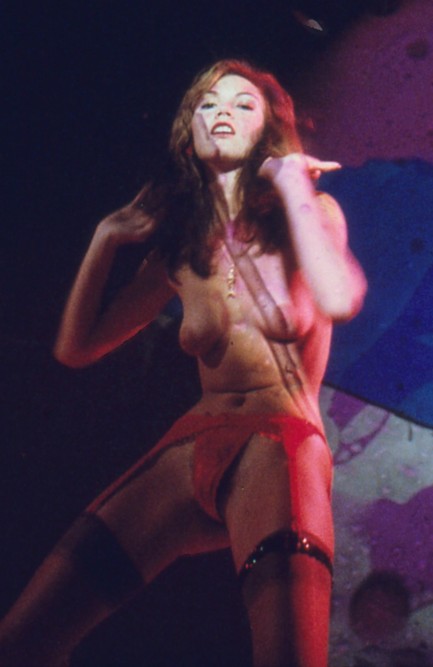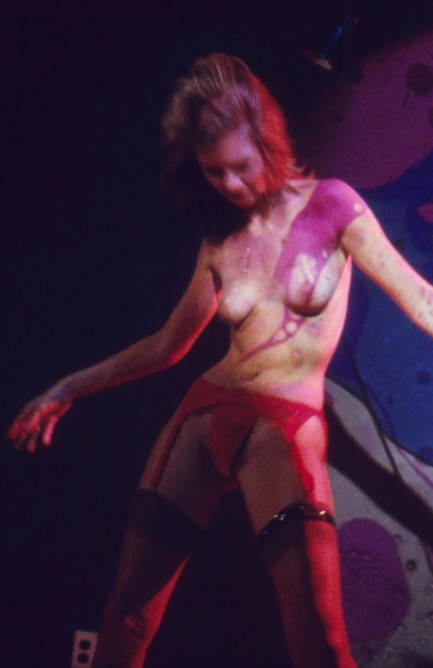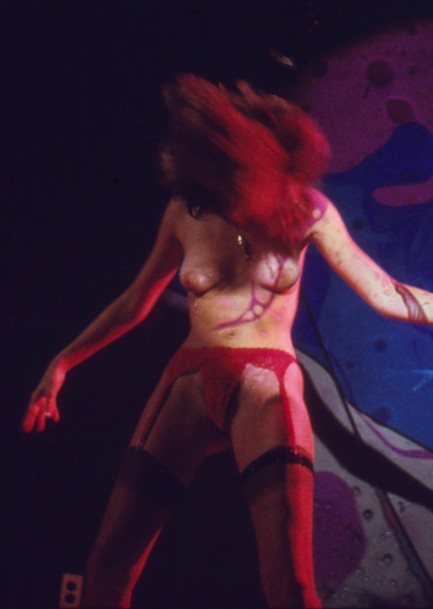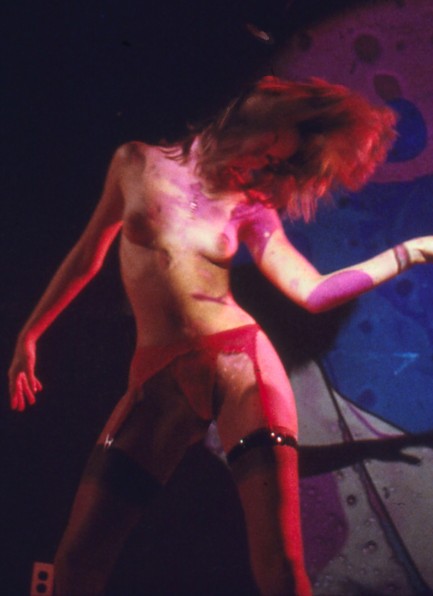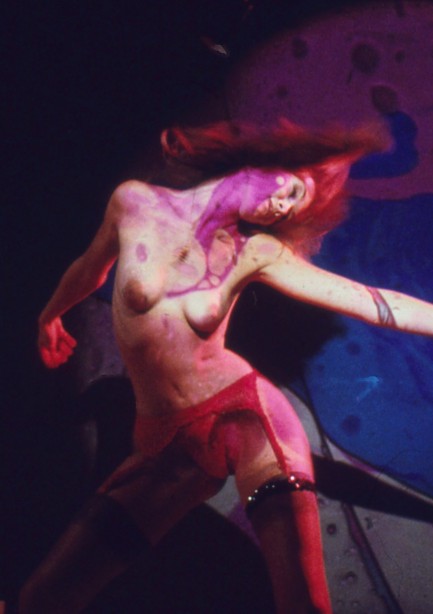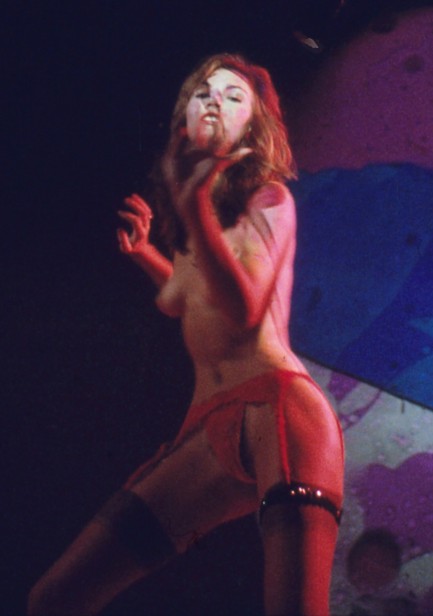 ---
Bringing American values to the world.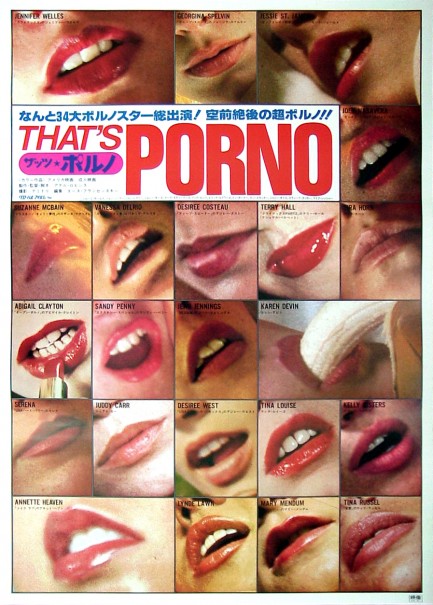 If you visit this site a lot, you're used to this—we promise to get back to something and then take forever to do it. But to our credit, we do eventually keep our promises. Today, we're finally returning to that pile of Japanese x-rated promo posters we've accumulated (Japanese as in designed and printed in Japan, but to promote American movies). Above is a poster for a porn compilation entitled That's Porno, released in 1979 and comprised strictly of sex scenes culled from various films, freed from the tyranny of plotlines and character development (just kidding—we live for plotlines and character development). You have to love the art, which consists of the lips of twenty-two x-rated actresses, some well known, such as Georgina Spelvin and Annette Haven (or Heaven, according to the text), and others virtually forgotten, like Karen Devin and Tina Louise (the other Tina Louise). Anyway, we have eight more posters below and relevant info.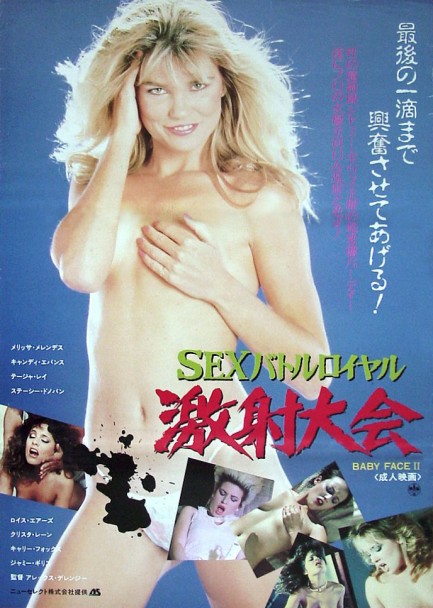 Baby Face II,
with Stacy Donovan, Candy Evans, and Taija Rae. Just to make sure Japanese audiences got the point, the word "sex" appears front and center. We've talked before about the usage of this English word on Japanese posters as a signifier and here you get another example.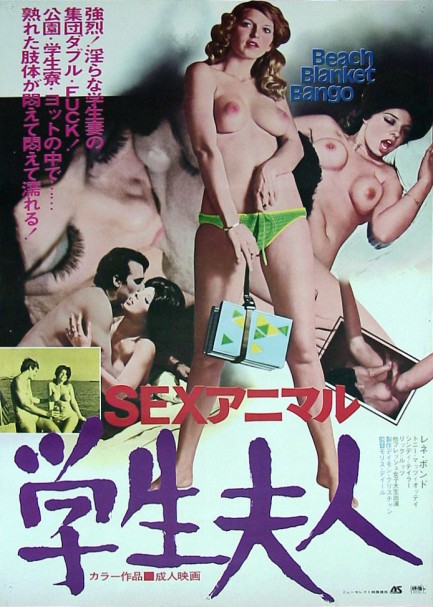 Beach Blanket Bango,
with Cindy Taylor and Rene Bond, 1975. Notice the word "fuck" at upper left. Again, is this more descriptive than the Japanese word for the same act, or is the English a signifier of decadence?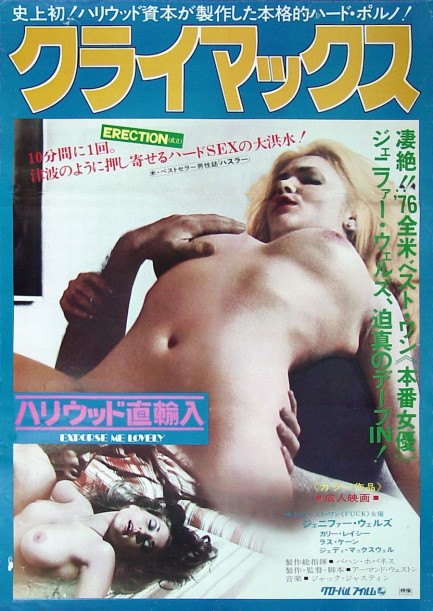 Expose Me, Lovely,
with Annie Sprinkle, Jennifer Welles, and Jody Maxwell, 1976. The designers misspelled the word "expose," instead putting "exporse," but they did get "sex" right, and there's "erection" right next to it, for good measure.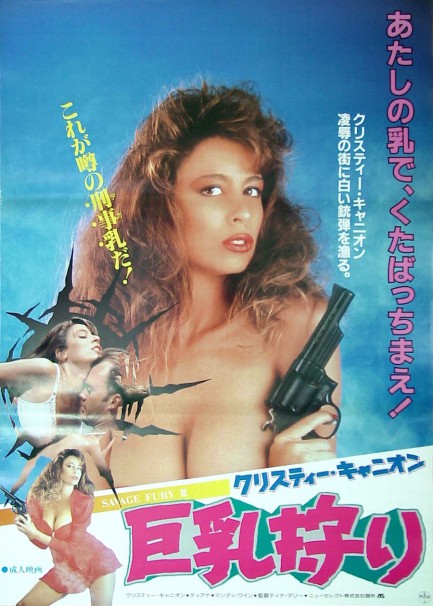 Savage Fury II,
with Christy Canyon, Randy West, Tony Montana, and Ron Jeremy, 1989. Boldly goes where
Savage Fury I
dared not—into the pants of Ron "The Hedgehog" Jeremy.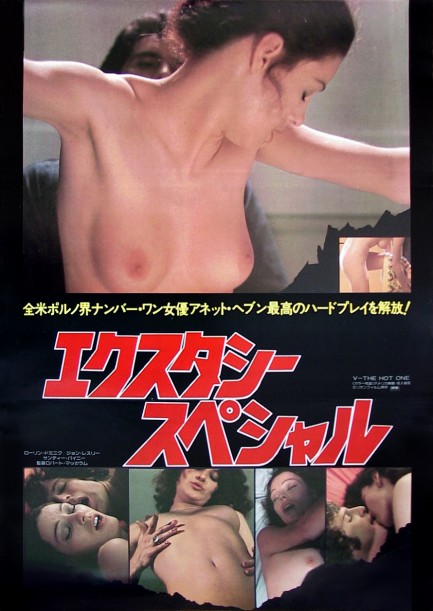 V—The Hot One,
with Annette Haven and John Leslie, 1977. This one is considered one of the better adult flicks of the seventies, with a real plot, a serious message, and a legendary star in Haven.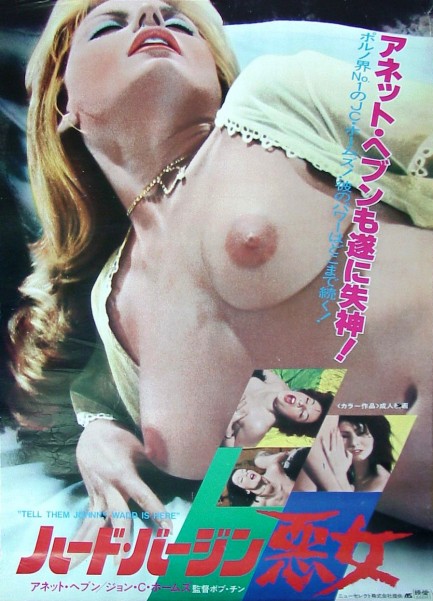 Tell Them Johnny Wadd is Here
, with Annette Haven and John Holmes, 1976.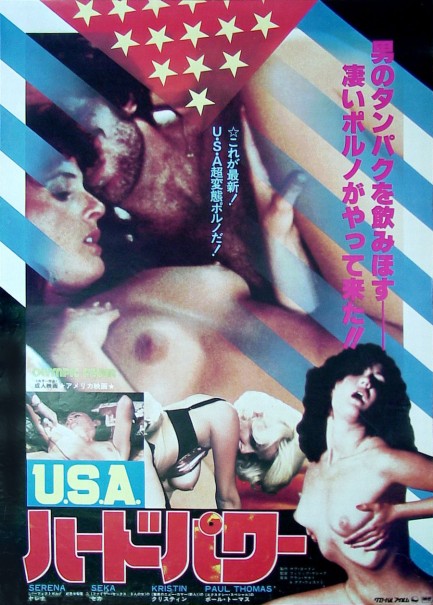 Olympic Fever,
with Candida Royale, Seka, Paul Thomas, and Ron Jeremy, 1979. We're betting the shot put was the climactic event here, immediately preceded by the breast stroke and pole vault.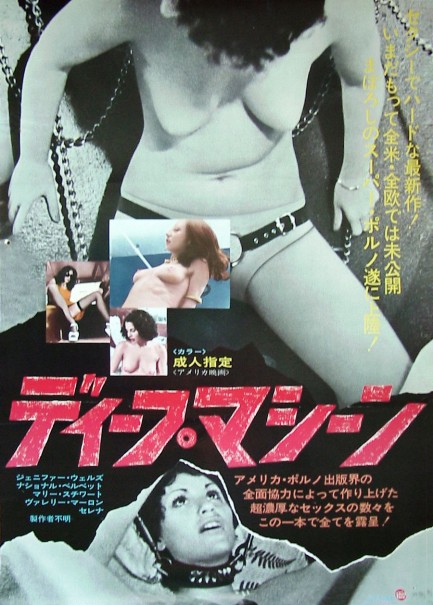 Honey Pie
, with Jennifer Welles, Terri Hall, and Annie Sprinkle, 1975.
That's all for today. We have about a hundred more of these, not all as interesting as this group, but sometime down the line we'll pick out a few more worthy examples and share them. In the meantime, be sure to check our previous entries on this subject here, here and here.
---