Unknown person takes an unplanned trip to nowhere.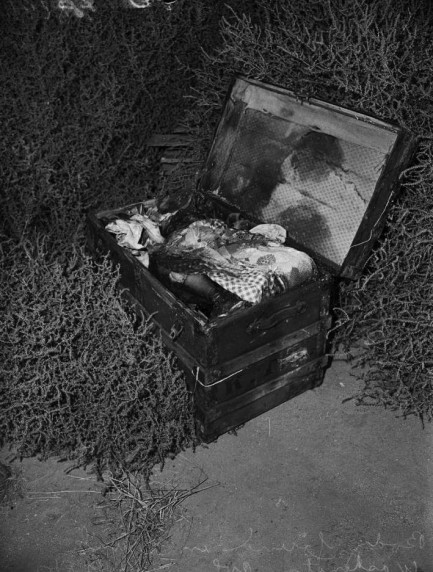 A lot of places in the U.S. probably aren't having an official Halloween this year, but there's no reason we can't get a bit morbid on Pulp Intl. as the 31st approaches. The photo above shows a body wedged into a trunk, in a state of partial decomposition, found in Commerce, in Los Angeles County today in 1951. The town is usually referred to as the City of Commerce, and it falls into the jurisdiction not only of the local police, but also the Los Angeles Sheriff's Department. It was the latter that dealt with the body, carting it off the LASD Crime Laboratory.
Decomposition made identification a challenge. Medical examiners cut off its fingers and preserved them in alcohol to try and get prints. The body also had a dental bridge, which police hoped would lead to a breakthrough. But when all was said and done, it was a tip from the public that actually broke the case. The victim was Margaret Kelley. Her killer, who you see in photos under arrest and in court below, was John M. Kelley.
We don't have more info on the crime, the cause of death, or the outcome of the court proceedings. We suspect, due to the names involved, that this was a case of domestic murder, but we can't find confirmation in newspapers of the period—at least not ones that are accessible to us. Despite the dearth of facts, we thought the photos were unusual, and perhaps even appropriate for Halloween 2020, one of the least pleasant years on record. So there you go—trick or treat!
---