A man called Hawk.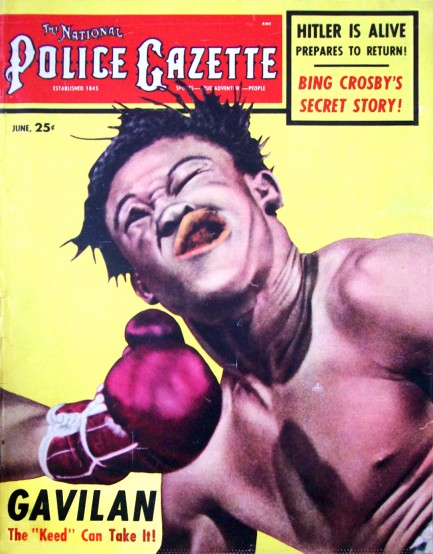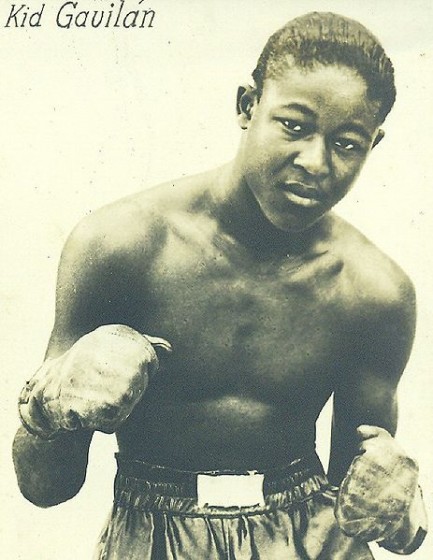 Above is a classic boxing cover from The National Police Gazette, a magazine whose specialization in this area we've shared with you before. This time the unlucky pugilist is Kid Gavilán, née Gerardo González, aka The Cuban Hawk (gavilán is Spanish for hawk), who on this June 1953 cover is taking a beating from Sugar Ray Robinson. The occasion was 23 September 1948. Robinson won a controversial decision, and when the two met again the next year Robinson won by decision again. Though Gavilán never beat Robinson he did win the world welterweight title in 1951, and throughout that year, 1952, and 1953 defended it by winning brutal bout after brutal bout. That's why the Gazette says Gavilán can take it. In 1954 he jumped weight classes and lost a middleweight title bout to Bobo Olson, then afterward fought Johnny Saxton and lost his welterweight crown. The rest of Gavilán's career was up and down, but he's remembered in boxing circles as one tough hombre. Below is the unaltered photo from which the Gazette made its great cover.
---
Yeah, but you should see the other guy.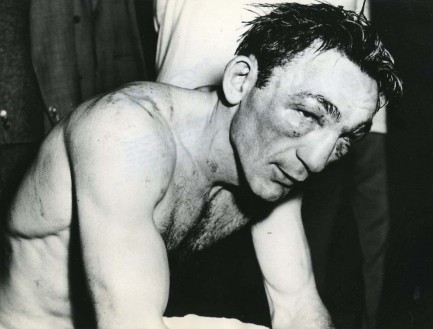 This is American boxer Carmen Basilio, and bad as he looks on the outside, he feels even worse inside because he's just learned he lost his welterweight title to challenger Johnny Saxton. That wasn't what Basilio, the crowd of thousands, and the television audience of millions thought when the final bell rang, but the judges somehow saw a different fight than everyone else and awarded Saxton the decision. Did it have anything to do with the fact that Saxton was mafia-connected, and his "manager, friend, and adviser" was Philly mobster and notorious fight fixer Frank "Blinky" Palermo? Very possible. Basilio later said of the decision, which occurred in March 1956, "It was like being robbed in a dark alley." Well, he certainly looks like a guy who was robbed. See more on Basilio here.
---
He had a face only a mother could love.
The National Police Gazette focuses on sports with this July 1956 cover of welterweight and middleweight boxing champion Carmen Basilio. According to the Gazette, Basilio lost his welterwight title to challenger Johnny Saxton due to the fact that the judges had been bought off by local mob figures. This may have been true. Saxton was tight with—or perhaps controlled by—a Philadelphia wiseguy named Blinky Palermo. Saxton was no hack—he went 39-0-1 to start his career—but in some of those fights his opponents gave less than their all, conspicuously so.
Saxton won his first title in 1954 against Kid Gavilán, and that fight was openly discussed as a fixed affair. When Saxton topped Basilio in March 1956 in a fifteen round decision, Basilio said bluntly of the judging, "It was like being robbed in a dark alley." The Gazette took up his case four months later. Other magazines weighed in on Basilio's behalf as well, and in September 1956 he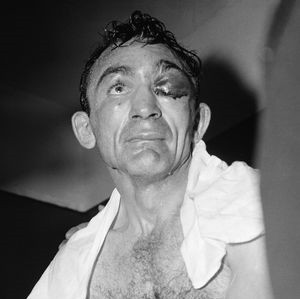 got his revenge when he knocked out Saxton in a rematch.
Basilio finished his career with a respectable record of 56-27-7, having taken quite a few beatings, but also having dished quite a few out. In the end his face was a topographical map of all those battles, with ridges and hillocks everywhere, but on this Gazette cover showing him after winning the welterweight title, he positively glows. There's nothing quite like winning.
---