This looks easy but it took ages to master. The ceiling of my house looks like Swiss cheese and I went through two tvs and a cat.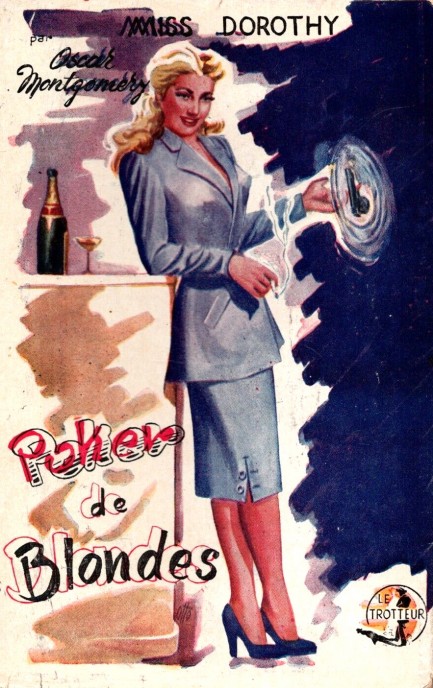 This spinning on a finger trick is definitely not recommended if you want to pass your gun safety course, but you'd certainly be the envy of your friends—the ones you didn't accidentally shoot. You can be sure Miss Dorothy had this trick perfected, since she was a franchise character who appeared in three novels by Oscar Montgomery, aka José del Valle, in 1952 and 1953. Poker de blondes is the second entry, the first is here, and the third will follow at some point.
---
She knows the best way to a man's heart—ballistically speaking.
It's been a couple of years since we had a cover by French illustrator Jean Salvetti, so here's one for Dorothy ouvre le bal, or "Dorothy opens the ball," published in 1952 by Paris based Éditions le Trotteur and written by Oscar Montgomery, aka José del Valle. There were three books in the Dorothy series, with this one coming first. Short synopsis: Dorothy goes to Egypt, hurts a bunch of bad men. As you can see, Salvetti signed his work Salva. More Salva here, here and here.
---