Reaching the top isn't easy. Staying on top is even harder.
Above is a Spanish poster by Josep Soligó Tena for La casa de la colina, which was originally released in the U.S. as The House on Telegraph Hill. The movie tells the story of a Polish concentration camp survivor—played by Valentina Cortese—who upon release takes the identity of her dead friend, and later insinuates herself into the lives of the dead woman's San Francisco relatives. This identity swap is the classic Hitchcockian MacGuffin, which is to say it initially seems to be the plot driver, but later isn't important at all. While Cortese's labyrinthine lie is always a worrisome background element, the movie is really about how she finds herself embroiled in an inheritance mess and a love triangle. We thought this movie was quite good, but you do have to ignore bits like the improbable placement of a child's playhouse above a sheer drop (in a sense, another MacGuffin, as the threat of falling has no bearing at all on later developments). Highly recommended movie, and it has nice San Fran exteriors as a bonus. The House on Telegraph Hill premiered in the U.S. in 1951, and as La casa de la colina in Spain today in 1952. See more work from Tena here.
---
Classic style for classic movies.

Catalan painter Josep Soligó Tena spent thirty years under contract to Hispano Foxfilms, the Spanish subsidiary of Twentieth Century Fox, and during that time created many beautiful promo posters. Today for your enjoyment we have a collection of some of his best. Yes, we are aware he uglified Grace Kelly (panel four), but he's had that difficulty before with beautiful women. He's still excellent, though. Eleven scans below.
---
Ever get the feeling you're being watched?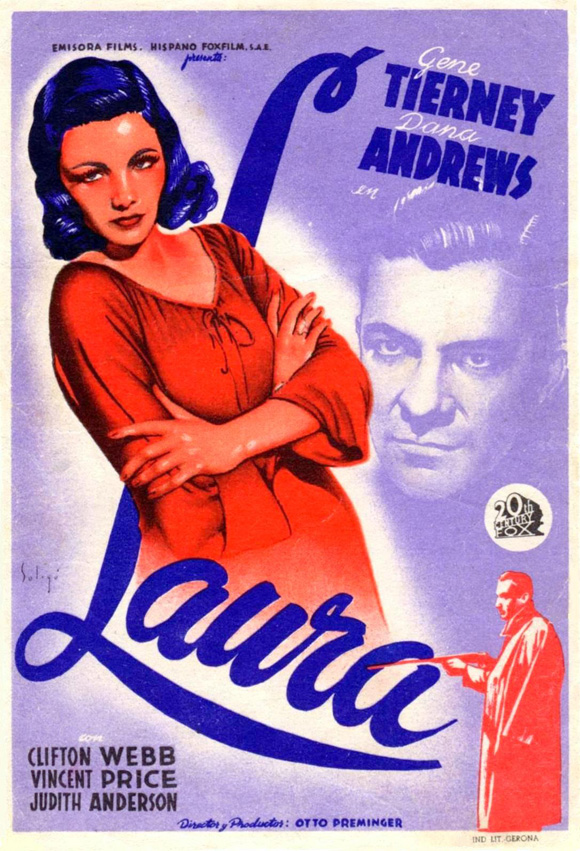 Directed initially by Rouben Mamoulian and finished by the great Otto Preminger, this incomparable film noir featuring the stunning Gene Tierney had a can't-miss premise—a detective falls in love with a woman whose murder he is investigating. Though the character of Laura Hunt is present only in the form of a portrait hanging above a fireplace, the dead woman soon dominates detective Dana Andrews' thoughts. But nothing is as it seems, of course.
Like most great noirs, Laura's premise has been reused and mashed-up, most notably in 1981's Sharky's Machine, but the original remains the best. Above you see the Spanish one sheet, with a depiction of Ms. Tierney by Catalan artist Josep Soligó Tena that doesn't begin to do her justice even though it was based on a photograph. We do like the colors, though. We'll show you more posters later. Laura gazed out from movie screens for the first time in 1944, and finally made it to Spain today, in 1946.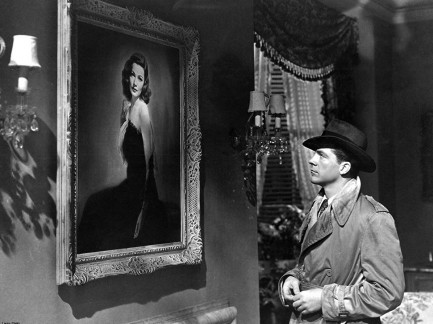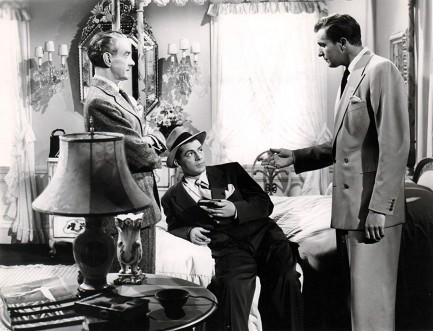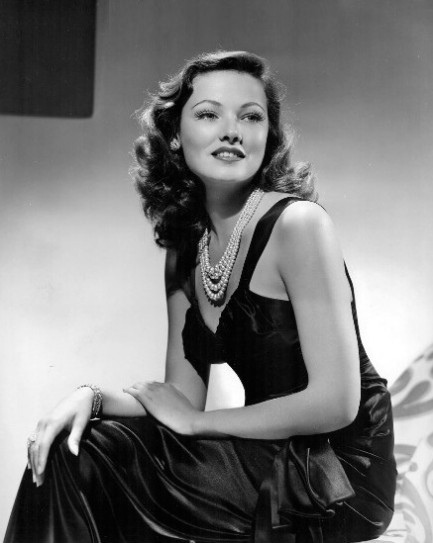 ---