Nurse, just think of what we're doing as a form of alternative medicine.
Aussie writer Shane Douglas may win the all time pseudonym prize. He was really R. Wilkes Hunter, but besides writing as Douglas, he wrote as Kerry Mitchell, Michael Owen, Leslie Wilkes, Shauna Marlowe, Sheila Garland, R.W. Hunters, James Dark, Tod Conrad, Tod Crane, Ted Conway, Caroline Farr, Diana Douglas, Adrian Gray, Alison Hart, Lucy Waters, and so forth. Under his Douglas pseudonym, he wrote a lot of doctor and nurse novels, so we thought we'd share some of those amusing covers today. Above and below you see five, all from the early 1960s, with art by unknown.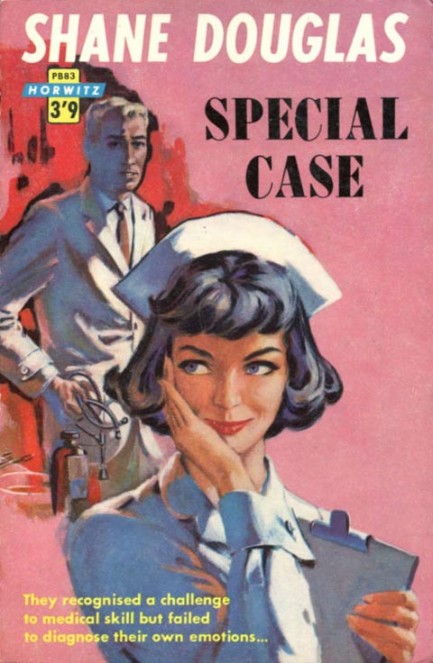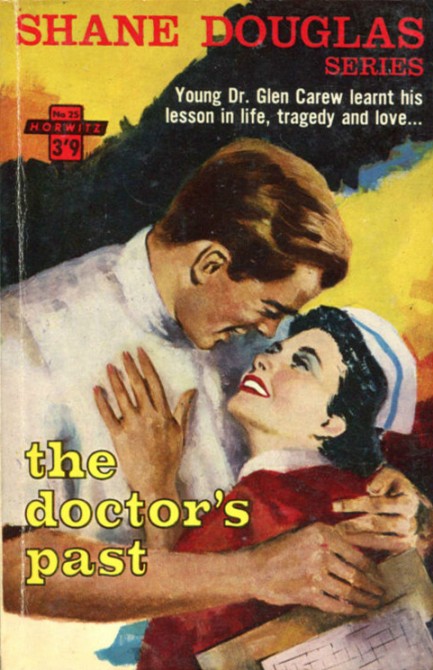 ---
Boy, are we glad you're finally here. Our women have gotten really hairy.
Bush Nurse, written by medical novel specialist Kerry Mitchell, aka Hunter Wilkes, has nothing to do with women's bushes, but it'd be cooler if it did. What you actually get though, is the story of a pretty nurse who takes an assignment in the remote Aussie outback to heal from a broken heart, but finds herself in a love triangle with two doctors who have their own difficult histories. The action eventually centers on rains, floods, and a wave of medical cases that threaten to overwhelm the little medical facility. The above paperback appeared in 1962 with uncredited art, and as you can see at right, there was another version, which is actually from two years earlier (and shows how the nurse's horse was replaced by an automobile), also uncredited art-wise.
---