I think I finally understand why you only paint gigantic ears.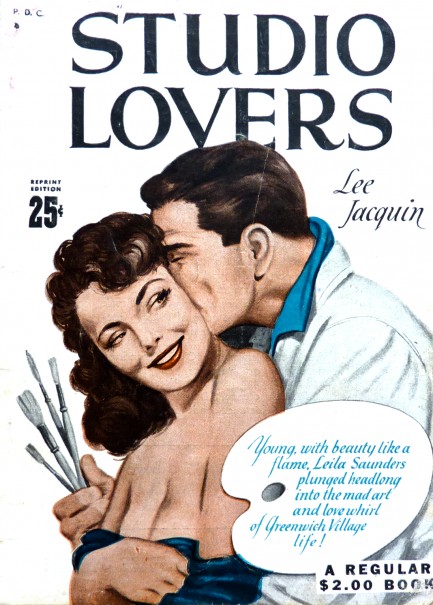 Above, the cover of Studio Lovers by Lee Jaquin for Knickerbocker Publications' imprint Regular Books, 1946. In general we've found that women enjoy being kissed on the ear, but digging for truffles is a whole different ballgame. Remember guys, never go down the ear canal unless explicitly asked.


---
It wasn't until I met you that I realized what marriage really meant. I'll demand a divorce from my wife tomorrow.
Tropical night, sea shore, full moon, convertible roadster, and sneaky adultery. This is a pretty nice cover for Perry Lindsay's, aka Peggy Gaddis's digest paperback Shameless Woman, which was published in 1948 for Knickerbocker Books' sub-set Regular Books. It originally appeared as Sin Cinderella, which is maybe a better title. It's about a divorcée who wants to get back at the millionaire husband who cast her aside, so she recruits an unsuspecting sixteen-year-old, teaches her how to be alluring, and sends her to ruin the ex. Of course, with a '48 copyright date you know this doesn't get too crazy, but that didn't stop us from buying five more. We'll give them careful reads and report back in more detail a bit later. The art on this, by the way, is uncredited.


---
Shhh... poor baby. Don't think of them as my ex-lovers. Think of them as practice sessions for all the fun we have.
We like this pretty cover for Loose Ladies, a "Love Novel" written by Wright Williams, aka Watkins E. Wright, for Knickerbocker Books. Williams also wrote Bar-Fly Wives, Borrowed Ecstasy, Carnival Girl, Cheaters at Love, and a bunch of other books of this ilk. Loose Ladies was number forty-eight in Knickerbocker's Love Novels series and appeared in 1946. You'll often see these referred to online as sleaze, but they're chaste by today's standards, though this one actually touches on the idea of test tube babies, weirdly. The uncredited cover painting is in a style seen on true pulp novels of the 1930s and 1940s, before good girl art took over. Maybe we'll put together a Knickerbocker collection later. Keep an eye out.
---