She meant to cause them sorrow, she meant to cause them pain.
We just explored Mike Ludlow's pin-up work recently and here he is in paperback mode with a cover for L. Sprague de Camp's Rogue Queen, the third book in the Interplanetarias
series, with this one coming in 1951 originally, followed in '53 by the Dell paperback edition. The text on the cover is misleading. "She learned about sex from an Earth man"? Well, not really. What actually happens is humans land on a distant planet where the humanoid inhabitants have hive-like social structures, with queens, drones, and workers. One of the workers who's a sort of liaison assigned to the humans does learn about sex, but only in conversation as she seeks to compare human sexuality with that of her own species. There's no interspecies freakiness, and it's barely even hinted at. There was really no need for Dell to try to trick readers—the book is decent all on its own as de Camp explores the geopolitical relationships between different hives, and their efforts to trick the humans into supporting one side or another in an ongoing war. Many of these books from the golden age of science fiction are high concept, dramatic but not overbearingly serious, and about at the right emotional level for a high school freshman. Rogue Queen fits the bill in all respects.
---
The first cut is the deepest.

We haven't explored the sword and sorcery aspects of pulp very much yet, so we thought we'd show you the below Frank Frazetta painting used for the covers of a 70s metal album and a Spanish language Conan book. We doubt Frazetta's piece, titled Ice Giants, is hanging in a museum somewhere, but it should be. For the life of us we can't see how a Pollack or a Lichtenstein is any better. But maybe we're just crazy.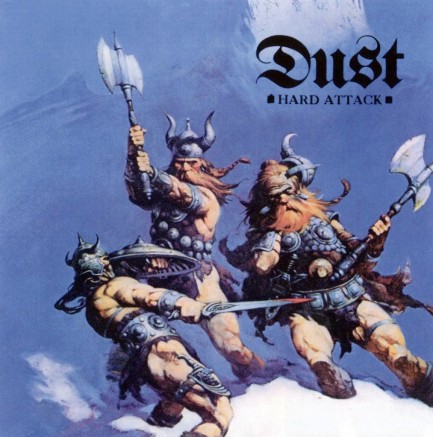 ---