O'Neill does her famous bump and grind for her New Jersey neighbors.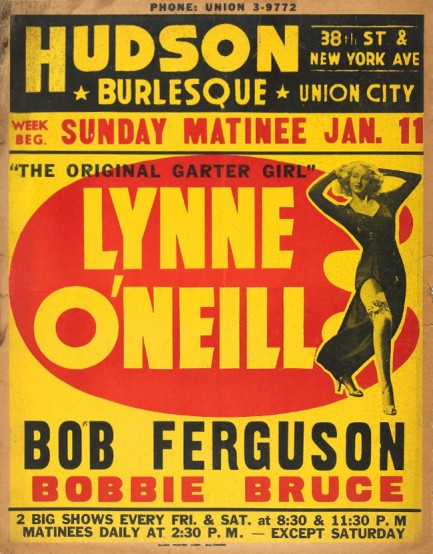 Above, a little something we found at an auction page, a promo poster for burlesque performer Lynne O'Neill, who according to this appeared for a week at the Hudson Theatre in Union City, New Jersey. O'Neill was known as "The Original Garter Girl," and at whatever venue she performed would sell branded garters in the lobby the way bands sell t-shirts. She worked mostly around the New York area because she resided most of her life on Long Island. Like many mid-century peelers she was well known, then mostly forgotten, and finally brought back somewhat into popular culture by an internet fueled revival of interest in burlesque. She died in 2010, but her place in the pantheon of burlesque dancers seems assured, thanks to new photos and artifacts that occasionally turn up. This poster is a good example. It's undated but we're sure it's from 1953 or 1954.
---
James Bond submarine car sells at auction.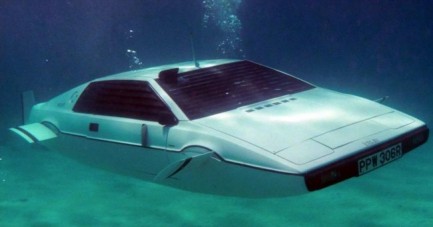 We've shared a lot of James Bond memorabilia over the years (who can forget our Honeychile Ryder figurine), which means we couldn't possibly let this story pass. The Lotus Esprit turbo used in the Bond film The Spy Who Loved Me

sold at auction yesterday in London for £550,000, or about $864,000. The car is one of eight used in the film. For the sake of comparison, other Bond vehicles, such as the 1964 Aston Martin DB5 used in

Goldfinger, have sold for millions. But probably the price was low here because the car, though equipped with a propeller and fins, is not a functional vehicle, according to the auctioneers RM Auctions. But what makes the story so interesting is that the car was found in a Long Island storage unit in 1989 by a construction contractor who'd bought the contents unseen. American storage companies often arrange blind auctions when rental payments on storage spaces lapse. Buyers take the chance that something valuable might be inside, but just as likely might find nothing but junk. This particular buyer had been hoping to find power tools or other useful items, but instead was shocked to find the Lotus. His purchase price for the storage unit—$100.


---