And the verdict is—indispensable, as charged.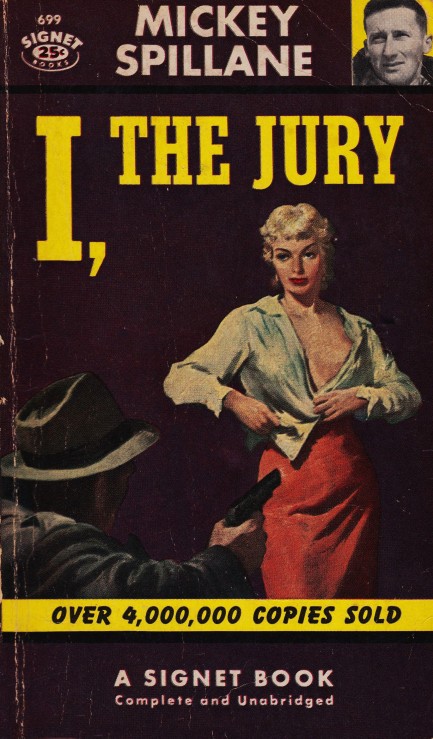 Above is a second Lu Kimmell cover for Mickey Spillane's hard-boiled Mike Hammer thriller I, the Jury, notable because you don't usually see the same artist paint different covers for the same paperback. But we're actually sharing this not just for the art, but because holiday travel season is here again, and it seems like a good time to reiterate the fact that if you're flying inside of or to the U.S. pulp novels can be a travel necessity. We're giving you pearls of wisdom. Check here.


---
Owning a whorehouse has been fun, ladies, but a man of my wickedness has a destiny. I'm running for Congress.
Above is a cover by Lu Kimmel, an artist we've featured only once before, but who painted many paperback fronts, and delved as well into advertising, portraiture, and fine art. We'll see him again later. Joseph Millard's The Wickedest Man was originally published as The Gentleman from Hell and was based on real-life figure Ben Hogan—not the golfer. So what did the evil Hogan do? He was a con man, a murderer, a spy for both the Union and Confederate armies during the U.S. Civil War, a brawler, a jury tamperer, a whorehouse proprietor, and worst of all—as indicated by our subhead—a politician. There are several books about the guy, but Millard's is probably the best known. This Gold Medal edition came in 1954.
---
Spillane solves a tough case in more ways than one.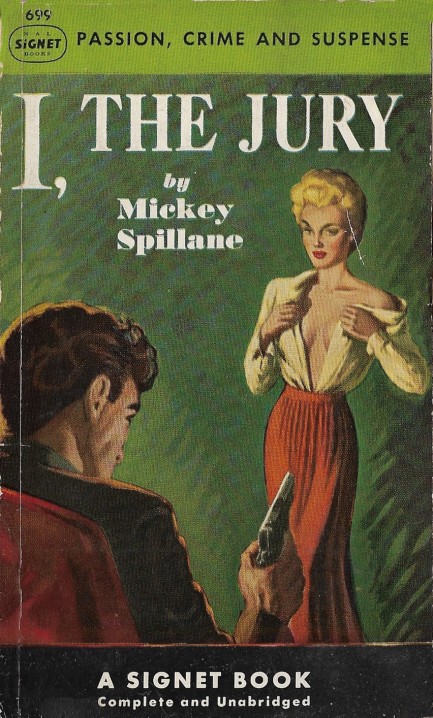 If you're on this site you almost certainly know already about Mickey Spillane's I, the Jury, so instead of talking about how it's a trailblazing hard boiled detective novel with a sledgehammer ending that's one of the most famous in pulp history, we'll share a true story with you. You know one of us went to the U.S. recently. Well, the one of us who went—PSGP—has had lots of problems getting into the country. We're talking baggage searches, being conducted to the special room for questioning, the whole deal.

Customs agents always say these stops are random but when it happens three times in five trips that's an obvious lie. Probably—and this is a guess, because we have no idea what customs agents see when they scan a passport—these stops have to do with PSGP's travel history, which includes visits to such dubious countries as Russia, Honduras, and various nations and islands in the vicinity of Cuba. One time an agent even asked him casually, "So how did that trip to Cuba work out for you?" even though there was no visa—obviously—to that effect in PSGP's passport. Columbo these agents are not.

Anyway, during one of these searches the agent in charge saw a giant
pulp anthology
in PSGP's luggage and immediately got all friendly, like, "Oh, you dig this kind of stuff, do you?" PSGP: "Of course." Agent: "What do you like about it?" PSGP: "Cops, crooks, corruption, violence, you know." Agent: "Well, you can close your bag up. I think we're done here." Ever since then whenever PSGP goes Stateside he carries a pulp novel prominently placed on his person. And there have been no problems in customs since. Coincidence? Maybe.

But it's best to be equipped anyway, so this time he carried the above edition of I, the Jury sticking out of the breast pocket of his jacket, and customs was even smoother than usual. Also a beautiful Lufthansa flight attendant on one of the planes was even like, "Oh, passion, crime, and suspense, eh? Sounds like fun." Yes, customs agents are soothed and even the most jaded of stews gets flirtatious when those words are sticking out of your breast pocket. So consider this a piece of advice: if you're concerned with customs carry a pulp novel, and if you carry a pulp novel, carry Spillane.
---