The hard work around the house is never done.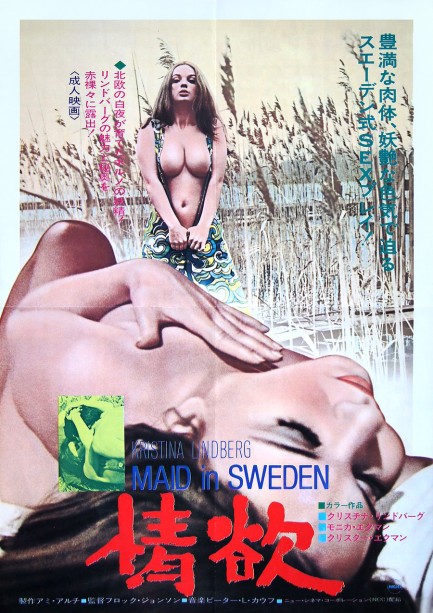 Above is a vanishingly rare Japanese promo poster for the sexploitation flick Maid in Sweden, with starred Christina Lindberg in her only U.S. production. The movie was made by the schlock factory known as Cannon Films, and coming early in Lindberg's career it helped establish her popularity with international audiences. We already talked about it back in 2013, so if you want to know what it's about check this link. We've also uploaded a promo shot of Lindberg you've never seen before, just below. It isn't the last of the unseen Lindbergs we have, so keep an eye out for more. Maid in Sweden premiered in Japan today in 1972 as 情欲 or Yokubō, which is, succinctly, "lust."
---
L'età there be Lindberg.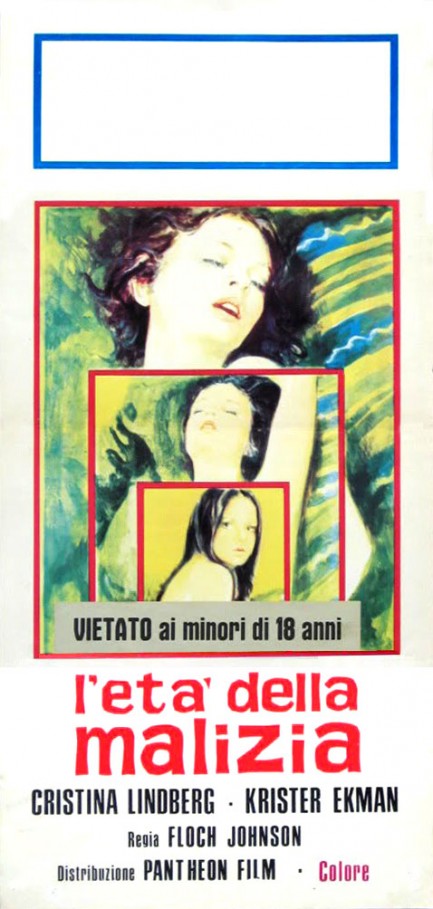 Hard to believe it's been two years since we last wrote about Christina Lindberg, but time flies. Her 1971 softcore sex romp L'età della malizia, aka Maid in Sweden, is a coming-of-age tale about a girl who goes to the big city to visit her aunt and gets into all sorts of sticky situations. There isn't much to recommend here, as the plot is thin, the characters are flimsy, and some of the sexual encounters fall into the category of coercion. But the film is notable because it was the first time Lindberg appeared on American movie screens. For that reason many sites incorrectly describe the movie as her debut, but this was actually the third movie she had filmed, after 1970's Rötmånad, aka What Are You Doing After the Orgy?, and 1971's Exponerad, aka Diary of a Rape. Want two scary facts? Rötmånad in Swedish means "dog days" and Exponerad means "exposed." The U.S. titles, which incorporate "orgy" and "rape" give an indication of what the American distributors of these films thought about American audiences. We like the impressionist Italian poster, though, and just so you don't think we're all high and mighty about the lowbrow nature of this movie, below is a nude promo of Lindberg. If you want to see an amazing array of posters and photos of Sweden's most amazing export, click her keywords below.
---