She may look harmless but she hits below the belt.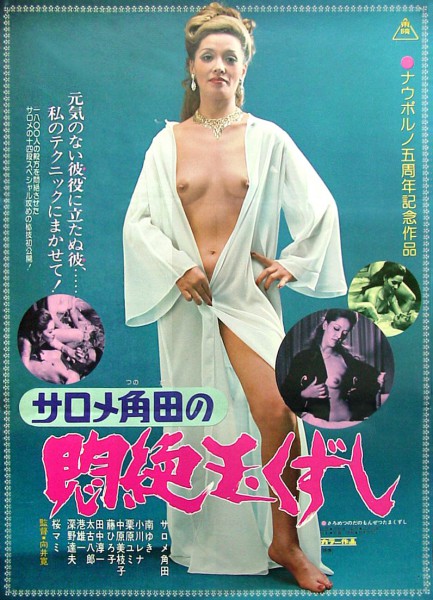 Above, a rather nice poster with Salome Tsunoda for a film that had no Western release and thus no Western title, but might be something like "Agony Ball Break." That just sounds bad, doesn't it? Some sources give a longer title that would be something like "The Ball Break of Salome Tsunoda." Hey, we only work here—anyone want to throw a better translation our way, feel free. The movie, which is a brisk 59 minutes long and was directed by Hiroshi Mukai, aka Kan Mukai, starred Tsunoda, Mami Sakura, and Lena Ogawa Lena. On the internet its premiere dates are all over the calendar, but what we consider a reliable source believes it opened today 1976.

Update: another source that seems pretty good calls this film
Salome Tsunoda no monzetsu-dama kuzushi,
which translates to something like "
Salome Tsunoda's Pain Relief Bond.
" So there you go.
---
Lost in the neon wilderness.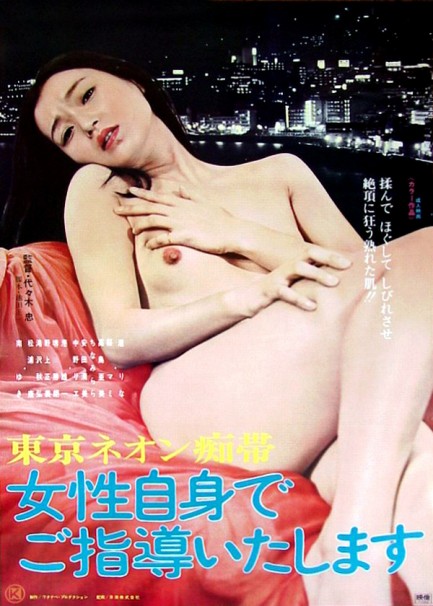 Above is a poster for the Japanese sexploitation movie Tôkyô neon chitai: Josei jishin de go shidô itashimasu, aka Tokyo Neon Zone: Lesson to You, which is pretty much in the same vein as this movie for which we showed you a poster a few weeks ago. Tôkyô neon chitai starred Rina Nagisa, Mami Sakura and Ami Takashima, and was directed by Shoichi Ikeda. Nagisa made several other pinku flicks, all of which seem to be fairly obscure today. That is to say, we haven't been able to track down a copy of any of them. However we do have another Nagisa poster we'll show you later. Tôkyô neon chitai: Josei jishin de go shidô itashimasu premiered in Japan today in 1977.
---