Mutually assured destruction.
These two dynamic bullfighting covers for True magazine depict Mexican-born matador Carlos Arruza, who moved to Spain in 1944 and—along with his contemporary, the immortal Manolete—became one of the most celebrated matadors in the country. The art is by Fred Ludekens and dates from August 1957.
---
Wrong time to ask maybe, but *groan* your skin is so soft I *grunt* simply have to know. What hand cream *snort* do you use?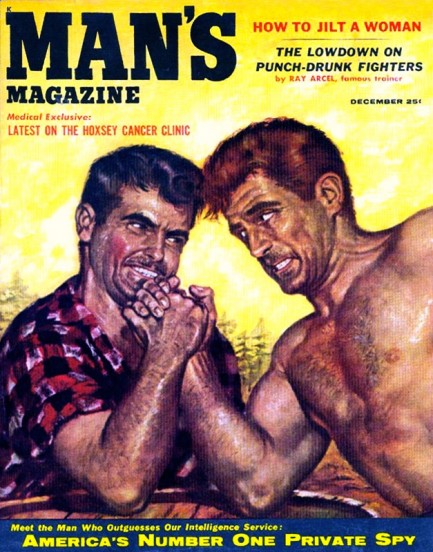 We really like this December 1955 cover from Man's Magazine featuring a couple of bears settling their differences over a session of arm wrestling. The art is from John Leone, who did a lot of western and outdoors themed pulp covers before moving on to gallery work. Of course, this piece would have seemed powerfully hetero in its day, but looks perhaps a bit more sexually ambiguous now. Or is it just us? Anyway, we found this scan over at the website menspulpmags.com, and if you haven't yet checked out their comprehensive pulp collection, you should definitely make time.
---