And now for their next trick they'll turn the tide of war.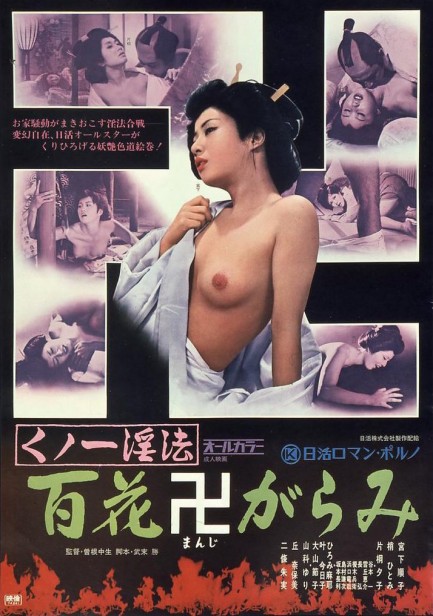 First off, the cross you see at the bottom of this poster is not a swastika but a much older Japanese symbol. It's usually seen oriented as above, or, rarely, reversed like the Nazis used it, but in all cases has religious, historical, or pop culture meanings. We've talked about it. The poster was made for the period roman porno flick Kunoichi ninpo: Hyakka manji-garami, known as English as Female Ninja Magic: 100 Trampled Flowers. The movie is set in a time of warring clans during the Tokugawa shogunate, which ruled Japan beginning in 1603, and as the title suggests, a female ninja clan uses sexual magic to try and turn the tide of war between the powerful Tsunayoshi shoguns and the Akizuki clan. Working for the shogunate are the Iga and Kouga ninja clans, while aiding the Akizuki are the Fumi, the women of the title.
That's a more elaborate set-up than usual for a roman porno movie, and indeed, this one will require more than the usual level of attention to keep straight. It takes its historical trappings seriously, with a convincing pre-industrial look, elaborate period dress, and a focus on succession by birth. But don't fret, fans of the genre—the movie is weird as hell, as roman pornos must be, and you'll be pleased to know that a virtual who's-who of Nikkatsu Studios stars feature, including Junko Miyashita, Hitomi Kozue, Yuko Katagiri, Kyōko Kanō, Maya Hiromi, and Yuri Yamashina. What exactly is sexual magic? Let's just say there's plenty of vaginal fluid involved, of varying viscosities, used in numerous ways. There's other bizarreness too, including an umbilical cord that strikes like a cobra. We don't think the Tokugawa era actually unfolded this way, but to paraphrase the immortal Wooderson, it'd be a lot cooler if it did. Kunoichi ninpo: Hyakka manji-garami premiered in Japan today in 1974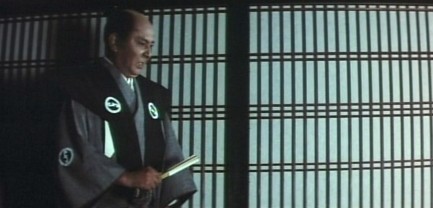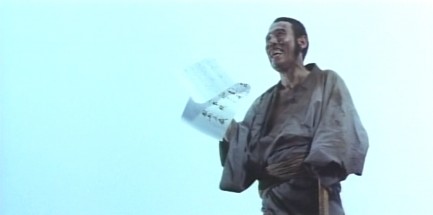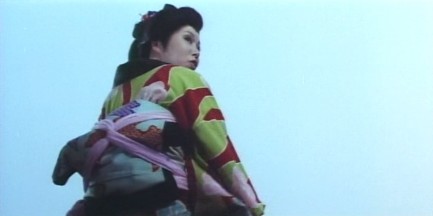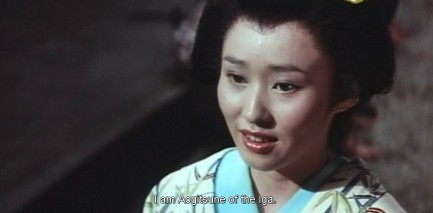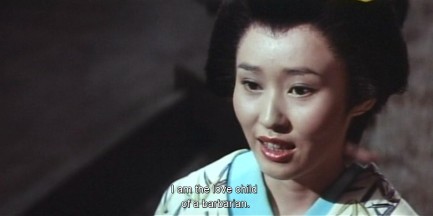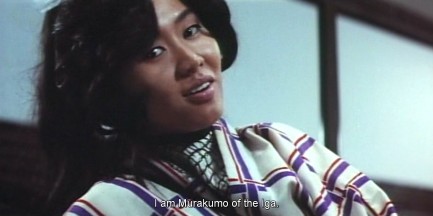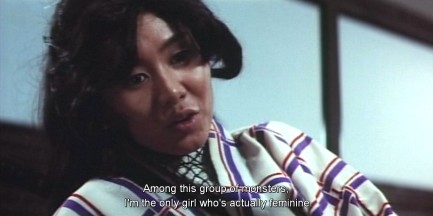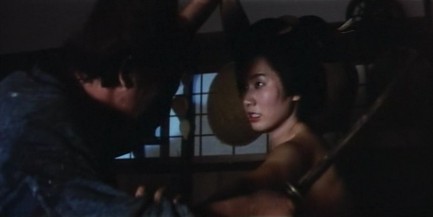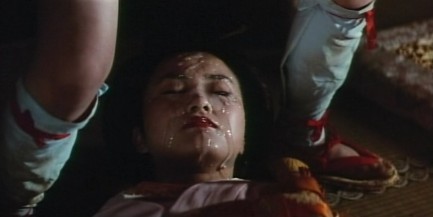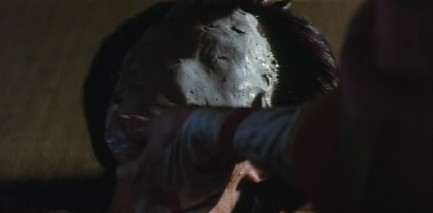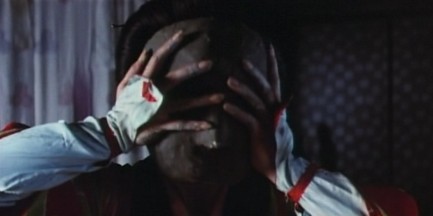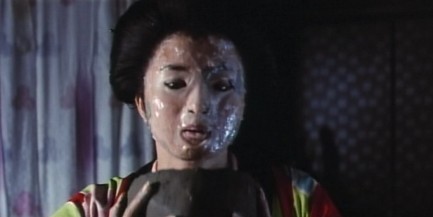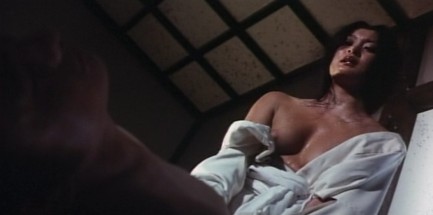 ---
I know it's supposed to be a good luck symbol, but I'm seeing it in the mirror and it's kind of turning me off.
Above, an alternate poster for the Japanese melodrama Manji, aka All Mixed Up, which premiered today in 1964. And before any readers get all mixed up, it has nothing to do with Nazis. We already talked about the movie, and you can read what we wrote here.
---
Girl meets girl and things get a little twisted.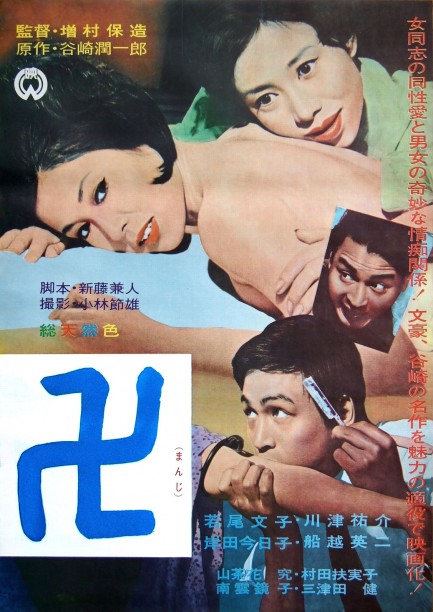 You'd be surprised how many Japanese movie posters feature swastikas. Or backwards ones, anyway. This particular promo was made for the melodrama Manji, a movie known in English by the name Swastika, or sometimes All Mixed Up. Some of you out there might be saying right now that the crooked cross Westerners know as a Nazi symbol is also a Native American symbol, though turned backward. And you'd be right. Others of you may say it's an ancient Sanskrit symbol, whether turned backward or forward. And you'd also be right. Still others of you, the more widely traveled perhaps, know that in Japan the backward swastika is a symbol used to mark the location of Buddhist temples on maps. And what the hell, we should also mention that younger Japanese sometimes say "manji" instead of "cheese" when posing for a photo.

Why did we go into all that? Because when you put a swastika on your website it's prudent to explain why. There is no discussion of the symbol in Manji. The film is about bored housewife Kyôko Kishida embarking on an affair with a younger woman played by Ayako Wakao. It's all fun and games at first, but Kishida, in the grip of middle age and an unfulfilling marriage, grows increasingly obsessed with her young girltoy. The movie's makers seem to be using the cross ironically—in Sanskrit it symbolizes good luck, but the affair in Manji is anything but. You can find out yourself, though, because the entire thing is on YouTube for the moment—with English subtitles!—at this link. Say goodbye to ninety minutes of your life, cinephiles. Manji premiered in Japan today in 1964.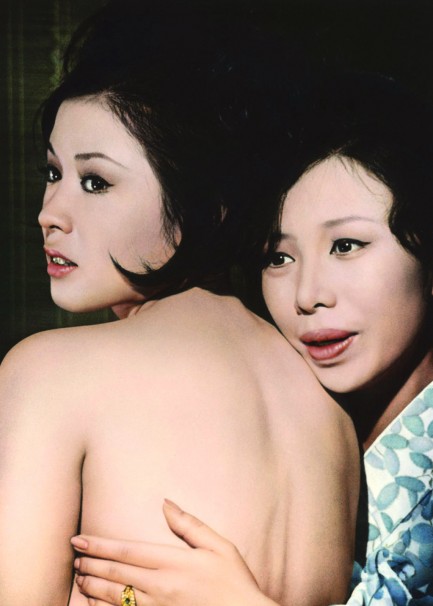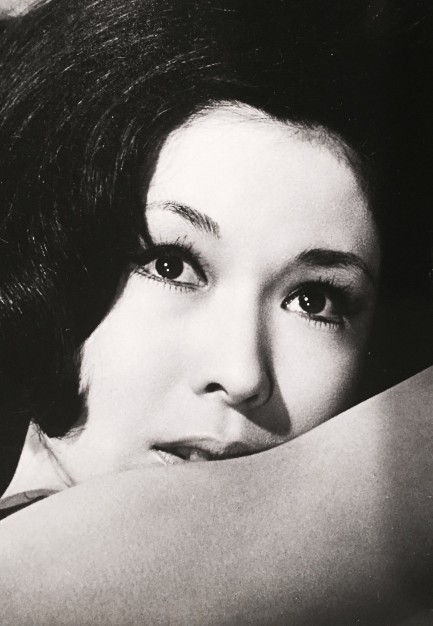 ---